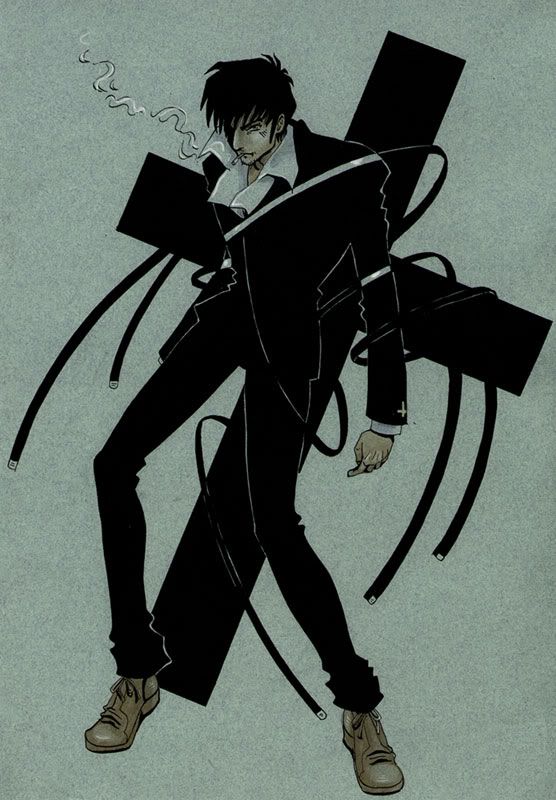 Name:
Nicholas D. Wolfwood
Age:
28
Sex:
Yes, please.
Appearance:
Nicholas is a very tall and lanky sonuvagun. Most of the time he walks around like he's got not a care in the world. Behind a pair of sunglasses resting snugly atop a large, curved nose, are two dark blue-gray eyes that seem to always smirk at you. On his person are the remnants of his blue suit, a white shirt (given to him by the deaf priest), and black boots. The blue blazer had to be patched up, but upon wakening, Nicholas wouldn't let the old man throw it away.
His scars are numerous, now. Before his skin was laced with the tiny scars of his childhood abuser. Now, he is criss-crossed and dented and torn up by the scars of his final battle, one he cannot remember for the life of him.
Personality:
Nicholas knows he's a smart ass. He also knows he has a strict sense of what's right and wrong and only sometimes will he see the grey areas. He's cynical and has a hard time seeing much good in the world. PErhaps its because of his past, or the way he's lived his life up until the moment he lost his memory. Who knows? He really doesn't give a shit about it most of the time. Just don't mess with him and he will leave you be... maybe.
Nicholas is actually really laid back, though nowadays he's a bit more tense. Losing your memories makes you a little more touchy than usual. Add that on top of the fact that he can't remember if the guy that practically shredded him is alive or not and you've got yourself one paranoid bastard.
Likes/Dislikes:
Likes
Ladies, of the tall variety.
A good, smooth whiskey.
Kids.
Cigarettes.
A good shot.
Serving his kind of justice.
Dislikes
The Bad Guy.
People who don't know when to back off.
Not having anything to smoke.
Equipment/Weapons:
Six semi-automatic handguns hidden within the right of the short arms of his cross-shaped automatic rifle. The longest arm is the rifle, automatic and the short top arm holds the rocket launcher. All ammo is held in the left of the short arms. Nicholas is the only man on the planet that can carry it (that he knows of).
History:
Nicholas D. Wolfwood was raised by an abusive man that he eventually kill, point blank with a pistol. To this day, Nicholas isn't really sure if it felt good, or just right, but he tries not to think much on it. He does know that his purpose in life is to do what is right, in his eyes. Not everyone agrees with him, but as long as he knows, that's all that really matters. The last thing he can remember clearly is being given a task to find the Humanoid Typhoon and deliver him to Chapel The Evergreen. The rest is blurry save for the orphanage and the vague idea that he'd completed his mission to deliver the Typhoon to Evergreen.