Trigun: The Search For Eden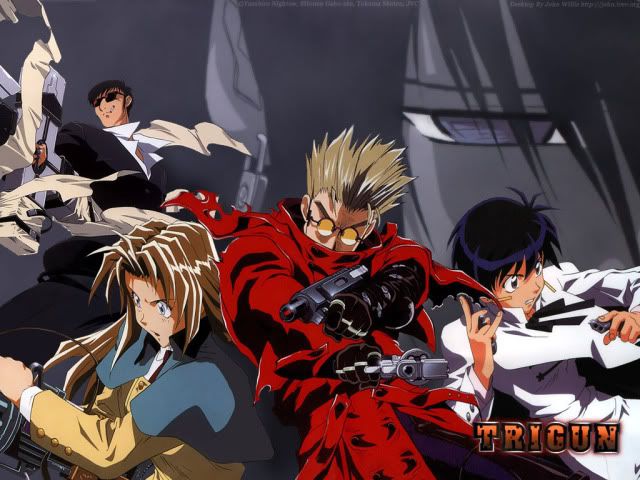 Original Plot Summary: Vash the Stampede is a gunman on the run with a 60 billion double dollar bounty on his head which has made it difficult for him to go anywhere without being chased and shot at. Every town he ever visits ends up being destroyed because of his pursuers, but miraculously no one ever gets killed. Meryl and Milly are two insurance agents that have been sent to find Vash the Stampede and keep him under surveillance so no more damage is caused. Meryl, who leads the pair, refuses to believe that the man they have met can possibly be the legendary gunman. This spikey haired, gangly, young man is extremely friendly, a pacifist, hates blood and suicide, absolutely loves donuts, and is a dork and a crybaby (far from a notorious outlaw). But there is more to Vash and his past than meets the eye.
Rp Plot Summary: Set after the end of the anime series. When Vash returns to the girls carrying Knives(in a mental comma) what is in store for them can Vash's dream of a world of love and peace be realized with his brother still in it. What happens when Knives wakes up can he change his ways or will continue to harbor his hatred for the human race. Things are a little less wild for Vash now that it is believed the Humanoid Typhoon is gone the $$60,000,000,000 bounty removed from his head. ( thanks to Meryl's reports to the home office) Meryl is now coming to terms with the feelings she has for Vash. Will she be able to tell him, can they even have a relationship, together? Soon after Vash's return Milly finds out that through one night of passion between her and Wolfwood that she is carrying his child. But unknown to every one else he is still alive, when Vash came back for the cross he assumed that Wolfwoods body was removed but. What actually happened was a Priest at the church found Wolfwood barely hanging on and took care of him. He was in a comma for about a month and when he woke he had lost parts of his memory. After about 6 months he starts to regain his memmories and decides to go looking fo Vash and the girls. There are also rumors of a new $$60,000,000,000 man, how can there be someone as terrible as the Humanoid Typhoon Vash The Stampede.
(more info on the anime and its characters go here
http://www.absoluteanime.com/trigun/index.htm
,
Characters
Vash The Stampede- played by Torayama
Meryl Stryfe- played by Shavnia_Velmount
Nicholas D. Wolfwood- played by TiMMMaY!!!
Milly Thompson- played by RinlovesSesshoumaru
Knives Millions- played by RideOnTechnology
Original Characters
Olivia "Ollie" Shepard played by wolfangel26
Trista Stillwater played by RinlovesSesshoumaru
Tom Barrow ("The Mute Gunman- New $$60,000,000,000 man") played by AdamLangley
Gm's Notes


Okay people I love Trigun it is my favorite anime, I just couldn't get into the manga so this Rp is strictly based on the anime. I would like it if some one knew something about the story before I approve the character. I really want people to join and enjoy but I can't handle someone just coming in with no clue. If you have any questions about the Rp or the original story let me know.
Trigun is a copyright of funimation
http://www.funimation.com/
Da Rules
1. I am the Gm so what ever I say goes.
2. Be respectful to your fellow Rp'ers if there is a problem PM me and I will do my best to help settle it.
3. If your gonna Rp please try to post every day if there is some reason why you can't PM me.
4. If your a main Character and I haven't seen a post in two weeks you risk your part being taken and put up for grabs again. (this also applies to Oc's I know I can't take your Oc but I can fill your spot)
5. The most important rule is to HAVE FUN.
Arcs are bundles of posts that you can organize on your own. They're useful for telling a story that might span long periods of time or space.
There are no arcs in this roleplay.
There are no quests in this roleplay.
Here's the current leaderboard.
There are no groups in this roleplay!
Welcome home, Promethean. Here, you can manage your universe.
Arcs are bundles of posts from any location, allowing you to easily capture sub-plots which might be spread out across multiple locations.
You can create Quests with various rewards, encouraging your players to engage with specific plot lines.
Settings are the backdrop for the characters in your universe, giving meaning and context to their existence. By creating a number of well-written locations, you can organize your universe into areas and regions.
Navigation
While not required, locations can be organized onto a map. More information soon!
There are no groups in this roleplay!
By creating Collectibles, you can reward your players with unique items that accentuate their character sheets.
Once an Item has been created, it can be spawned in the IC using /spawn Item Name (case-sensitive, as usual) — this can be followed with /take Item Name to retrieve the item into the current character's inventory.
Give your Universe life by adding a Mob, which are auto-replenishing NPCs your players can interact with. Useful for some quick hack-and-slash fun!
Mobs can be automated spawns, like rats and bats, or full-on NPCs complete with conversation menus. Use them to enhance your player experience!
Current Mobs
No mobs have been created yet.
Locations where Mobs and Items might appear.
You can schedule events for your players to create notifications and schedule times for everyone to plan around.
Add and remove other people from your Universe.
Orphanage
By marking a character as abandoned, you can offer them to your players as pre-made character sheets.
A half-plant with powerful telepathic abilities
The Forge
Use your INK to craft new artifacts in Trigun: The Search For Eden. Once created, Items cannot be changed, but they can be bought and sold in the marketplace.
Notable Items
No items have been created yet!
The Market
Buy, sell, and even craft your own items in this universe.
Market Data

Market conditions are unknown. Use caution when trading.

Quick Buy (Items Most Recently Listed for Sale)
The setting of Trigun
Welcome to December
All Aboard!
Welcome to New Oregon
Welcome to Inepril
Discussions
Most recent OOC posts in Trigun: The Search For Eden