Vash(Ericks)
Vash is very tall and thin with tall, spiky blond hair. He also has brilliant aqua blue eyes, he used to wear a red coat but gave it up when he chose to follow his own path.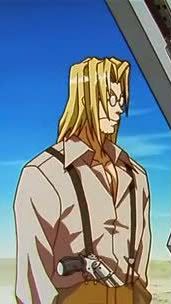 When he is Ericks his alter ego that he uses when he's out in public he wears glasses trousers, white shirt and suspenders.
As a Plante, his body does not physically age past his mid-twenties.