---
---
███████████████████████████████████████████████████████████████████████
---
---
though she be but little, she is fierce
x
---
---
███████████████████████████████████████████████████████████████████████
---
---
N A M E
Hana Akamatsu

N I C K N A M E (S)
She prefers to be called by her first name.

B I R T H D A Y
Feb. 16th ; 18

Y E A R
Seventh Year

S C H O O L
Mahoutokoro School of Magic

S E X U A L I T Y
Bisexual

E T H N I C I T Y
Japanese

H E X
Dialouge ;

#e99c94


Thought ;

#edafa9
---
---
███████████████████████████████████████████████████████████████████████
---
---
 
S T Y L E
Hana's style is very simplistic, cozy but very elegant. She loves neutral and warm browns and greens, but isn't afraid to add fun daring colors into her wardrobe. Which consists of fuzzy sweaters, turtle necks, and blouses with matching skirts. She loves accessorizing every single outfit she creates, and never leaves her room without one piece of jewelry adorning her body. She isn't much one for makeup, but her face seems to have a natural cool glow around her cheekbones and nose.

H E I G H T  & W E I G H T 
5'2'' & 100lbs || Hana is an especially tiny girl but this doesn't stop her from making her presence known. She normally boosts her height up and extra inch with her extensive collection of Jimmy Choo heels. Hana hates being called skinny or small, she will always correct someone with, 'petite'.

A P P E A R A N C E
Hana has always had a very delicate, pretty face ever since she was a child but it isn't hard for her to get overlooked in a crowd. Her light skin is free of freckles or any blemishes and framed by short dark brown hair which she always keeps at a consistent length. Her eyes are a simple dark brown, but in some occasions the light can turn them a warm yellow color. Her short stature is something she was always teased about which she makes up for with sheer attitude and a good sense of fashion. Hana doesn't like to stick out like a sore thumb, but she hates going unnoticed by others.
---
---
███████████████████████████████████████████████████████████████████████
---
---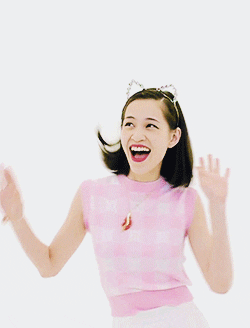 L I K E S


•

Mint Chocolate Chip Ice Cream

•

Hippogriffs & Phoenixes

•

Quidditch

•

Pumpkin Juice

•

Sugar Quills

•

Muggle pop music

•

Charms

•

Herbology

•

Wizard Chess

•

Dueling

•

Muggle Movies

•

Reading

•

Flirting

•

Snow

•



D I S L I K E S


•

Dragons

•

People calling her, small

•

Ghosts

•

Dancing

•

Dementors

•

Snakes

•

Bullies

•

School Robes

•

The smell of quill ink

•

Needles

•

Dark Arts

•

History of Magic

•

Boredom

•

Fashion Disasters

•




---
---
███████████████████████████████████████████████████████████████████████
---
---
P E R S O N A L I T Y
Hana is the definition of a spitfire. Her small stature is entirely misleading because the petite girl packs one hell of a punch when it comes to attitude. She is confident and charming in her own little way. She has a fierce passion and determination for anything that she sets her mind to whether it be small simple minded tasks or something on a larger scale. Hana could talk someone's face off if they let her, she has a mind and a mouth that can run practically a mile a minute. Some Most that cross her path are highly intimidated by her personality, but other's seem to love it. When she does find a friend, she will stick with them til the end and stand up for them in any situation no matter the consequences. Hana has a big heart, but a sharp tongue.

Sometimes her personality can come off as judgmental or rude but she doesn't seem to mind. If she likes you then she likes you, if she doesn't like you then she'll make sure you know it. She has a back knack for trying to do everything herself without the help of anyone, due to her mindset that she can do everything by herself. This can leave her in prolonged moods of stress or irritation, which make her already loud personality even more of a hassle. However, those that chose to stick through her rough side find that Hana is a kind and funny girl, who can hold her own diligently.

However deep down Hana has a good heart, and when she sets her mind to something she'll stop at nothing to achieve it.



---
---
███████████████████████████████████████████████████████████████████████
---
---

F A M I L Y
Shiro Akamatsu | Father | 55 | Wizard | Charms Professor
Shiro is a strict parent, but a kind and loving father. He was very involved with his children's lives and sees to it that they exude their full potential in life. Being their professor in school, he always kept a close eye on the kids and made sure they all stayed in line, but enjoyed their time at school. Hana is very close with her father, and growing up he began to teach her how to play Quidditch at a young age.

Nami Akamatsu (née Lynn) | Mother | 52 | Witch | Magical Nurse
Nami was a comforting and eccentric mother, but barely in her children's lives. She spent many hours at the Wizarding Hospital in Japan and rarely ever any at home. Regardless of her absence, she made sure to shower her children with the utmost love and affection in the time that she spent with them. Hana has always been closer to her father, but she still holds a level of respect and love for her mother.

Niko Akamatsu | Mother | 24 | Wizard | In line for Undersecretary of the Minister of Magic in Japan
Niko was the perfect image of a Mahoutokoro student. He excelled in his studies and behavior, and even though he didn't play Quidditch he was a favorite among the staff. However, his personality was very cold and sheltered, he cared about himself and his studies and didn't fancy himself with the idea of a social life. Hana never hated her brother but she never really liked him. There was always a unseen level of competition between the two, she rarely ever saw much of the man anyway and the second he graduated from Mahoutokoro he moved out.

Kiko Akamatsu | Sister | 14 | Witch | Student
Kiko is the youngest of the Akamatsu family and a bubbly social butterfly. The polar opposite of her siblings Kiko is interested in the activism for Magical Creatures, and dislikes the education that Mahoutokoro provides. Her parents tried to shape their youngest to a more picture future but she refused and they eventually conformed to her odd personality and disposition. Hana loves her sister. She stood up for her when the family disapproved of her studies and choices, which brought the two close.



---
---
███████████████████████████████████████████████████████████████████████
---
---

H I S T O R Y
Hana Akamatsu was born to Shiro & Nami Akamatsu. Growing up, Hana had a delightful childhood surround by magic. Her parents were very involved in the magical community, especially with her father being a professor at Mahoutokoro. While her parents allowed for her and her siblings to enjoy their childhood, the moment they turned seven an air of seriousness surrounded the family. The Akamatsu's had a very well-known and respected name and it was expected that the children would carry the name well.

Hana's first years at Mahoutokoro were very strict and grueling but she thrived in the atmosphere. With her a large personality and drive, she was adept at excelling in quidditch and academics. Granted, intelligence didn't come easy to Hana, she had to work for it, which is why the moment she was placed in Tora. She quickly created a small friend group at Tora and had some of the most enjoyable years of her life. She loved the challenge that Mahoutokoro presented for her and strived in the competitive atmosphere. Her parent's were proud to hear of her accomplishments, but granted she still had a few mishaps. Her fiery attitude nearly got her expelled from the school once, she had been relentlessly picked on by another girl in her year and it didn't take long before Hana had hexed her, giving her boils and a large nose for a month. Maybe a small mishap like that wouldn't have been taken as critically at other wizarding schools but Mahoutokoro took discipline very seriously. She was grateful for her small punishment of a benched quidditch game and detention for a month, but her parents were furious.

However, after that minor bump in the road Hana gracefully fell back into her normal niche at school, and continued doing what she had before. She was ecstatic at the thought of traveling to Ilvermorny for a chance at the Triwizard Cup, and the new atmosphere. She has hopes of maybe competing against the other schools, but is nervous about what that might mean. Even if she doesn't get chosen for the tournament, she'll still be happy to cheer on her school for hopes of a win to bring home.

---
---
███████████████████████████████████████████████████████████████████████
---
---

W A N D
10'' Cherry, Horned Serpent Horn, Slightly Flexible

P A T R O N U S
A bobcat

H O U S E
Tora || Tiger

B O G G A R T
Hana surrounded by nothingness.

F A M I L I A R


Neev

. A quiet and peculiar Calico cat.

T A L E N T S

Charms ; Flying ; Herbology ; Dueling ; Transfiguration

W E A K N E S S E S

History of Magic ; Care of Magical Creatures ; Divination ; Potions

---
---
███████████████████████████████████████████████████████████████████████
---
---