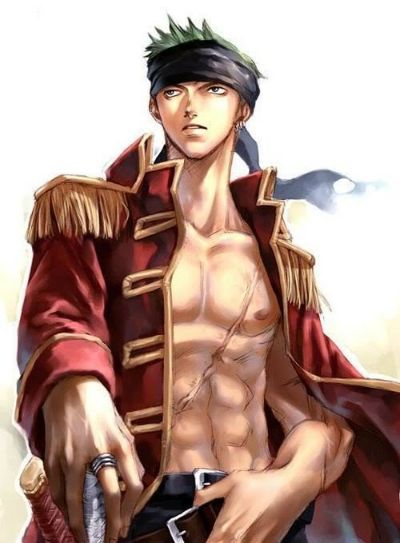 Name:
George Scar
Age:
Twenty-One
Personality:
George is a good hearted soul, he wants nothing more then to protect those in his charge and provide for his family. Always seeking adventure the young captain is charming and eager, a smile always on his face.
Appearance:
Years of running and hard labour meant that George was in great shape physically, his body toned and defined; his features strong and flawless, marred only on his body by the thick puckered scar that ran from his left shoulder down to his right hip. As Captains went he was often teased for his young appearance and flawless looks, the baby faced Captain but it was all in good fun to George, he was younger then most of the successful Captains and he didn't have the same weathered appearance that Captain's were known for. With odd greened hair cropped in a short spiked mop George's eyes matched a sparkling emerald.
Bio:
George Scar had wanted a life of adventure on the high seas since he could walk, dreaming of having his own ship, a crew, treasure and adventures to places people only dreamed of seeing. Unfortunately as he grew life changed, George's father died when he was only one and his mother remarried a few years later, bringing George a new father and a new baby brother, Edward. As they got older things got rougher and their father got drunker, George tried to protect both his mother and half brother from his step-fathers anger and it brought with it a lot of pain; it was that anger and pain that fuelled George's desire to flee to the oceans, a life he would be in charge of, adventures and freedom. When he was twelve and Edward nine their mother passed away and their father grew meaner. When George was thirteen their father came back, stumbling through the door with a bottle in hand, Edwards temper got the better of him and the ten year old boy lashed out in anger, which needless to say did not go down well with the drunken fool; George walked in just in time as the man pulled a knife on his own son, George quickly threw himself in the way. From that night Edward earned a small scar on his right cheek under his eye but George defended his little brother to the end, by the end of the night George had managed to knock the drunk unconscious but in his effort he'd earned his own wound, from chest to hip. That night George took Edward from that home and never looked back...
From that night on George promised to look after Edward, he found them shelter, provided them with food, mainly through theft and cons, kept them safe, all with the dream of getting that ship one day and being somewhere free together. At eighteen George had been exploring the newest port town he'd brought them to when he came across the most beautiful ship he'd ever seen, the ship maker was adding the finishing touches to the figurehead a front the ship. George had never seen anything like it and he intended it to be his; complimenting the ship maker on his craftsmanship George quickly set about learning about the man who crafted this beauty, learning him to be an avid gambler, and not a very good one. After some careful planning and the perfect plan George and Edward worked together to con the ship maker out of his ship. From that day forward George was Captain Scar and that ship was his pride and joy, Esmeralda, with his brother he set about pulling together the perfect crew.