---
---

Name:
Makoto Taniya
"You can read, can't you?"

Age:
18
"Loving the youth."

Race:
Half-Demon
"You'd better be able to keep a damn secret, got me?"

Gender:
Female
"The hell does it look like I am?"

Role:
Antagonist
"I prefer the term 'Misunderstood Revolutionary', if you get what I'm saying."

Romantic Interest:
She had a boyfriend once. Once. In short, things just didn't work out.
"Kato was a douche. That's all there is to it. Move the fuck along!"

Rank:
Esquire
"Not for long, I'll tell you what. I got big plans. So much to do, so little time."

Exorcist:
-Dragoon-
-Knight-
"In case you didn't know, ranged weapons and sharp objects are sorta my thing."

Height:
5' 7"
"And growing, mind you."

Weight:
"NONE OF YOUR GOD DAMN BUSINESS, YA ASSHOLE!"

Weapon:
Makoto typically favors two Beretta M92s, but she is capable of using darts or different kinds of blades with accuracy as well, as another resort. These are all omitting her demonic powers, of course.
"My powers? Say please, and I just might tell you, you flithy begging maggot~"

Job:
Bartender
"It's something. Even better: It's something that pays."


---
---


Personality:
At first glance, one might not exactly peg Makoto as an antagonist at all. She really doesn't look like one, unless you count her ever-present superior, condescending smirk of hers. But other than that, she actually seems like a pretty average young woman. Initially, in any case. If one were to choose to approach her, one would find that she is anything but average. Now, there are several levels of Makoto's personality, and when one typically engages her, they are catching a glimpse of only a small fraction of who she is. Upon first speaking with Makoto, one can surmise that she is an all-around generally bad-natured person. She seems rather belligerent, and seems to talk down to people a lot. This has a little bit to do with her history (which we will get to later), but a part of it is also her natural disposition. One can also notice that Makoto is very quick to lose her temper, and snap on someone. Now, of course, one might think that this is where her complexity ends: Oh, she's just some chick with a short fuse and a severe attitude problem! This is not as deep as it goes with Makoto. There is actually much more than meets the eye. For example, Makoto actually has a rather substantial inferiority complex. She cannot stand it when people outshine her when it comes to things she thinks she's good at (another consequence of her history). And, while one would already assume she's so easily provoked, Makoto is much more volatile than one would typically think. It's not just her anger, though, that can cause her to fly off of the handle. Her other emotions also tend to get out of hand in strenuous situations. Once this happens, it's not all that hard to get her to collapse into an emotional wreck, which isn't to say that she's no longer a hazard in the state. Quite the opposite actually. In any case, this still is not the deepest level of our Makoto. Due tot her volatile emotional state, and moreso the fact that she feels that she is constantly pained, Makoto grew up to be quite the sadist. When she sees someone in any sort of pain, physical, emotional, psychological, or otherwise, she can't help but feel pleased. She absolutely relishes in the suffering of others, no matter how big or how small. And, at the very heart of Makoto, one will find that all she really wants is for someone not to hate her, not to shun her for what she is. However, the dark side to the core of Makoto is that, while the aforementioned is true, she is fully prepared to annihilate those who do so.

"I don't mean to brag or anything, but, damn, I'm awesome."

Likes:
-Arguing-
-Dogs-
-Fighting people-
-Winning-
-Violence-
-The pain of others-
-Bar-tending-
-Rain-
-Nighttime-
-Alcohol-
-Her real dad-

"My beloved favorites."

Dislikes:
-Being half-human-
-Fluffy things-
-People-
-Sweets-
-Sunshine-
-Losing-
-Boredom-
-Her mother-
-Her stepfather-
-Her sister-
-Small children-
-Being caught in a state of weakness-
-Stupid people-

"Can't stand this stuff."

Talents:
-Although she's a complete psychological mess, Makoto has had enough experience watching others to make her skills of perception top-notch-
-Makoto can hold a grudge forever if she wanted to (although, this isn't really all that much of a talent)-
-She possesses an excellent memory, which comes mainly from her bar-tending experience-

"Look at all that talent! Damn, I'm amazing."

Flaws:
-Her temper is outrageously volatile-
-She is a great, big, psychological entangled clusterfuck-

"Hey! Fuck off! I'm perfectly fine!"

Hobbies:
-Sharpshooting-
-Playing the drums-
-Plotting-

"Look at all the cool shit I do for fun!"


---
---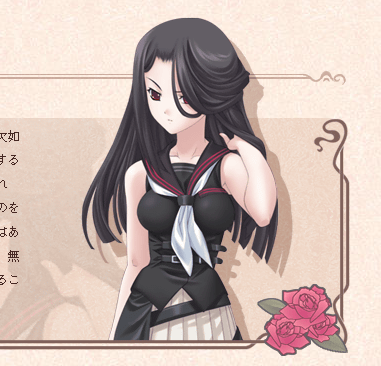 ---
---

Bio:
Makoto has very little memories from when she was young. To be exact, her earliest memory is of when she had just turned four years old: her looking down at newborn Miki in her mother's arms. Vaguely, she can recall to this day how much she wanted the little baby to die. Why was this? Well, little Makoto hated everyone back then. In fact, she still sort of does to this day. But back then, it was much worse, because it was when she was a child that she began to realize that she was hated among the members of the household. Granted, "hated" is probably too strong of a term to use, but that was how it felt to her. They would think that she wouldn't notice the looks she was given every now and again, filled with regret and something more that she could not put her finger on. It was because of these simple, nonverbal cues that Makoto began to believe that she was doomed to be disgustingly different forever, and that no one really wanted her around. It didn't matter that she didn't know how, exactly, she was different. If her own mother and father looked at her like she was some sort of alien, something surely must have been wrong with her, right? It wasn't until she was fourteen that she learned the truth at last. After so long, she confronted her mother with the flurry of emotions that she'd been feeling since childhood, about how lonely she felt, how unloved, how she felt she was different. It didn't take long for her mother to break down and tell her everything. First and foremost, Makoto was told that she and Miki had different fathers. While Miki's was the one that had raised the two, Makoto's had been a demon. Now, she'd known for a long time about the existence of demons, but had just found them to be rather uninteresting, even thought he majority of her family were in some way involved with the True Cross. However, she was not prepared for this... shocking news. As her mother explained, Makoto learned that she had been conceived under the consent of only one of the parties involved. Meaning, simply put, her mother had never wanted to have her. She had been a mistake. That was what she basically gathered from that. Her mother went on to tell her how, once she'd found that she was with child, she found and murdered her father in a fit of rage for making her bear a half-demon spawn. However, her mother was not able to bring herself to get rid of the baby, and so, Makoto was not aborted. After hearing all of this, and much deliberation, Makoto decided that she hated her mother with what was probably the most white-hot fury known to mankind. How dare this woman kill her father! She could have learned so much from him! Maybe, if he had lived. she wouldn't have felt so alone all of her life! It was then that she also decided to blame exorcists in general for the loss of the father she never knew. As such, she connived a plan. It was a plan to infiltrate True Cross under the guise of an aspiring exorcist, and tear it to pieces from the inside. And, when the time comes, she plans to kill her entire family, as well, for lying to her, ostracizing her, taking away what had rightfully been hers. She decided to avenge her father, all in good time.

Other:


Demon Form


Image 1
Image 2
Image 3
Image 4

Relationships:
Father:
NAME UNKNOWN
Human Form
Demon Form
Age: UNKNOWN
-Demon-
DECEASED

Mother:
Akane Taniya
Age: 37
-Middle First Class Doctor-

Stepfather:
Akihito Taniya
Age: 39
-Upper Second Class Knight-

Younger Sister:
Miki Taniya
Age: 14
-Page-

Cousin:
Haru Freimann
Age: 15
-Esquire-

Thoughts towards Other Characters:
Miki Taniya:
She is so. Damn. Annoying. Like, I can't stand her. It's ridiculous how much she bothers me. She too damn shy. What is her problem?

Haru Freimann:
Fucking Jesus freak. 'Nuff said.

Theme Songs:


Normal Themes


1:: Carne Vale
2:: Savior of the Dreaming Dead



Demon/Battle Themes


1:: Eternity Served Cold
2:: Released Power