The Plot
Four couples meet in a mommy/daddy prep/Lamaze class. Five couples, all from totally different walks of life, and totally different backgrounds.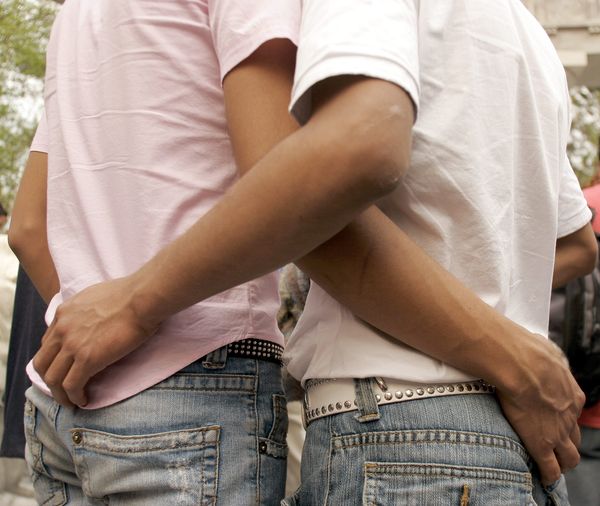 Couple 1: The Gay Guys
Guy 1 is a criminal justice major and works for DCFS in California. His job keeps him away from Guy 2, but they are still very much in love. Guy 2 is a photographer at a private studio that his brother owns. The surrogate mother is a greeting card writer for Hallmark. They are expecting a boy.
Guy 1: Scarlet Loup
Guy 2: bandgeek
Girl: taken by Natzalia
Couple 2: The Teens
The girlfriend is a 16 year old junior is high school and was the captain of the chess team, debate team, and academic team. The boyfriend is a 19 year old high school graduate in community college to become an art teacher. They don't know what they are having.
Girlfriend: taken by Natzalia
Boyfriend: LittleMissGeorgia
Couple 3: The Ones Having Twins
The girl is a 20 year old aspiring author of young adult science fiction novels. The guy is a 23 year old bass player in a garage band. They don't want kids, let alone twins, and are considering adoption. They are having one boy and one girl.
Girl: bandgeek
Guy: Scarlet Loup
Couple 4: The Interracial Couple
The guy is confidant, attractive male model. He is the black one in the relationship. The girl is a wonderfully talented painter. She is the white one in the relationship. They are having a boy.
Black Guy: Natzalia
White Girl: LittleMissGeorgia
Rules
Two or Three Characters Per Player
150-300 words per character
Have fun!
Please reserve in the OOC
Reserves last 24 hours
This is a semi-literate rp, so keep it going. I don't want this to die!
One Male and one Female role (at least) is required if you want to have two roles!
Character Skeleton
Code: Select all

[left][img]IMAGE%20HERE%20(try%20to%20make%20it%20the%20same%20size%20as%20right)[/img][/left]
[right][img]IMAGE%20HERE%20(try%20to%20make%20it%20the%20same%20size%20as%20left)[/img][/right]
[center][b]Name:[/b] name here
[b]Age:[/b] age here
[b]Nick Name:[/b] any nicknames?
[b]Written Appearance:[/b] 2-4 sentences
[b]How They Feel About Being Parents:[/b] 4-7 sentences
[b]How They Interact With Other Parents:[/b] 4-7 sentences
[b]How They Got Pregnant:[/b] 2-5 sentences
[b]Anything else?:[/b] anything else we should know? include likes, dislikes, fears, dreams and anything else![/center]
Taking place in...
21 posts here • Page 1 of 1
21 posts here • Page 1 of 1
Arcs are bundles of posts that you can organize on your own. They're useful for telling a story that might span long periods of time or space.
There are no arcs in this roleplay.
There are no quests in this roleplay.
Here's the current leaderboard.
There are no groups in this roleplay!
Welcome home, Promethean. Here, you can manage your universe.
Arcs are bundles of posts from any location, allowing you to easily capture sub-plots which might be spread out across multiple locations.
You can create Quests with various rewards, encouraging your players to engage with specific plot lines.
Settings are the backdrop for the characters in your universe, giving meaning and context to their existence. By creating a number of well-written locations, you can organize your universe into areas and regions.
Navigation
While not required, locations can be organized onto a map. More information soon!
There are no groups in this roleplay!
By creating Collectibles, you can reward your players with unique items that accentuate their character sheets.
Once an Item has been created, it can be spawned in the IC using /spawn Item Name (case-sensitive, as usual) — this can be followed with /take Item Name to retrieve the item into the current character's inventory.
Give your Universe life by adding a Mob, which are auto-replenishing NPCs your players can interact with. Useful for some quick hack-and-slash fun!
Mobs can be automated spawns, like rats and bats, or full-on NPCs complete with conversation menus. Use them to enhance your player experience!
Current Mobs
No mobs have been created yet.
Locations where Mobs and Items might appear.
You can schedule events for your players to create notifications and schedule times for everyone to plan around.
Add and remove other people from your Universe.
Orphanage
By marking a character as abandoned, you can offer them to your players as pre-made character sheets.
"I've seen some pretty 'effed up households...but I'm sure I could give my kid a nice life."
"I can't wait for the twins! But, I'm not sure I want to 'grow up' yet..."
The Forge
Use your INK to craft new artifacts in True Love and a Baby. Once created, Items cannot be changed, but they can be bought and sold in the marketplace.
Notable Items
No items have been created yet!
The Market
Buy, sell, and even craft your own items in this universe.
Market Data

Market conditions are unknown. Use caution when trading.

Quick Buy (Items Most Recently Listed for Sale)
None
Discussions
Topics

Replies
Views

Last post
Most recent OOC posts in True Love and a Baby
There have been no posts in the OOC topic for this roleplay!