Kurosu Lourdes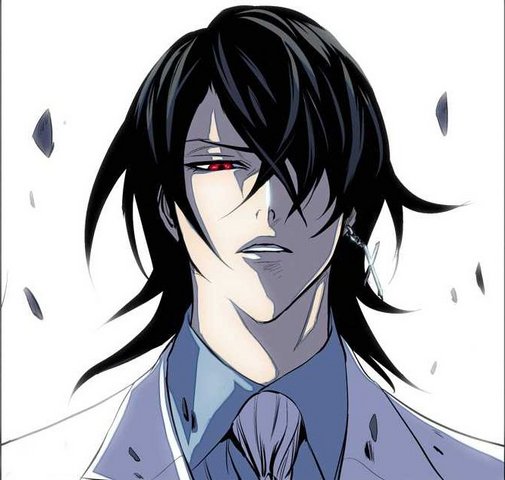 Nickname:
"Nick-names? Ah, you mean those annoying things they do with my name."
Kurosu isn't particularly fond of nicknames; the add-ons, the altering- he does not understand why they do that. Is it an attachment problem?
Gender:
"Male."
He is Male.
Age:
"My age is none of your concern. I am more than capable."
19.
Sexuality:
" . . . . . "
He dosen't discriminate.
Love Interest:
"Love is dangerous."
He's not telling.
Personality:
"Do you understand neurosis?"
Kurosu was one of the first "young recruits" to be chosen for the mission of bringing order to the city. He was praised for his strength, his level-headed counteractions, and most of all his unwavering loyalty to his cause.
"I promised I would not fail."
His poise in even the most hopeless of situations was unmatched by others his age; Cool, confident, composed.
That was why he was chosen; to keep the other's in line, grounded and focused. He was the perfect youth soldier.
That is... until the incident.
Kurosu is reserved, polite, but always a little intimidating. He speaks softly, but when he does most listen.
He has a complexing aura about him; both certain and unfaltering, yet there is a sense of instability that lies just beneath his impenetrable surface. He is intense and harsh, but will curb himself for those he values.
Power:
"Give me your hand."
If he so wishes, Kurosu has the ability to drain and proffer "life force"; or whatever it is within a person that keeps them alive.
To do this, he must be touching his bare flesh to theirs.
"Draining" a person grants him greater vitality, speed, and overall strength; but the amount depends on how much he has taken.
Draining a person also has another nasty side effect that Kurosu would rather not have revealed;
his little "problem" gets stronger as well- gnawing at the inside of his head like a caged beast, and threatening to break away from his control.
This is why Kurosu exhibits such immense self-restraint in a fight; he takes only what he deems necessary, leaving them dazed and sluggish, and the rest he takes care of with a crowbar.
"Don't let the monster out... I can't control it."
On the contrary, Kurosu can also chose to reverse his power- giving his life force (and only
his
: he cannot take from someone and give to another) to aid a person's fortitude.
This will leave him lethargic and slow, as well as unable to "take" until he gains back his normal levels of health.
Again, the duration of this period depends on how much he has given.
Imparting life gives Kurosu no bad side effects, other than a standard headache, in regards to his inner struggle.
Otherwise; it is perfectly safe to touch Kurosu -although he doesn't necessarily enjoy that- as he must consciously make the choice to either supply or reap constitution.
[
note:
"Well what if he has just fed?" Think of what he 'gained' as reduced to moot- it cancels into nothing, leaving him at his normal health, which he then subtracts from. Just making absolutely sure I am not god-modding.]
Goals:
"Order... There must be order."
"I was sent to infiltrate, search, and destroy. The plan was simple. Flawless. It would have worked... if only they had given us all of the information. If only."
It had only been a week since they had arrived. He was on a solo recon mission in the deeper parts of the city, his radio as his only lifeline.
It had been quiet for some time, before static suddenly blared out from the speaker. Kurosu knew what was coming next.
He was jumped. Attacked- manical, screaming, laughing children. So horrid in their corrupted innocence.
Kurosu fought them, as he was trained;
Never believe the enemy is like you, keep moving, protect your face... protect your face.
There were too many, they kept coming; scrawny undernourished spiders leaping from the shadows.
He had found a nest- they couldn't have been more than thirteen years, yet the rage in them was nothing weak.
Mad creatures... he almost pitted them. Almost.
The girl with the rusty blade was the one who took his eye.
The Pain. Fear. Hate.
Kurosu discovered then just what had begun to emerge in him. The composed fighter was no more; his world stained a beautiful red.
Red.
Running down his face, on his hands, in the children...
Their precious screams. He relished them.
Kurosu killed every last one- growing stronger with each bone he snapped, every skin he tore.
It was over.
He stood alone in their blood.
Their sweet, innocent blood.
Oh god, what had they done to deserve this fate?
Surely he couldn't have... H-how could this...
He could feel it taunting him, seducing him.
Kurosu caged this rage, the bloodlust, in the farthest reaches of his unconscious, promising with tears of blood he would never let it out again...
They did not question his eye; they did not know him well enough to care.
They would not find the bloodstains on the clothes he burned, the gore caked under his nails. They would never know. This mad secret, would be his burden alone.
They soon found out about the water, and it's "benefits" when others were affected. Soon the whole team had these strange "powers". It didn't matter- Just complete the mission.
Just complete the mission.
"I was sent here to create order... progression. But the chaos resides within my mind."
Other:
"It is the worst torture to be mad, when you are still partially sane."
Kurosu believes in killing the Martyoshka only when necessary; he simply wants the less afflicted ones contained and controlled.
Perhaps it is because he recognizes their ailment within himself; although he would vehemently deny that to the point of self-delusion.
He is not loyal to his previous superiors, but he was taught to believe in the importance of their task.
Therefore, he continues as one of the "Secret Police" as his band has dubbed themselves, helping them to rid the city of it's blight.
"I am not like them. I am no animal..."
Theme Songs:
His Composure:
So Cold
And Inner Fear:
Monster
Animal I have become