Minato Zillis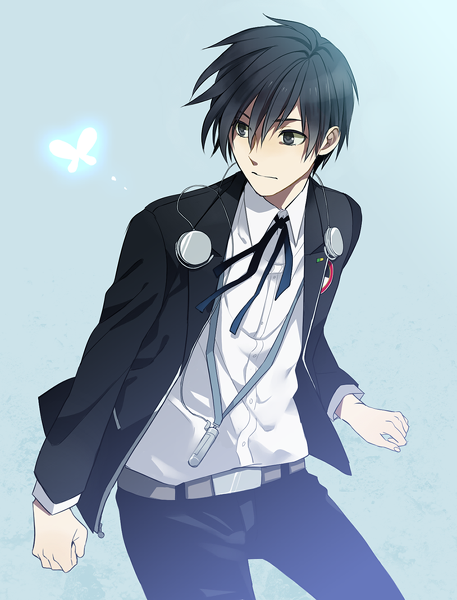 Nickname:
Some refer to him as Zillis.
"Call me anything you like."
Gender:
Male
"Last time I checked I was..."
Age:
16
"I'm the youngest member."
Sexuality:
Bisexual
""...I'm not that picky."
Love Interest:
None at the moment.
"I guess I just haven't met the right person yet."
Personality:
They say that it is the quietest ones who you need to be weary off, Minato is no exception to this saying. He comes accross as an extremely shy child, who knows nothing about the world around him and relies on his friends to guide him through life; he cannot survive by himself. While Minato isn't exactly quiet around those he knows, he doesn't attempt to start up a conversation, neither does he want to go near a stranger. He can seem a little pathetic as he always needs someone by his side otherwise he will become paranoid and terrified, especially when it's dark. He hates the dark so much as he fears that something is lurking within the shadows, waiting for the right time in order to snatch him up. He blocks out the world with music, always seen with headphones in his ears which are loud enough to stop any other sounds from entering them. Minato has found a way around not being able to hear things; he can lip read, from a great distance too. He can come accross as rather stubborn as well, since he doesn't like trying new things or acting out of intstructions from others on his side, he believes that he cannot do anything right himself and thus is stuck in a state of self-loathing.
"You can't trust someone you just met."
However, behind this innocent front lies a deadly foe which is not to be underestimated at any time. Though many do not know about this side or never see them, thus they just consider what they see of Minato to be the only truth about him. Minato is a master actor, capeable of adapting to any situation whilst keeping his cool, this is what makes him so deadly. Due to past events in Minato's life, he has become a rather dark and mentally ill person, though he has never been declared insane. A sociapathic killer who is able to continue a life of crime without even being suspected an inch. Minato is extremely intelligent and uses his calculative mind to plan out things before they happen, no he is not psychic but he is able to almost tell his victim's next actions; call it experience or not but it does not change the fact that this is a dangerous trait he has. When he plans such things, he ensures that the evidence he plants on his victims, point to a completely innocent person, who then has to serve life in jail. Minato is slightly sadistic too, with his twisted mind he usually creates 'art' with his victims, though such things are not to be repeated, but one can only imagine what sick things his victims are put through. Minato actually suffers from depression, which is typical for someone who remains cheerful or quiet most of the time. His mood swings don't necesarrily affect his act, but sometimes they do; at one point Minato can be extremely cheerful but then he might suddenly go quiet. But never once has he ever let his act slip and reveal his true personality and identity, some might compliment him upon this as he, despite his ill mind, he is able to keep up an act. It takes skill, skill which Minato has pleanty of.
"Huh, what? That's not nice to say about someone!"
Power:
Minato's power revolves around the creation of small glowing blue butterflies. While they appear delicate with every beat of their wings, the creatures are created for the soul purpose of destruction. Like a plague of locust, they swarm a person and devour their flesh, stripping it from their bones in a matter of minutes. They leave only bones and eat tissue, organs and muscle. The creation of these creatures can be anything from a single butterfly to fifteen, depending on how much energy Minato has. If he is weak then he can create only one or two of them, however if he himself is bursting full of energy then he can create a deadly swarm. Their appearance matches their endurance, the creatures are delicate and can be squashed easily but created just as easy. They remain under full control of Minato to avoid anyone from being eaten who Minato doesn't want them to, however they might try and latch themselves onto someone else if not told before otherwise. The butterflies usually work in a swarm and will deal with one person rather than spreading themselves and attacking many at once. They do not stop until their victim is completely devoured, they are dangerous creatures which should not be judged by their harmless apparance -- just like Minato.
"Butterflies? They wouldn't hurt anyone, they can't."
Goals:
Minato -- despite his twisted mind -- he hates chaos, ergo he hates the Martyoshka. He wishes for the creatures to be destroyed and to crawl back out of whatever hole they came from. He finds them disgusting, however his innocence just believes the creatures to be confused and in need of help, he will even retaliate when someone tries to kill them -- or at least cry. Minato really wishes for them to all be dealt with so that they can move on and leave the city, thus allowing him to continue on with his life and his killings with his new found power. He's also very interested in how his power really works and what the benifits of it are.
"Don't hurt the Martyoshka, they are just misunderstood and need our help!"
History:
His mother was a drug and sex addict who fell in love with a man she met at a bar. Thoguh it was not real love, it could never be, he abused her and she cheated on him many times. They were the worst together. She became pregnant with his child though and strung him into a full time commited relationship. She cared not for her child's health and continued her acts of drug taking and alcohol abuse, he stayed by her side all the way through it though. The trauma of child birth was too much for her body to handle and thus as her baby was brought into the world, she left it.
Minato had his fair share of trauma in his life, he would never remember his mother but he will clearly remember his father. After his mother's death, his father was the one to raise him. His life with his father was far from pleasent, Minato would be close to starvation most of the time; he was always the thinnest and palest boy around. His father also sexually abused him as well as just general abuse, Minato still has the psychical and mental scars from the time spent with his father. He never regained the weight he lost either, nor did his skin colour change dramatically.
At the age of just thirteen, Minato grew tired of his father's actions and his constant bringing home of girls. So he went into his father's room whilst he and he latest fling were downstairs and rummaged through the draws to find the gun he kept within them. Minato held no sense of hesitation as he went downstairs and shot his father in the back of the head; he even laughed, enjoying the strange sense of finally being rid of his father. The girl screamed and managed to knock the gun out of Minato's hands, picking up the phone and dialling the police. Minato chased her into the kitchen and drew a knife from the block, throwing it at her and striking her in the shoulder. She fell to the ground, the phone rolling from her hand whilst being still dialled. He stood over her and yanked the knife from her flesh before bringing it down once again and continiously stabbing until she was nothing more than a mutilated body with no real identity any more.
Minato lived by himself for a while (a few days) until the police turned up in search for the missing girl, by then he had gotten rid of the bodies by burrying them within the garden and clearing up all evidence of the events which took place. Minato stated that he hadn't seen his father for almost a week, bursting out into tears which were all too believable and earned the sympathy of the force. They promised to find his father immediately. For a week they searched but never found, only to return to an empty house; Minato was gone. They wrote it down as a kidnapping since everything in the house had been left, including Minato's clothes.
The boy ran away taking nothing but the gun and a knife strapped to his leg in order to keep himself safe, he couldn't help but laugh though. The thirteen year old had turned into a monster and no one even saw it coming. For a few years he traveled from family to family, they couldn't say no to his innocent face. However wherever he went, death would follow, the families would be murdered in the most horrible of ways, Minato the only survivor. When the police came, Minato was found crying inside a closet, shaking and clutching onto a photograph of the family he was with. He claimed that his father had tracked him down here and murdered the family, although no prints were found on any of the weapons used; not even Minato's. They could only believe the boy as they considered him all too young and too upset to do anything like hurting his adpotive family.
When Minato was sixteen, he was living with his twenty first family and had just left school. He wanted to go into the police force, telling them that he would be able to track his father and bring him to justice if he was on the team. Everyone looked to Minato with admiration and awe about how the boy could be so optomistic about his apparent situation, everyone knew of his story but yet they still wanted him in their family despite the danger. Minato did just what he said and joined the police force, being put on a special rooky team and almost immediately being preped to be dispatched somewhere far away. Minato didn't mind, he was happy to be accepted so quickly despite his history. Working on the force was the most unsuspicious thing a criminal like him could do. No killer would ever dream of getting that close to their enemy, but Minato did.
Five of them were dispatched to the city of Grey, where they saw something inhumane. Countless teens with black markings and hoodies, running around and causing chaos. No one knew the cause but the team tried so very hard to restore order, but it proved pointless. They were told to stay in the city by their boss and thus had to take up residence, when they drank the water enough times -- they gained powers, ones which would now be used to combat the Martyoshka. Minato also inherited powers and inside grew excited about using them to cause more pain and suffering than ever before, he was a twisted person. However on the outside he played the part of an innocent teen who didn't want to hurt anyone or anything, even if it was their job.
"Um, my life was fine, really... It doesn't bother me that my father is trying to kill me, I will catch him one day. He's a bad person, bad peoeple always loose."
Other:
Like I stated, everyone knows about Minato's history, including those on the Secret Police. So they might be a bit suspicious of him or be sympathetic towards him, or even manage to uncover the truth. Either is fine or perhaps they just don't care. Minato has only used his power once, but not in front of anyone from the force so they would not know about his power and what it does, Minato refuses to use it (in front of them anyway).
"I can't use my powers to hurt people! That's not good!"
Theme Songs:
30 Seconds to Mars - Beautiful Lie
It's the perfect denial. ‖ It's time to forget about the past, To wash away what happened last.
Mike Snow - Animal
In your eyes I see the eyes of somebody I knew before. ‖ I change shapes just to hide in this place.
Daughtry - All These Lives
You're not a person; you're a disease. ‖ All these lives that you've been taking. ‖ Broken homes from separation.
Avenged Sevenfold - Bat Country
Too many doses and I'm starting to get an attraction. ‖ No one can save me and you know I don't want the attention.
Blue October - Hate Me
I have to block out thoughts of you, so I don't lose my head. ‖ Dropping little reels of tape, to remind me that I'm alone.