---
---
❝I-I don't k-know about th-this. . .❞
---
---
∞ Full name ∞
Hachirou Jun Mattarame
∞ Nickname ∞
Chi
∞ Ethnicity ∞
Japanese
∞ Age ∞
23
∞ Gender ∞
Male
*
∞ Sexuality ∞
Bisexual
∞ Role ∞
Head Errand boy of the Light Bearers
∞ Ability ∞
Telekinesis.
∞ Face Claim ∞
Nai Muhinyi
---
---
*

∞ Height & Weight ∞
5'0"/125lbs
∞ Hair color ∞
White with purple dye
∞ Eye color ∞
Orange eyes
*
∞ Distinguishable Facial Features ∞
His large almost feline eyes are a major feature
∞ Birthmarks/Scars/Tattoos/Piercings ∞
Marking as a light bearer: He bears a mark of a claw marking, four slash-like markings down his left shoulder blade. He also has a silvery bellybutton ring.
∞ Physical Description ∞
He is very slender, very feminine in build. His angular face highlights his huge eyes, he has small delicate hands and feet. He has full soft lips and his skin is perfect without blemish and pale white. He has small musculature toning. He also looks like he was born starved slightly.
---
---
∞ Habits/Quirks ∞
✦Twirls his hair
✦Hums when he's happy
✦Adds "Chan" to the end of EVERYONE'S name
∞ Likes ∞
♥Cats
♥Sweets
♥ Watching the stars
∞ Dislikes ∞
✖ Dogs
✖ Storms
✖ Liars
∞ Talents ∞
✔ He can run very fast for long stents of time
✔ He can cook
✔ He can mend wounds
∞ Fears ∞
✘ Death
✘ Ghosts
✘ Clowns
∞ Flaws ∞
✘ Very cowardly in the face of danger
✘ Can't keep secrets very well
✘ Can't bear pain at all
∞ Secrets ∞
⌛ He has killed before
⌛ N/A
⌛ Sometimes he is haunted by nightmares
---
---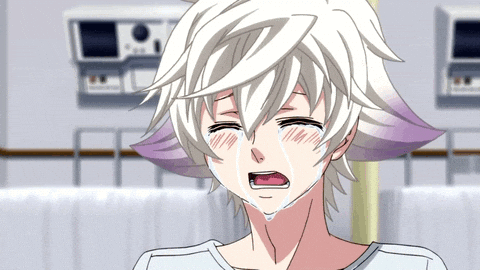 ---
---
∞ Weapon ∞
Chi has two handheld crossbows that he can guide the two arrows with his Telekinesis.
∞ Personality ∞
He is kind and timid. He loves and trusts everyone which gets him hurt. He is VERY much like a child, however he can become very mature and very, very deadly intelligent. Like a wild animal in a life or death situation, he can become a force to be reckoned with. However he hates becoming like that and will usually allow himself to become severely injured rather than take a life as he hates killing.
---
---
∞ Romantic Interest ∞
None
∞ History ∞
As a young boy Chi was always picked on and mistaken for a girl. He didn't really have parents, he sort of just happened. Well of course he must have had parents but he doesn't have any memory of his family. He grew up in a small rural area until someone told him of a project to have some Light Bearers to help protect the people. Chi decided this sounded like a good idea; even though he was a very shy sort of person he thought if he could help people that would make his life meaningful. However it was a trick for Light Bearer's to turn themselves into the government.
*
∞ Other ∞
Chi believes there is an angel that will release all of his pain.That she will take him into a place he calls, "the eternal gardens." There he will never be scared or hurt again. He believes she will come with light shining brightly and in one sweep of her delicately perfect hand she will cure and teleport Chi to his safe haven. His eternal garden that he believes is where he belongs.