---
---
❝Who needs to talk things through when you can solve all of your problems with guns?❞
---
---
∞ Full name ∞
Mitsuko Sorachi. The name Mitsuko translates into 'Shining Child' or 'Child of Light'
∞ Nickname ∞
Mitsuchi(informally), Boss
∞ Ethnicity ∞
Japanese
∞ Age ∞
21
∞ Gender ∞
Female
*
∞ Sexuality ∞
Heterosexual
∞ Role ∞
Leader of the Freedom Fighters
∞ Ability ∞
Sensory Manipulation | The effectiveness of Mitsuko's sub-abilities depends on the amount distance in between her and the target. Mitsuko can only target one person at a time and cannot target herself.
The WADJET chart shows just how much control Mitsuko has over each sense at maximum capacity. All sub-abilities save for 'Thought' are pretty self-explanatory.
Thought | This sub-ability places the target in a dormant state, shutting off all conscious brain activity. This state could be considered similar to a coma. If pushed to its fullest limit, Mitsuko can shut off the brain completely, putting the target under the guise of a corpse until the distance between them becomes too great or until she releases her abilities' hold on them.
∞ Face Claim ∞
Yurippe(Yuri Nakamura)|Angel Beats
---
---
*

∞ Height & Weight ∞
5'4"(165 cm), 116 lbs(53 kg)
∞ Hair color ∞
Magenta(Naturally Dark Brown)
∞ Eye color ∞
Pale Brown. She wears reading glasses whenever she has to read small texts and blue contact lenses any other time.
*
∞ Distinguishable Facial Features ∞
N/A
∞ Birthmarks/Scars/Tattoos/Piercings ∞
Mitsuko's mark is located on the left side of her neck and consists of three Wadjet eyes that overlap and cut into each other in a radial pattern.
∞ Physical Description ∞
Even though Mitsuko is a grown woman, her general demeanor is that of a teenager. She has a slender build, not particularly bustling in any area, while not exactly giving off the air of a child either.

She has fair skin that glistens in the sunlight. Preferring the embrace of the night, Mitsuko tends to burn easily whenever subjugated to intense sunlight for too long. Whenever the sun is out, she usually shuts herself inside unless she is on a mission. For any other reason, she only goes outside when it is nighttime. Because of this, her complexion is somewhat pale. Thanks to her taking participation in various daytime missions, Mitsuko hasn't become a complete ghost.

Mitsuko wears medium-length hair, finding that long hair would just get in the way, but still wanting to appear feminine. Her contacts are specially made to give off a natural gleam. Her eyes underneath are actually rather dim looking, almost like that of a corpse.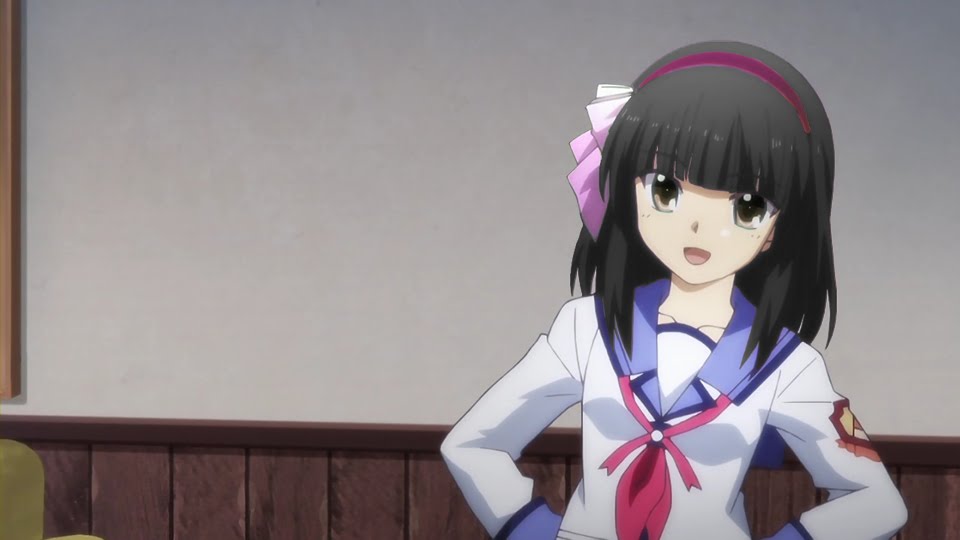 ---
---
*
∞ Habits/Quirks ∞
✦ Nail-biting | Whenever Mitsuko becomes agitated or frustrated she tends to chew on her nails, most notably her right thumbnail.

✦ Silver tongue | No matter what kind of question or approach someone takes with Mitsuko, she has an answer at the ready. Usually, there is never a hint of hesitation in her words. Most times she replies subconsciously, not really paying attention to the person talking to her.

✦ Subordinate Abuse | Whenever Mitsuko is trying to make a point and isn't being taken seriously, she takes one of her more submissive subordinates and physically abuses them with light punches and other methods of minor bodily harm. Although she is usually messing around when she does this, there are times where she takes things too far, thus creating a wall between her and said subordinate that she later has to apologize for in hopes of tearing it down.
∞ Likes ∞
♥ The Thrill of the Fight | There is nowhere else on earth that Mitsuko feels more at home than on the battlefield. While most generals would prefer to stay back and let the foot soldiers handle all the dirty work, Mitsuko would much rather play the foot soldier. She could never knowingly allow her allies to go into battle while she remained on the sidelines. Despite her moral excuses for fighting, Mitsuko actually gets off on life or death combat. Her desire for battle for could be considered almost sexual in nature. Of course, she would never let anyone else know this.

♥ Blades | Mitsuko has always been a bit of a knife freak. Her personal sleeping quarters is full of them from wall to wall. Her 'collection' consists of all kinds of blades from old, rusty daggers to top quality swords of perfect condition. While her signature weapon is usually a gun, she can't deny that she is even deadlier with a knife in hand.

♥ Fruit-flavored Sweets | Whether it be artificial or all natural, one of Mitsuko's girliest qualities is her love of fruit-based delicacies. If someone wants to win her over, they simply need to offer her a piece of strawberry candy. Of course, she prefers cake more than anything.
∞ Dislikes ∞
✖ Unquestioned Loyalty | Mitsuko detests those who follow her without question. The people she hates the most are the ones who devote their lives to her cause. Their lives are not hers. These type of people are the ones Mitsuko can barely find the compassion to care for. She wants to find a close connection with everyone she leads. The only people she can truly call her friends are those who don't fight for her cause, but for their own.

✖ Ira Shoku | Her hatred for this him knows no bounds. There is truly no other in this world who has wronged Mitsuko more than this man. If there was one person she would feel completely at ease with killing, it would be him.

✖ Gender-based Discrimination | Surprisingly, Mitsuko is a bit of a feminist. Her view of the stereotypical weak and helpless girl or underdressed hussy is met with abhorrence. In Mitsuko's mind, women as a whole are just as strong and functional as any man. Those who treat women as objects are considered to be the lowest form of life-form.
∞ Talents ∞
✔ Ambidextrous | Mitsuko is neither right nor left handed. Hence, whatever she can do with one hand, she can do with the other.

✔ Expert Level Marksman | From a young age, Mitsuko has been around guns. From her experience over the years, Mitsuko has a wide variety or firearms under her belt that she can utilize as if they were an extension of her own body.

✔ Close-quarter Combat Specialist | Finding that relying completely on guns may one day be her downfall, Mitsuko has self-trained herself in several forms of martial arts and close-quarter combat, with and without weaponry. While she is able to hold her own in melee combat, with her training being mostly self-taught, any true martial artist would call her abilities mediocre at best.
∞ Fears ∞
✘ Returning to Her Old Self | The old Mitsuko wouldn't hesitate to kill anyone. Whether they be ally or enemy, if they were a hindrance to her, their life was to be quickly snuffed out. Her judgment was cold and merciless. The knowledge that this part of her still resides deep in her heart scares her more than anything.

✘ Killing Someone | Traumatized by the actions she had taken in the past, Mistuko can't bring herself to take someone else's life. If there is an alternative that allows them to live, she would much rather take that route, even at risk to her own life.

✘ Insufficient Leadership Abilities | There are times where Mitsuko feels that she doesn't have what it takes to be a leader. For all she knows, she may one day lead those who follow her to their deaths. This doubt eats at her will and resolve every day, ever deepening when a plan goes horribly wrong or a comrade goes MIA. Sometimes, the stress simply becomes too much for her and just for a moment, she considers giving up on everything she has fought to build.
∞ Flaws ∞
✘ Over-bearing Presence | Whenever Mitsuko talks to someone, she tends to make a prisoner out of them. Her pattern of speech often takes a turn to where she either belittles them or makes them feel insecure, usually unintentionally.

✘ Blunt | Mitsuko doesn't like to mince words. If she has something to say, she will let it slip without any regard for how anyone else may feel.

✘ Uncharismatically Passive | While Mitsuko does enjoy shooting and fighting, the thought of killing someone weighs heavy on her mind. She can't or rather, won't kill someone unless it is absolutely necessary. When faced with a situation where she has to kill someone for survival, she hesitates and almost shuts down altogether.

∞ Secrets ∞
⌛ Assassin of Regret | Before founding the "Freedom Fighters", Mitsuko worked as an assassin under Ira Shoku. This is a part of her past that she would rather forget... If only she could.

⌛ Remember the Fallen | She failed to save the first friend she ever had. His death haunts her dreams to this day.

⌛ False Identity | Her real name is actually Tsubame Hibari. She had to change it as well as her entire identity in order to escape the wandering eye of Ira Shoku.
---
---
∞ Weapon ∞
In combat, Mitsuko's signature weapon is her 9mm SIG P220. However, she also carries around a knife for when she needs to fight in close-quarters. In most cases, she also conceals a grenade or two on her person.
∞ Personality ∞
Mitsuko is a very prideful person. Knowing full well what her position in tells and the responsibilities that come with it, she takes her role as leader very seriously. Almost to a point where she obsesses over it. One subject that constantly invades her mind is of what her subordinates think of her. Do they think I'm a good leader? Will I be able to meet their expectations? Mitsuko is constantly asking herself these questions and more.

As prideful as she is, Mitsuko is not without her more charming factors. She feels that more than anything, the Freedom Fighters need to be unified. Not so much as an organization, but as a family. Although she is younger than more than half of the members, Mitsuko tries to act as everyone's big sister. If a member has an issue they need to discuss with someone, Mitsuko always opens her ear to them. If someone is feeling depressed, she will lend them her shoulder to cry on. The concerns of her subordinates are the concerns of her own. Mitsuko can be very tenacious when it comes to her subordinates' wellbeing. Almost to a point where she becomes annoying. But in the end, she's just showing that she cares.

A tender touch comes with a firm grip. While Mitsuko treats the Freedom Fighter members as a family, she still keeps a strict hold on them, making sure that they don't do anything stupid and reprimanding them if they do. She sets her own rules and regulations that much to her subordinate's dismay, are constantly changing. Mitsuko likes to maintain some degree of order among the group, but isn't the best at enforcing it. Her rules are very flippant and never stay the same, making them hard to follow. Luckily enough, when Mitsuko gives orders during missions briefs, she is more straightforward with her ideas.

To most, Mitsuko can come out as a bit tomboyish. Her interests in general consist of what the stereotypical male would like. If someone were to point this out to her however, she would deny them, fully inversed in her delusion that she is the depiction of a perfect woman. Although she tries to ignore it, the thought does trouble her at times and causes her to consciously attempt to act more feminine.

For the most part, Mitsuko interacts with those under her as an informal source of dominance. She likes to maintain a common ground between them and herself, so that they don't feel to overwhelmed by her. Often, she has to resort to mild violence and more often verbal abuse to show others when she's serious, as she doesn't know how to express herself any other way. It irritates her sometimes when they don't follow her orders. One of her most reoccurring internal struggles is finding a balance between reason and emotion. While she loves her subordinates, she needs to know that she can count on them to get the job done. Even though she may appear barbaric in these endeavors, Mitsuko derives some sort of childish fulfillment whenever she attacks another member, thinking of it as no more than play fighting.

Despite how she may act towards and treat her subordinates, she cares for them deeply. Her mind is set at ease when she can think of herself as a friend among them instead of a leader. Knowing that this reality isn't entirely true, she likes to imagine what life will be like after they've taken down Ira Shoku and set things right. A life where she can simply be around the ones she cares about without the possibility that they'll be captured or shot the next day. This is her dream. Her resolve to carry on and fight in this dying world.
This is the Mitsuko you know today. However...
The Mitsuko from back then was an empty shell of a human; nothing like the one we know. At this point in time, she went by a different name; Tsubame Hibari. She was an assassin that did any job given to her for the right price. Whoever her targets were and whatever they did meant nothing to her. At the time, Tsubame cared for nothing but money.

Tsubame was a stone-hearted, cold-blooded killer down to the T. Emotions and feelings meant nothing to her so long as she had a stable position in the current society. She took no pleasure in killing or anything for that matter. It was almost as if she couldn't be mentally driven by anything other than money. She cared for no one but herself. Everyone else was categorized as either a target or a client. The meaningless sheep in between those two were nothing to her; an existence not even worth mentioning. Her way of thinking had never changed until the day she began to question her own existence; the day she met that man...
---
---
∞ Romantic Interest ∞
TBA
∞ History ∞
Since the day she was born, Tsubame had been nothing but an experiment to push the human body past its physical limits. Really, she was just a side-experiment for Ira Shoku to play around with. It wasn't like she was the only one either. There had been thousands of test subjects before her, ranging from infants to elderly. They were everyday citizens, picked at random. The hot spots to find fresh test subjects usually derived from hospitals and prisons. Tsubame had been ripped from her mother's arms, only to be another child corpse, sent through an incinerator. Of course, that was to be her fate if she didn't survive the primary injections required to continue the testing process. Not only did she survive, but her compatibility results came out higher than any other test subject prior to her. From then onward, Tsubame was subjected to a variety of different serums and drugs that had nearly killed her on several occasions. Despite the odds, Tsubame had made it through every trial that was presented to before her. Out of 7,829 human test subjects, she was the only one to survive the entire process. Not to say that the experiment stopped with her. There is always a precautionary need for a replacement in case she should ever perish in the future.

By the age of 5, Tsubame was given her first gun. The chemicals injected into her body made her the perfect killer. With the first few squeezes of the trigger, she scored 40/40 targets on her first shooting range. Ira himself had taken notice of her results over time. The experiment he had started simply for a hobby had turned into something much more interesting.

Tsubame killed her first man at the age of 8, marking the end of her primary training. She didn't feel anything, or rather... she couldn't feel anything. The narcotics and consistent isolation, apart from the men experimenting on her had made her into an empty husk. The scientists decided to refer to her by a name. Taking note of the name Tsubame's mother was going to give her, the scientists figured 'Tsubame' was as good a name as any. Their reasoning for this was simple. 'Subject #7829' grew very tedious to repeat after few a months.

The next phase for her was to send her into the outside world with nothing but a gun and the hospital clothes she was wearing to see and how well she fairs. Of course, they wouldn't just keep an important test subject like her unmonitored. Throughout the course of her secondary training, Tsubame was constantly supervised by members of the laboratory.

Tsubame was puzzled as to what she was meant to do. She was given no clear instruction or objective unlike all the other times. She was merely sent out into the real world for the first time in her life. Tsubame stood there for hours. Every now and then she would receive a cursory glance from a passerby stranger. Only once hunger set in did she act. Upon instinct, she took out her gun and shot the first person in sight in the head. Without batting an eye, she moved through the mass of confusion and screaming towards the fallen man's corpse and began looting his body. She found nothing of use but a wallet with money inside. Remembering once seeing a scientist purchase a vending machine snack with it, Tsubame figured it could be of use to her.

Over the course of 9(Age 17) years, she had continued kill and gain. Soon enough, she had made an occupation out of it. Ira was intrigued by her uncanny ability to survive and adapt under the entirely foreign circumstances she was placed in. Every so often, Ira called Tsubame back in to have her take care of a few of his own headaches. To Ira's surprise, Tsubame refused to do anything of the sort unless it involved receiving money. Albeit irritated that Tsubame still had the capacity to refuse him, Ira complied as to not alter the course of the experiment.

One day she was sent to take out another target under a client apart from Ira. The target was Mirou Kazemaya, 23 years old, unemployed, everything else irrelevant. Her client was a wealthy businessman who had finally caught Mirou hacking into his organization's funds after searching for the culprit for over half a year. However, because of the recent gun ban passed a few years ago, her client was in dire need of armed help. Like every other job, Tsubame took it without hesitation. She way being paid after all. Knowing that his fuck up would eventually bite him in the ass, Mirou had set a trap for anyone who might come after him. Surprisingly enough, the trap had worked on Tsubame. While she was well-versed with a gun and had abnormally high physical aptitude, her coordination skills still had much to be desired. A simple trap door was all it took to subdue her. Trapped at the bottom, Tsubame had no choice but to comply with Mirou's requests.

For the next few weeks, Mirou kept Tsubame down there, giving her the necessities she needed to live through electronic devices. Over time the business man, content with the fact that his funds were no longer being jeopardized, never questioned why Tsubame didn't return to collect her payment. At some point, Mirou began talking to her openly, at first not receiving the slightest answer. A couple of weeks into her capture, Mirou gave up on trying to reason with Tsubame. If he had to, he would keep her down there until he no longer felt obligated to keep her alive.

That was when the unexpected happened. Light began shining from Tsubame's neck, causing her great discomfort. The light distorted the cameras in the underground room, leaving them useless. Worried, Mirou took the risk and checked up on her in person only to be utterly bewildered by the phenomena occurring right in front of him. With each passing second, Tsubame could feel the effects of the narcotics leaving her body along with her heightened physical abilities. As the light diminished, it left a brand on Tsubame's neck of what appeared to be a Radial Wadjet symbol. With the brand's arrival came something else Mirou didn't expect. Within Tsubame's eyes was something completely bizarre for her. The look of fear.

Through the course of a few months, Tsubame lived with Mirou in his home. Over that time, Tsubame experienced a number of new things. Happiness, anger, sadness, guilt... The thing she didn't understand most of all was a feeling lingering deep in her heart. Tsubame had fallen in love with Mirou. Not truly understanding the feeling, Tsubame asked Mirou what it meant. Being the responsible adult that he was, Mirou explained the feeling as a familial bond that connects two or more people together. Having no prior knowledge of this, Tsubame accepted his answer without question. Tsubame soon found out that Mirou was hacker, plotting to bring down Ira's reign through the only weapon he had. Some would say that Mirou was the very first "Freedom Fighter".

Not too long after, Ira grew impatient with the scientists. They had lost track of Tsubame months ago and now their lives depended on bringing her back. One day they struck a gold mine when they saw Tsubame wandering the streets with a man. Ira ordered them to kill the man and bring Tsubame back. Overhearing their transmission, Mirou panicked but remembered that he wasn't alone anymore. While it did raise many questions on Tsubame's identity, Mirou disregarded the fact that she had been the main subject in the transmission. Without her consent, Mirou hacked into Ira's organization and erased every file that Tsubame had ever existed. Utilizing every resource in his arsenal, he made Tsubame a completely new identity within a matter of hours. Hours that he could have to used to attempt an escape. After Mirou explained the situation to Tsubame, she refused to leave his side. If she needed to, she would defend him until her last breathe. But Mirou didn't give her that option. Gasing the girl, Mirou had her transported to her new apartment which he had established for her via hacking. Mirou thought in his final moments that he was a true genius. In only a small portion of time, he had created an entirely new life for someone. Whether he ever loved her in the same way was irrelevant. Mirou was content with the fact that he managed to liberate at least one person from Ira's control. He could only hope that she would become a 'child of light' to erase the darkness Ira had brought unto this world.

Enraged by Mirou's death, Mitsuko swore that she would kill Ira with her own hands. Not that there weren't hundreds of other resentful souls who had sworn the same. If anything, Mitsuko would need them to accomplish this task. And so her journey to find the other light bearers began. She didn't exactly know why, but she felt that if she could find anyone else with a similar brand to hers they would play a key factor into bring about Ira's demise. Four years later her story continues...

*
∞ Other ∞
Whenever she gives mission briefs, she likes to sport a beret, thinking it gives her a more influential aura and also makes her appear more authoritative.