❝How did I know? Your body language made it obvious.❞
---
---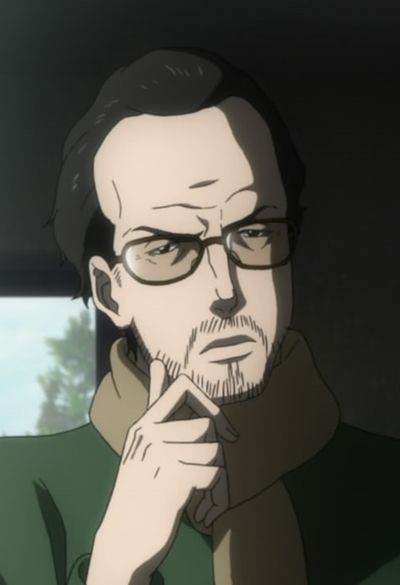 ∞ Full Name ∞
Masahiro Oshiro
∞ Nickname ∞
Dr. Oshiro, it's more of a title than a nickname, but it's what people call him.
∞ Ethnicity ∞
Japanese
∞ Age ∞
36
∞ Gender ∞
Male
*
∞ Sexuality ∞
Straight
∞ Role ∞
Doctor, is not a light bearer, helps the FF in secret
∞ Ability ∞
No powers, but is a good doctor
∞ Face Claim ∞
Jouji Saiga from Psycho Pass
---
---
∞ Height & Weight ∞
At 5'10" and 185lb (178cm and 84kg) Masahiro isn't small, but he's not too big either
∞ Hair color ∞
Black
∞ Eye color ∞
Dark brown and he wears brown rimmed glasses
∞ Distinguishable Facial Features ∞
There's nothing that really stands out
∞ Birthmarks/Scars/Tattoos/Piercings ∞
He has no marks of particular note
∞ Physical Description ∞
Masahiro looks like a fairly ordinary man, he's slightly above average height, other than that he's of average build, not muscular but yet not seeming to weak either. Looking at his body, you won't see anything out of the ordinary. The only one feature that stands out is his forehead, it seems a bit large, this is due to a prematurely receding hair line combined with the fact that he keeps his hair slicked back so it's out of the way.

What distinguishes Masahiro isn't his physical build, but rather the expression and atmosphere he gives off. Just by looking at him, you can tell he's a learned man and you can't help but think he must be deep in thought, contemplating some grand, complex idea. Yet he never misses a thing and when you talk to him he gives you his full attention despite this air of deep thought. His glasses only lend to this effect, though the lenses are fake, he only wears them to give the impression he has a weakness that he actually doesn't have.
---
---
∞ Habits/Quirks ∞
✦ Notes | He's almost always carrying a pin and paper so he can jot down notes when needed.
✦ Deep thought | He always seems to be deep in thought, even when he's asleep you'd think he never stops contemplating.
✦ Analytical | He tends to analyze everything in great detail, it's simply the way he is.
∞ Likes ∞
♥ Tea | He likes to have a cup of tea each morning before getting to work.
♥ Helping others | He enjoys helping almost anyone in any way he reasonably can.
♥ Learning | He always seems to be learning and gathering information, whether from a book or from observing those around him.
∞ Dislikes ∞
✖ Impatient people | He finds it annoying to have to deal with impatient people.
✖ Wasted time | If he feels like he has wasted time, it really gets on his nerves.
✖ Lying | He feels it gets in the way of learning, but he recognizes the need for a lie here and there and is more practiced at it than he would like to be.
∞ Talents ∞
✔ Medical knowledge | He is a doctor after all.
✔ Psychology | He is well educated and well practiced in this field. He can read a person like an open book.
✔ Lying | Due to his training in psychology along with the years of lying about helping the Freedom Fighters, he can lie without showing the normal tells.
∞ Fears ∞
✘ Losing a patient | If he fails to save a patient in critical condition, he considers it his fault.
✘ Being discovered | He fully knows what will happen to him if Ira's enforcers discover he's been helping the Freedom Fighter, after all, he often treats people that have been punished for lesser crimes.
✘ Being taken | He knows more about medical science than most people, so he thinks Ira might someday notice him and offer him a job in Ira's private lab. Obviously if he didn't accept, he would be punished.
∞ Flaws ∞
✘ Critical | He tends to be overly critical of others.
✘ He's blunt | This makes him seem rude, even when he's trying to be nice.
✘ To analytical | He can often end up over analyzing things, resulting in wasted time, which he doesn't like.
∞ Secrets ∞
⌛ Helping the FF | He's been providing medical services for the FF for some time now.
⌛ Glasses | His glasses are fake, he wears them so people will think he has a weakness that he doesn't have.
---
---
∞ Weapon ∞
Doesn't use a weapon
∞ Personality ∞
Blunt and straight forward, Masahiro can often be perceived as rude. However, he's actually a kind person, he just doesn't see the point in wasting time with pleasantries and beating around the bush. He's logical and calculating and he's very careful about what he shares with another person. Still, he cares deeply about the well being of others and always puts full effort into treating his patients, regardless of who they are, once they're his patient, he'll do everything he can to make sure they're in good medical condition.

Masahiro can read someone in a glance, just by looking at them he can tell what they're good at and what they're bad at. He can tell if a person is lying or if they are hurt, even when they try to hide it. At times it can almost seem like he's looking right into your mind and reading every thought you have.
---
---
∞ Romantic Interest ∞
None
∞ History ∞
There wasn't any horrible event that happened in Masahiro's past to make him hate Ira Shoku or want to fight back, he just didn't ignore what was happening around him. He could see how Ira was taking control of people's lives and doing evil things. He could see what light there was fading into nothing more than a memory. Despite this, he knew that speaking out against Ira would do no good. So Masahiro decided to learn useful skills and try to gain a job that might be useful someday. He knew a group of people would eventually form to fight back against Ira, so he wanted to be able to support that group when the time came.

Many years later, Masahiro had gone through college and now had several medical degrees and psychology degrees, which certified him to perform the twice a year health inspections required by law. He had also become the head doctor at a clinic, which also servers as a hospital for the region, and he used this position to treat Freedom Fighter members that had the mark of light, that way they can receive medical attention without being reported to the authorities. He also performs the twice a year health and mental inspections for the Freedom Fighters so they won't be reported to the authorities and so they don't get caught for failing to report for inspection.
∞ Other ∞
Masahiro sometimes treats government employees, when he does he tries to gather as much information as possible to pass on to the Freedom Fighters.

Because Masahiro is the head doctor at a hospital, his living quarters are located in the hospital so he can be available to take care of patients even after curfew.