---
---
❝You did this to us, Ira Shoku! Damn it! Damn it!❞
---
---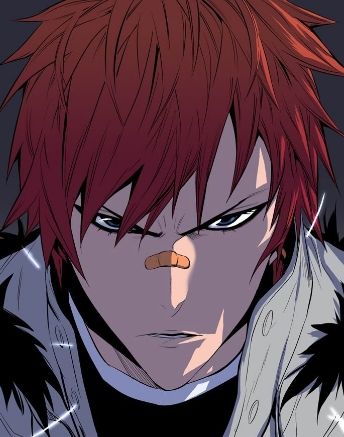 ∞ Full name ∞
Tanuki Shoma
∞ Nickname ∞
Ta-chan
∞ Ethnicity ∞
New Tokyo
∞ Age ∞
17
∞ Gender ∞
Male
*
∞ Sexuality ∞
Hetero
∞ Role ∞
Member Number 3
∞ Ability ∞
Pain Administer
∞ Face Claim ∞
Han Shiwoo from Noblesse
---
---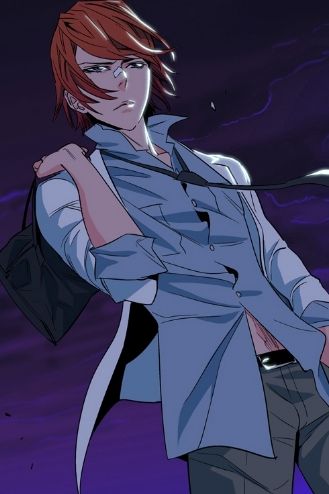 *

∞ Height & Weight ∞
5"09; Weighing in 191 lb
∞ Hair color ∞
Orange
∞ Eye color ∞
Blue
*
∞ Distinguishable Facial Features ∞
Most people would be able to recognize Tanuki by the bandage on his nose. He does go about replacing it when the tape is peeling off. Another distinguishable feature is the circle earring on his left ear.
∞ Birthmarks/Scars/Tattoos/Piercings ∞
His mark is a large sun-like symbol plastered on his left chest. He also have an array of whip scars on his back from early youth punishing.
∞ Physical Description ∞
Despite not being tall, his body makes up by being very fit and show off a bit of muscle on his body. Not enough to show off, but at the very least be distinguishable to note exercise and physical capability.
---
---
*
∞ Habits/Quirks ∞
✦ Bandaged Nose | Bandages do not stick forever, have to be replaced weekly.
✦ Idiot | Under-average grades and thinking
∞ Likes ∞
♥ Exercising | A hobby and the only way to keep fit
♥ Mako | "I-I-It's not what you think!"
♥ Meat Cuisine | As far as to worship the cow and ask for four helpings before getting full. A lot of strength means a lot of calorie burned.
∞ Dislikes ∞
✖ Ira Shoku | Kinda obvious being a freedom fighter
✖ Disloyalty | This was caused by a past event
✖ Authorities | Will never forgive them for punishing him
✖ Cold | Hates the freezing weather in general and is bad for his mother's health
∞ Talents ∞
✔ No Talents | He never exert himself outside of delinquency and goofing off to surmount to any real talents.
∞ Fears ∞
✘ Betrayal | Past trauma
✘ Losing His Mother | With her bad health, he can not help to worry of losing her from the bad temperature and authorities
✘ Losing to Ira Shoku | It would mean the end of the Freedom Fighters
✘ Ghosts and Horror Stories | "You can't punch what you can't touch"
∞ Flaws ∞
✘ Lovestruck | Tanuki is weak to love and does not understand much about the feeling
✘ Violent | The type who would punch first before and after thinking
✘ Weak to Cold | If he stays out for too long, he starts to freeze up easily
✘ Bad with Keeping Secrets | Because of his blunt nature, it is hard for him to hide secret.
∞ Secrets ∞
⌛ Likes Mako | Thinks it is a secret, but it is very obvious to the more noticing individuals
---
---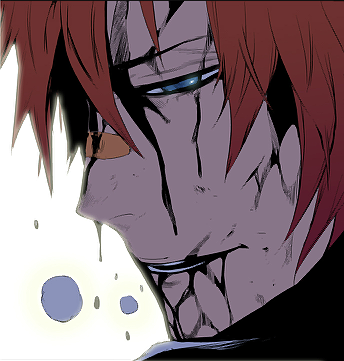 ∞ Weapon ∞
Tanuki is the type who prefers to go into combat without the need of weaponry. His power was enough to act like a weapon, without the sensation of pain he could push his human limits with more adrenaline and a single touch would feel like cut wounds to all he touches. On the other hand he can take away that sensation if necessary.
∞ Personality ∞
"Oraa!"
A purebred delinquent would be the best way to sum up Tanuki Shoma. He fits in the general trouble maker level, mainly talking with fists more than words. Always intimidating and yelling out his feeling from the top of his lungs. If either you or him bump into each other, he will grab you by the collar and get angry for no coherent reason. Of course when he is not pissed off or in the delinquent mood he is more aloof. Even a mad beast have to calm down sometime and the only way to get him calm is by feeding him. So when it comes to eating, Tanuki is a lot more relaxed and focused. But beware of taking food from him or else you will get a good beating.

Tanuki is also a natural idiot. If there was a problem to be solved, his main answer is to use force. Also having him think too hard will easily make him short out and burn more of his brain cells.

When it comes to personality weakness, it would only be when he is around two individuals. The first being his hospitalized mother. That lady knows every weakness of Tanuki and would be the only person in the world who can defeat him. The second person is whenever he is around Mako. Tanuki simply gets quirky and haughty trying to have himself be seen as a "man" in front of the girl he likes. He does not openly admit his love to Mako and is very shy to the topic because of his old fashion-like ways. Would mainly deny the very idea to anyone who asks.

At rare occasion, when topics of ghost or horror comes around, he would show off his cowardly self in the presence of the supernatural.
---
---
∞ Romantic Interest ∞
Ever since he first felt Mako's kindness he fell in love instantaneously. He is a bit quirky when it comes to the topic and will quickly deny all accusations despite it being blatantly obvious, but he would do what it takes to protect the young girl from harm. His love is also old fashioned.
∞ History ∞
A single child being raised by a single mom is not an uncommon thing. Tanuki's father had died in an accident when he was a toddler. Tanuki did not know much about the father he could barely remember. Every thing he knows of the dearly departed is from tales given by the mother and pictures. His mother treated him kindly and as motherly she can be. Performing multiple jobs in order to sustain their livelihood. Tanuki ensure that he never betrays his mother's kindness. But by the time he started attending school, he started his road of delinquency, causing mischief, getting into fights, and skipping out school, the package deal. He would try his best in his studies and chores to ensure a proper repayment to the kind mother though.

During the start of his high school years, Tanuki decided to become more serious in his studies and stepped away from the delinquent community. However, habits are hard to change and he was more alone in this world than he ever was. With past history of fights and trouble making, people would gladly look down on him and on occasion he would still cause a bit of trouble even if these trouble were not his intention. One day, he became acquainted to a weak classmate, the type where being bullied was natural to him. Because Tanuki decided to turn over a new leaf, he had tried to help the kid out. Instead of taking on the bullies himself, he decided to report to the home room teacher, get aid from a higher authority figure. But Tanuki was more demanding and condescending than he was convincing and that irked the teacher. The man would help Tanuki and a day later that kid he acquainted had committed suicide. Upon trying to figure out the cause of this, Tanuki investigated the teacher to find answer only to be told that the teacher he thought he could trust edged the poor boy to his death. Tanuki feeling betrayed took vengeance and the rest became school and media news.

Punishment had to given for greatly harming the man and the only way to do so is by the laws of Ira Shoku. On that pedestal in front of an audience, the lashing started and all Tanuki could think of is the evil in the authorities and peers who did not vouch for fear of being punished themselves. A measly soul was lost and a boy is punished for his justice. Tanuki was covered in scars from the punishment and in front of his crying mother all he could do was break down. A week passed as Tanuki shut himself away from society and became weak from malnutrition. Tanuki had a fight with his mother on that day and without realizing that she was also becoming ill from all the grief and stress. She dropped in front of him and that freaked him out. He tried to get help but this was around the time when a terrible storm had brewed up. It would have been impossible for an ambulance to arrive in time, getting help would be difficult and going out was suicidal, but Tanuki wanted to get her to the hospital. With all of his remaining strength he carried her out into the storm without regarding any consequences for his action. Even if he had to break curfew, destroy his body or perish in the cold he had to get her to a doctor. Only thing that stopped him was a turned over truck that blocked the path way. With no way around he had only one choice but push the truck himself. Tanuki was weak from malnutrition and the freezing cold and snow was not helping at all. Pain was coursing through his body and he felt every muscle ripping and screaming. But a miracle had occurred, his pain slowly subsided the more he exert himself, a burning sensation came onto his chest, and soon the truck started to move inch by inch until there was a crack big enough to move through. But he did not care, all he wanted was get her to a hospital. At the luck of the hour, she was able to get treatment. Despite a successful treatment, it would only be temporary. Being out in the cold too long and having a weak body had given her a latent disease that was untreatable unless she stayed in the hospital. So Tanuki was left by himself.

Months have passed since that stormy day and he had gotten himself back to shape. He discovered more and more about the power he obtained that night. He did not return to school but instead joined an underground gang wreaking havoc to society in order to earn some cash to pay for his mother's treatment. A year passed and he had his own gang to worry about, but around this time the Freedom Fighters were starting to become more known. One man whose the current leader right now hunted him down, giving Tanuki membership to the rank. The man had investigated onto the trucking incident a year back and was able to convince Tanuki to join the Freedom Fighters and their cause.
*
∞ Other ∞
His mother is currently in treatment at a hospital due to an incurable sickness. She is signed under her maiden name. So unless the authorities checked into her history carefully there was no obvious ties to Tanuki and the Freedom Fighters. He would visit her in secret at around the last hour of visiting time once a week.