Maleficent Dejana DeBrock
"Evil? No, that's strength."
---
---
Name:
Maleficent Dejana DeBrock
Nickname:
Mal
Age:
24
Origin Story:
Sleeping Beauty
Character:
Maleficent
Sexuality:
Straight
Likes:
Obediance
Being Noticed
Power
Respect
Glory

Dislikes:
Being Rebeled Against
Exclusion
Disregard
The Lighthearted
Poetry

---
---
Fears:
The Good Witches
Death
Weakness

Hobbies:
Horseback Riding
Swordsmanship

Powers:
Mal does, of course, have the basic powers any witch would have, but over the years she has used them less and less, turning fully to the Dark Arts, which is meant to inflict harm and pain upon the victim. However, her magic can be conflicted by an exceptionally powerful good witch.
Strengths:
Swordsmanship
Horseback Riding
Singing

Flaws:
Anger Management
Writing
Self-Control

---
---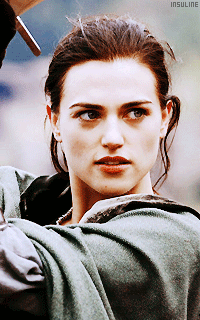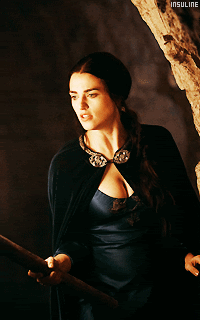 Personality:
Mal has a high envisionment of her self, very much so. One can easily consider her as conceited, self centered. That wouldn't be wrong, to be honest. She looks down upon others, who she considers unworthy of her time and consideration. She avoids most everyone else, for, as is suspectable, her conceitedness is not viewed kindly. Her few friends have earned her toleration in some way in her own eyes. Indeed, they are not much of "friends", moreso "aquaintances", although Mal denies it for personal gain.
Mal has a tendency to look upon those viewed higher than herself with jealousy. Her jealousy is not unbased, as she feels that the good in others is never displayed to her. She has tried, at many points in her life, to become what some would call "good", but gave up after facing ridicule from those who already beared the classification. Of course, now she follows the philosophy that there is no good, no evil, just weakness and strength. She bears her "evil" title with pride, honestly not being able to care less about the titles bestowed upon her.
Mal is extremely short tempered, a trait which is displayed through out her lifetime, often at her own expense. In her tempers, she becomes uncontrollable, though no one would believe it, as her actions in her tempers reflect her personality and treatment of others. When she had her magic, it would often become incontrollable when she reached this state, and she couldn't direct it. Well, she could, but she says she couldn't.
History:
Everyone thinks they know the story of Sleeping Beauty and Mal's curse. But they don't Not really. Here's what really happened:
In Mal's youth, hunters made frequent appearances throught the town she grew up in. Ata certain point, a king and queen offered seven of her fellow witches protection from the hunters. She, however, was offered none. The seven others were safe for the following years, while Mal was constantly dodging the witch hunters, jumping from home to home, town to town, struggling to live past their wrath. The worst part? She was in contact with the other seven throughout all this time, and they laughed at her, ridiculed her for not earning the protection of the king and queen, despite their "good" label.
Mal's fury blistered inside of her. When the young princess we know as The Sleeping Beauty was born, the seven others gave her gifts, as to repay the debt they owed the king and queen for their protective hands. Mal found this enfuriating, and she thought it was only fair to curse the child, as the king and queen never protected her. So she burst into the gift giving ceremony, paralyzing the guards temporarily in order to get to the young child. One of the seven good witches had yet to present her gift to the child, and Mal pushed her away, cursing the child to die before her sixteenthe birthday. As we know, the last witch used her gift to partially reverse this curse, instead making it so that the child would fall asleep for a hundred years.
As time flows differently in lands of magic, Mal only grew slightly older, having chosen to hide in the human realm until the child had been awoken. When she returned, it was to be expected that she was feared. Mary Poppins considered Mal a threat to peace and civilization, evil and at times irrational. The magic limitation spells were mostly because of Mal's evil reputation, to be completely honest. And, as though proving the point, Mal's anger flustered inside of her for years on end.