Michael Richard Banks
"Revenge will be sweet."
---
---
Name:
Michael Richard Banks
Nickname:
Mikey, but only Jane is ever allowed to call him this.
"Do not even think about it...I'm serious."
Age:
18
Origin Story:
Mary Poppins
Character:
Michael Banks
Sexuality:
Hetreosexual
Likes:
- Magic
- Jane, his sister
- Revenge
- Winter
- Swimming
- Physical activites
- Martial Arts
"I like to keep myself in shape."
Dislikes:
- The Witch Hunters
- Dark magic
- A crime going unpunished
- Anyone harming his sister
- Ignorance
- Broccoli
"Witch Hunters are the most disgusting beings in this town."
---
---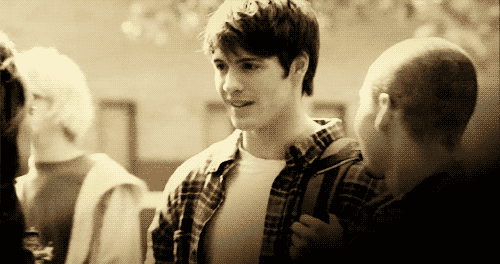 Fears:
- Losing Jane, his sister whom he is very close to.
- Losing Magic, as he has become accustom to having it present at all times.
- Alektorophobia, fear of chickens.
"I mean, have you seen chicken's feet? Ugh. But honestly, touch Jane and I will hunt you down."
Hobbies:
- Magic
- Swimming
- Martial Arts
Powers:
Just like his sister, Michael has been taught witchcraft by Mary Poppins. However, the two favour different types of power. Whereas Jane focused on her freezing abilities, Michael liked to
play with fire.
He is able to create and maintain fire with a click of his fingers. It varies in strength depending on his energy levels. If he hasn't performed any magic that day it can be a towering inferno, if he's tired then it can be as small as a spark. Nonetheless, it is a useful ability to have.
Michael also developed the power to
invade minds
and implant false images and thoughts. It can be words, memories or scenes and all he has to do is open up his mind and push his consciousness into theirs. The attacked may only feel a slight twinge, but that may be enough. Some with a clever mind will unknowingly send up a block and prevent his entry. If he does gain access then he can show them whatever he wants them to see. However, it comes at a cost. If he invades the wrong mind and they decide to fight back he is defenceless. They could in theory kill him by taking control of his mind, or if a person is mentally strong enough then they can cause damage without meaning to or force their own projections onto him.
Materialisation
is the art of making things disappear from one place and reappear close to him. It sounds cool eh? But Michael has limited power over this. He can only transport items or people when he knows exactly where they are. And they have to be small. At the moment he can move his sister from one room to another, but she's not exactly huge and it's only a few feet. He's working on it.
Just like Jane, all of his magic comes with a cost. It depends solely on his life force and how much energy he has in his body. If he is too quick to use a spell or ability that could sap him of all his energy then he could die. He has to think long and hard about what they might do to him and if he can risk it.
Strengths:
-Martial Arts: Mary Poppins was never keen on letting Michael learn Martial Arts, but she yielded. He thinks it essential to know some hand-to-hand combat should he ever need it more than magic. And he enjoys it too.
-Swimming: Michael likes to keep fit and he loves to swim. He's actually pretty good.
-Art: Surprisingly, he finds himself quite good at art. Whether its drawing, painting or sculpting. He never has the time to practice his art however.
Flaws:
-Patience: Michael is an impatient person and can't wait for anything to be done.
-Cooking: He can't cook anything, not a single item. He gets by on cold food and doesn't even care that he can't cook.
---
---
Personality:
When Michael was a child, he and Jane were constantly getting themselves into trouble and were quite the mischievous kind. However, unlike his sister, Michael has changed somewhat since that time. Even when Mary Poppins measured him she stated that he was
"extremely stubborn and suspicious"
. He no longer finds any joy in fun and has turned into a very serious young man. This has happened since the murder of Mary Poppins and he has found himself becoming even more surlier and sullen than before. Often he has a frown on his face, his eyebrows constantly knitted together. He does not let people get close to him very easily. He has enough people to worry about and to protect so he's not very good at being friendly. There is some joy still left in him and if a smile can be coxed out of him then it is usually a very bright one.
Michael is a very loyal man and he would protect his sister against all costs. He fears that they will be targeted next and he has prepared himself to fight off the witch hunters to protect her. His heart is very much in the right place and he loves his sister, as well as his friends. However, he can be overprotective and somewhat overbearing when he wants to be. It is not a good trait and he tries to keep his sister where he can see her, which obviously does not always please Jane as she has her own life to live.
He has also become obsessive about the Witch Hunters and it has become an all-consuming problem. He focuses on them all of the time and it is seemingly all he talks about, as he wants to seek his revenge. He is very determined about the downfall of the two and he won't give up the cause, no matter what it costs him (except his sister of course). Along with that, he isn't very trusting and finds it very hard to accept people at all. It's a good day if he doesn't give someone the full once over.
Despite all of that, Michael is a caring young man with a heart of gold. He means no-one any harm, besides the Witch Hunters. And had they not killed Mary Poppins he would be a happy guy, full of laughter and life. But now his mind is warped on revenge and there is little more than a spark of his former mischievous self somewhere in his mind.
History:
Michael Banks was born to Winifred and George Banks in the city of London. It became evident early on that neither of his parents were particularly keen on raising the two children. Both were focused on their careers, his father working his way up in the banking industry and his mother in the Suffrage moment. Their father tried to keep his household organised and well-maintained, but largely the children were left in the care of various nannies from the word go.
As they grew in the family home, the two became increasingly difficult for the nannies to handle. They liked to play pranks and run away if they could. The final straw came when they ran away from Katie Nanna, who promptly quit, despite pleas from the household. Once again the family were left without any care for Micahel and Jane. George decided to step in and appoint a nanny himself, rather than Winifred choosing one. The two children attempted to help, but their advertisement was simply thrown into the fire.
It wasn't long after that that Mary Poppins arrived. Almost instantly Michael was intrigued by the woman who came with a simple carpet bag. She received the job and to Michael's delight, that carpet bag contained many, many wonders. Mary Poppins became an integral part of their life almost overnight. The children had many adventures with the nanny and she began to teach them the art of magic. Michael loved every second of learning magic and marvelled in its existence. He developed quickly and lapped up every spell and enchantment that Mary Poppins could teach him.
Family life changed for the Banks and it wasn't long before Mary Poppins had to move on, though she always stayed quite close so she could continue the children's magical education.
It was by chance that the Banks family ended up in the town. Mary Poppins magic was used to protect it and the two children continued to grow and develop as Folksdale offered more opportunity to excel in magic. And then Mary Poppins was brutally murdered by the resident Witch Hunters. Michael's life was turned upside down and now he seeks to avenge his teacher's death, as well as protect the town with his sister.
Other:
NA