"Some call our realm a world of shadows, but that makes it sound so unpleasant... The twilight there holds a serene beauty... You have seen it yourself as the sun sets on this world. Bathed in that light, all the people were pure and gentle... But things changed once that foul power pervaded the world..."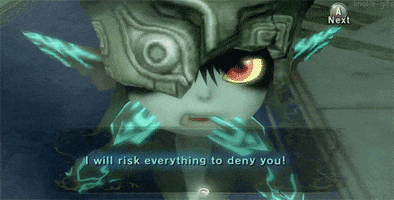 Name: Midna
Age: Unknown
Gender: Female
Race: Twili
Abilities: The ability to use her hair like a hand to grab enemies or perform other functions.
She can use her hair as a hand to shoot energy into in object and then can use telekinesis on it.
Levitation
Extending an object's energy field
Making use of Twilight Portals
Keeping an item in an unknown hammer space.
Creating waves of energy strong enough to break metal.
Taking the form of other beings.
The ability to break down her body into Twilight particles.
The ability to create twilight portals. These portals appear on the ground rather than in the air, unlike other portals. springs, and the others take him to the entrances of their dungeons.
The ability to destroy the Mirror of Twilight, because she is the true ruler of the Twili.
Unlike most of her tribe, she can exist in the Light World outside of shadow form.
Personality: Midna is sarcastic and can be down right rude sometimes but she loves her people, and wants nothing more than to protect them from Zant and Ganaondorf. Midna seems cold and mean but she is a kind soul who is loyal to her friends and her people.
Brief History: Midna is one of the Twili, a race descended from wielders of powerful and evil magic who were banished to an alternate dimension by the Golden Goddesses. Either by hereditary means or through elections, Midna was chosen as the next ruler of the Twili, a position coveted by Zant, a servant to the Twili Royal Family. Angered that his people chose Midna over him, Zant struck a deal with Ganondorf, whom he believed to be a god, and was granted with some of his magical powers. This he used to transform his own people into hideous monsters called Shadow Beasts and invade the Palace of Twilight. He cornered Midna on one of the balconies and cursed her, forcing her into a grotesque imp-like form as a way of humiliation. Horrified by her appearance, Midna left the throne to Zant and fled the palace, leaving her people to a terrible fate. Soon after, however, Midna realized that by recovering the Fused Shadow, the form taken by the dark powers of her ancestors, she would be able to depose Zant and take back the throne. Donning the piece she already held as a mask, she then headed to Hyrule to search for the other three.