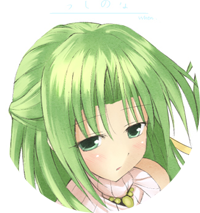 Eyes: Green
Hair: Green
Build: Slender with womanly curves; thick thighs and C cup breasts.
Height: 5'7
Weight: 130
Personality:
Mion has a very happy-go-lucky personality. She is always smiling and laughing, and usually her mouth is barely ever seen closed. She loves to talk to others and make their days a bit brighter. Although a kind and loving person, Mion is a bit full of herself, believing her and her sister are the most beautiful girls around. She is confident and tough, although usually avoids violence or trouble. She will often hide her own emotions, smiling to those around her, even if she is being torn apart inside. Although her sister often tells her this is not good for her, she does it anyways. Very protective of those she cares for, Mion will do anything for them and to keep them safe. Although she doesn't get angry easily, the times that she does, she is not afraid to fight, and is stronger than most would think. She is not stronger than her sister, however. Not being shy at all, if Mion finds a boy she likes, she will often flirt with them openly.
Age:
17 (three seconds younger than her sister)
Any special abilities you and your twin share?:
They can sense each others emotions.
Six items:
1.) A pink
2.) A stuffed panda
3.) Makeup box
4.) Art book
5.) Erasers and pencils
6.) Movies
Likes:
❤ Art
❤ Romance movies
❤ Animals
❤ Cute things
❤ Pink
❤ Flirting
❤ Shion
❤ Swimming
Dislikes:
✘ Cruel people
✘ Being ignored
✘ Being alone
✘ Bugs
✘ Things that smell bad
✘ Being cold
✘ Rain
Sexuality:
Bi
History:
Mion and her older sister (by three seconds, Shion was born first) were born in Tokyo, Japan. They spent most of their lives there, up until the point of their early teens. This was when their father and mother decided to move, being that their father's job needed him to transfer to America. This was where they spent their remaining years, going to school, and living through their normal lives. Nothing unforward or dark happened to them during their lives, but they were always together. Shion enjoyed school more than Mion, however, so she mostly got the grades. Shion was the good girl whilst Mion caused most problems, although they usually only consisted of bad grades, throwing a fit once in a while, or having an attitude. It was on their seventeenth birthday in which both Shion and Mion got their invitation to go to Twin Island for the summer...Both ecstatic, they quickly filled out the survey's without hesitation. Even their parents agreed it would be a nice break for them. So here they are, on their way towards the island...