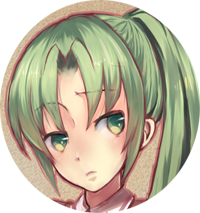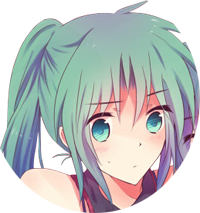 Eyes: Green
Hair: Green
Build: Slender with womanly curves; thick thighs and C cup breasts.
Height: 5'7
Weight: 130
Personality:
Shion is quite the opposite of her sister in many ways. Although she is older by three seconds, she isn't much of a leader, and is usually quiet. She becomes shy quite easily, and can be considered a book work, although she has a bit of an anger problem; getting angered quickly by even the smallest things. Her attitude is a bit harsh or cold at times, but she can be loving and kind to those she feels safe with and close to. On top of that, even though she works hard to keep her grades up, she is often lazy and can move about at a sloth-like pace. Shion often acts way beyond her age and could be considered wise in the advise she gives to others.
Age:
17
Any special abilities you and your twin share?:
They can feel each others emotions.
Six items:
1) Books
2) Pictures of family
3) Playing cards
4) Chess board
5) Meditation balls
6) Hair ties and bows
Likes:
❤ Reading
❤ Studying
❤ Learning new things
❤ Sleeping
❤ Games
❤ Sea Shells
Dislikes:
✘ Obnoxious people
✘ Loud noises
✘ Being interrupted while reading
✘ Being woke up early
✘ Small children
✘ Dirty things
Sexuality:
Bi
History:
Shion and her younger sister (by three seconds, Shion was born first) were born in Tokyo, Japan. They spent most of their lives there, up until the point of their early teens. This was when their father and mother decided to move, being that their father's job needed him to transfer to America. This was where they spent their remaining years, going to school, and living through their normal lives. Nothing unforward or dark happened to them during their lives, but they were always together. Shion enjoyed school more than Mion, however, so she mostly got the grades. Shion was the good girl whilst Mion caused most problems, although they usually only consisted of bad grades, throwing a fit once in a while, or having an attitude. It was on their seventeenth birthday in which both Shion and Mion got their invitation to go to Twin Island for the summer...Both ecstatic, they quickly filled out the survey's without hesitation. Even their parents agreed it would be a nice break for them. So here they are, on their way towards the island...