Full Name::
"My name is not to be forgotten. . ."
Aslan Portegar
Theme Song::
"I swear, if you laugh I will turn your face inside out. . ."
The Offspring - Cruising California
Gender::
"How dare you say you could not tell!. . ."
Male
Age::
"I am more than capable of caring for myself. . ."
Eighteen
Rank::
"Don't speak to me, misfit. . ."
Blue Blood
Sexuality::
"I will tell you but that does not mean I am searching for anyone. . ."
Straight
Appearance::
"I know I look good, but these are some new shoes you see. . ."
Aslan is your classical thick blond hair boy with blue eyes you can never stop gazing into, he tall with a strong build and is what his father calls a female magnet. Apparently Aslan get's it from his father's side of the family. . . He has a soft face with a nice smile when he wants, but can give off a very scary expression when he's angry or just slept badly. He also has his father's taste in clothes, or more like that's what everyone thinks. Aslan wears a lot of renaissance clothes and they look good on him but when there is no one that is connected to his father around he will wear casual clothes in which he feels more comfortable.
Personality::
"You can judge me, but I really don't care. . ."
Aslan is the cocky stereotype Blue Blood, he likes the fact that he has power and lineage but he also likes to pick fights for no reason. His attitude has cost him many family complaints and a lot of injuries. He has anger issues which his parents have been trying to cure but they seem to get worse every time Aslan goes to see a specialist. . . the reason is because Aslan doesn't need a specialist but needs his parents around. Aslan needs the friendship and love of parents he never got so he fights in hope that he can feel better afterwards, but his violent behavior has only made his parents distance themselves. Alsan tries everything to make his parents proud.
Likes::
"I don't usually share about this, but. . ."
✔ Being in the sun
✔ The sea
✔ Looking up to his father
✔ Eating meat
✔ Fighting
✔ Basketball
Dislikes::
"Since I'm telling you then you better not do any of it. . ."
✘ The family business
✘ Misfits
✘ Losing
✘ Winter
✘ People insulting his family
✘ Clingy people
Fears::
"Is this really necessary?. . ."
~ Falling for a misfit
~ Being hated by his parents
~ Losing Babur
Relationship::
"It is the least important thing. . ."
He isn't currently crushing on anyone, but he did have a girlfriend and slept with her, then they stopped seeing each other.
Skills::
"As a Blue Blood my duty is to be strong and not easy to defeat. . ."
Aslan played a lot of basketball with his father and gained reflexes and technique, when his father got too busy to play Aslan started sword play because he could do it on his own. He has perfected both basketball and sword play and now works on hand-to-hand combat.
Clubs::
"Clubs will bring me more prestige. . . and maybe even a good fight. . ."
Basketball, Fencing and Boxing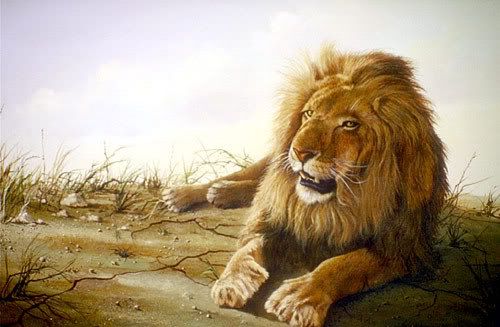 Name of Bond::
"If you dare comment on his name I don't think only I will want to kil you. . ."
Babur
Race of Bond::
"He is not just a lion. . ."
The Nemean Lion, with a golden pelt impervious to attacks and with claws sharper than any sword can cut through any armor.
Personality of Bond::
"Differences are what makes us close. . ."
Babur is much calmer than Aslan, he thinks before he does or says anything and has such a soothing voice and gentle eyes. Babur will usually be found lying in the sun passing through a window or outside in the grass, he will never start a fight and he will even try to calm the one picking a fight with him or else Aslan arrives and then the battle begins. Without Babur around, Aslan would be in more than just fights, he would be in Child Correction separated from Babur and being harshly educated.
Babur is a kind and very social lion who loves children and even though he is humongous people are not afraid of him because he moves slowly and is always polite. . . unlike SOMEONE! *cough* Aslan *cough* And he gets a long very well with Sayer's Bond Xanthus.
Skills of Bond::
"He is the only one I admit to being stronger than me. . ."
Babur has amazing physical strength and cannot be killed by a simple man-made weapon so Aslan would train on Babur's fur to train for the sword. His claws are sharper than swords and he has killer instincts that he doesn't let get rusty so he goes hunting for his own food.
History::
"I don't need your pity, but if you want my fist in your face just say so. . ."
Aslan lived the good life; perfect food, perfect home, girls all around, respect and lineage. There was nothing wrong with it and he went to the best schools. He met Sayer. . . Aslan's and Sayer's parents said that their friendship would bring much pride to both families but let's just say that friendship between them would be a miracle. The surprising thing is that Aslan never picks a physical fight with Sayer unless he is really pissed off.
It was when he turned into a teenager, right after his parents had sent his inscription documents to Tyrillia Academy that he started fighting. His parents left for months leaving him alone with Babur and his grandparents (who weren't much company) and they would take care of commerce business in the other countries. Aslan hated the solitude and when they came back home and he tried to talk to them all he would hear was how Aslan would soon take over the family business. Rage took him over and he started to fight, a lot. He almost wasn't accepted into Tyrillia Academy but then Babur calmed him and told him that if he stopped fighting he would get accepted into the academy with full internship and make friends then he wouldn't have to worry about his parents.
It's what he did. . . but the anger still brews inside of him.
Family::
"It's a little hard to trace backwards. . ."
Other::
"I guess this is your last question?. . ."
He can't stand Sayer because he knows the guy is just pretending to enjoy being with Aslan so Aslan is mean with him all the time in hope that Sayer will finally show Aslan that he dislikes him.