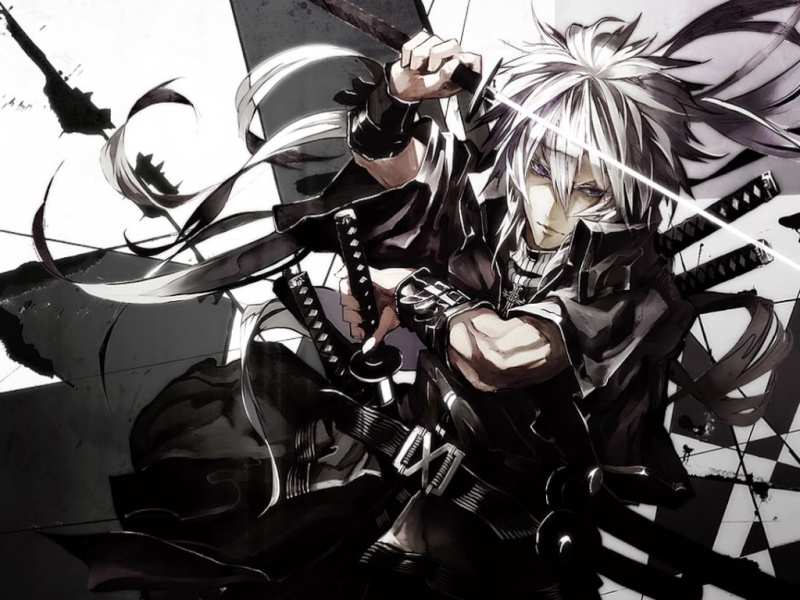 Full Name::
Berach Vulian or Mr. Vulian
Gender::
Male
Age::
Thirty
Rank::
Commoner
Sexuality::
Straight
Class Taught::
Sports and he is also the one who passes around to check if everyone has turned off their lights (you better have)
Appearance::
He had very thick white hair with some dark grey in it his eyes are dark blue and he always seems to have that face of a man who has never been beaten (which is true). His face is rough as the rest of his body, he is a mass of pure muscle and has scars all over his body. He mostly wears black leather and is always walking with his five saber swords on him as if he's always waiting for an attack. He's quite tall as well and weighs also quite a bit but it's only the heavy load of muscle he carries.
Personality::
Berach acts tough and will push you until you probably won't be able to stand anymore but he is very loving and kind even though he never shows it. During training he will always be attentive about all of the students in class and out of class, if someone gets hurt he won't show his worry but he will immediately take care of them. He has a rough body but a very soft heart so if there is any moment where you need to talk to an adult (other than the social councilor) you can go and talk to Berach and you'l be sure that he will never repeat anything to anyone.
Likes::
~ Fighting
~ His students
~ Passing on his experience to others
~ Having fun
~ Cats
Dislikes::
~ Stuck up kids who try and ruin the nice mood in class or in school
~ People who have to faith in themselves
~ Someone who is hurt
~ Having to yell at a student
~ Dogs
Fears::
~ Losing his job
~ Losing a student under his watch
~ Losing Sulimon
Relationship::
N/A
Skills::
Hector is a wicked strong guy who can fight five highly trained men with only one hand. He is good at everything, even dancing because he considers everything as a sport, but he also has a skill that most students hate. . . he will get you to work until you have reached your absolute limit and you can't say no. He also is able to fight with five swords, all of them unsheathed.
Name of Bond::
Sulimon
Race of Bond::
Cactus Cat, the cactus cat is generally described being a bobcat-like creature, covered in hair-like thorns, with particularly long spines extending from the legs and its armored, branching tail.
Personality of Bond::
Sulimon is a very calm ca that usually sleeps all day and walks around at night making sure that no students are running around doing silly high school things. He's a very nice cat that is very soft and soothing (you almost feel at peace when you look at him), but like Berach, he will make you work hard. If he catches you skipping class or out of your dorm at night he will make you run laps, fight a dragon or even fight him (the worst punishment of all). During class he just watches over everyone and even helps out from time to time.
Skills of Bond::
He can slash down anything with his spikes and can flatten the spikes along his body so that riding is comfortable and not a challenge and also to make a sort of armor for his body.
Other::
Hector is a nice teacher but you never leave his class with all your strength, and Sulimon will just watch you as you suffer, actually Sulimon usually doesn't do anything more than sleep or lie down in the corner. He will only do something if Hector asks him to.