Though much is taken, much abides; and though
We are not now that strength which in old days
Moved earth and heaven; that which we are, we are;
One equal temper of heroic hearts,
Made weak by time and fate, but strong in will
To strive, to seek, to find, and not to yield.




Welcome to Umbrase Academy. Hidden in the Californian hills, it is an exclusive school, regarded as one of the best in the world. Not much is known about it's students or teachers. Nobody's quite sure where they come from, or where they go once they graduate. Not much is known about the school in general, other than it has an employment rate of one hundred percent. If it's students become prominent while in education, they fade into the darkness from which they came when they graduate. Someone who wishes to teach at Umbrase first has to find contact details for the school- none of which are available to the public. If, perhaps, they chance upon the school while on a hike, they would be sorely disappointed. The school is unusually well protected. If, by some miracle, they found the school and got into the grounds, they would still not be hired, no matter what qualifications they had. If Umbrase wants to hire you as a teacher, they will find you.

While all these security measures seem drastic, the nature of the school requires it. You see, Umbrase is not an ordinary school. It's students come from the shadows and disappear back into the shadows. It is a training ground for special agents- whether it's MI6, the CIA, FBI or any other agency. The young people trained at this academy range from fifteen to nineteen. They are trained in the arts they will need for their job. But most do not go on to become part of the main agency. Many of these agencies have small teams dedicated to the missions which appear... Out of the ordinary. Regular human agents cannot solve them- but Umbrase's past pupils can.

Umbrase Academy does not take in everyday students. It's students have unique abilities. It's not known exactly how the headmistress tracks them down, as they often come from the shadows. The teachers also have these abilities- some, past pupils of the Academy, others, students that turned down their place or that the school could not find.

As a new term begins, students, both old and new, bring secrets with them that they must keep. It will be part of their future career- it is time they got used to it. But their school is under threat- not that anyone knows it, of course.




All students take the basic subjects- maths, decoding, self defence, weapon proficiency, ability training, linguistic studies and physical education. Students can choose to specialize in up to two areas of the four offered. These are: computer analysis, covert operations, behaviour analysis and situation and negotiation tactics. Students in their first year take a starter course in all of the options then choose to specialize.

Sports and fitness are strongly encouraged, and all students must participate in physical education. There are a wide variety of extra-curricular sports available. To those who aren't as interested in sports, extra-curricular activities range from debating to chemistry.

School trips are rare, due to the secretive nature of the school. When there are trips, they tend to be to the headquarters of future employers. Sometimes these agencies take the older students along on missions to give them experience in the field.

Discipline is strict in the school. All wrongdoing is punished as they would be in the field. Punishments may be lessened if the intentions were good, but for minor infringements with bigger and worse intentions, punishments will be made stricter. A list of school rules can be found below.


Use of abilities to physically harm other students outside of ability training is forbidden. This is punishable by loss of free periods and detention.
Any students in possession of firearms outside of Weapons Proficiency will be immediately placed on in-school suspension.
Alcohol is only to be consumed at official school events.
All students are to be in their rooms by 11 on school nights.
All male students are to be gone from the female wing by 10 and vice versa.
Any fighting in the corridors will be punished.
Harassment of teachers can be punished at the teacher's discretion.
I am Goddess of this thread.
No GM or PP. Obviously the older students will have a little more control over their abilities, but be realistic.
I'm going to say it here and now- I am

extremely

reluctant to change face claims. If you have an issue with one, please PM me saying why you want to change it and suggesting a suitable alternative.
My average word count per post is around 550. That's around what I'll expect per post. If you can write more than that, it's fantastic. I'm not going to impose a minimum, but ensure your post is of a decent standard.
I expect all writing to be literate- that is, decent spelling and grammar.
You have 48 hours from me reading your reservation post to submit your character. If you need longer than that due to life (it happens to the best of us), please just let me know.
Please post all reservations in the OOC. If we have been discussing characters before hand, only then will I accept reservations over PM.
Romance and violence should be kept within RPG rules.
I will add any more rules I need to- check back from time to time.
To show you read these rules, please post If You Can't Hang, There's The Door with your reservation.
The Headmistress | Name: | Age: |
Persuasion
| FC: Kate Beckinsale |
Reserved-iCatShe's the only one aware of the possible threat to the school. She's determined to keep her students safe and to make sure that they become the best agents they can.
The Abilities and Maths Teacher | Name: | Age: |
Empathetic Mimicry
| FC: Paul Walker | OPEN
He's the unofficial second in command. When the headmistress is busy, students go to him with their problems. He's also a form of guidance counsellor for them. He knows something is troubling his boss, but he's not quite sure what.
The Self Defence and Physical Education Teacher | Name: | Age: |
Adoptive Muscle Memory
| FC: Joseph Morgan | OPEN
While he's not much to look at, he's extremely dangerous. He would be dangerous in any other position, but he's got a passion for teaching.
The Situation and Negotiation Tactics Teacher | Name: | Age: |
Precognition
| FC: Kate Braken |
Reserved-HorseygirlShe misses the field from time to time, but she finds the students interesting. She's got an idea that something's coming, and she's making sure she's got the tactics.
The Decoding and Computer Analysis Teacher | Timothy Fisher | 27 |
Technopathy
| FC: Jake Gyllenhaal |
Taken- Kuukakulily
He never worked in the field. He's been stuck behind a computer screen his whole life- but that's the way he likes it.
The Covert Ops and Weapons Proficiency Teacher | Name: | Age: |
Appearance Alteration
| FC: Zoe Saldana | OPEN
While she does enjoy teaching, it's not the same as being in the field. She often wonders if they sent her to Umbrase for a reason.
The Linguistics and Behavioural Analysis Teacher | Drew Acuzio | 23 |
Omnilingualism
| FC: Ben Whishaw |
Taken-Skwidge
He can understand any person perfectly, thanks to both his power and his training. He knows something is troubling his boss, but he's almost too intimidated to ask.
The History Teacher| Doctor Daniel | Age Unknown Exactly | Immortality | FC: David Tennant |
Taken- Thundergod1020
He's lived for so long and he's seen so much. He's finally settled at the school that he may have accidentally founded- it's unknown for sure.
Danny Brooks | 17 | Behaviour Analysis and Covert Ops |
Accelerated Probability
| FC: Ash Stymest |
Taken- iCat
This is his first year attending Umbrase. The headmistress had a slightly harder time finding him compared to everyone else. He's already shown a lot of promise with his power, but the staff are concerned that if they hadn't gotten to him first, he could have gotten himself into a lot of trouble- and they're still concerned that he could cause a lot of trouble.
Cecillia Pryde | 16 | Behavioural Analysis and Covert Ops |
Phasing
| FC: Jamie Chung|
Taken- sclam
She was contacted to attend Umbrase the minute she hit fifteen. She's not sure why they were so eager to have her. She wonders if it was due to her power, or something else. The events of her summer have given her the impression that it's something else...
Name: | Age: | Specializing in: |
Intuitive Aptitude
| FC: Michael Trevino| OPEN
His power means he has a hunger for knowledge. This can get him into trouble. In fact, it did so over the summer. He hasn't told anyone, but he doesn't doubt that the headmistress knows. He doesn't want it to affect his school life, but he thinks that she may have informed the other teachers.
Lily Rae Hope | 18 | Specializing in: |
Memory Manipulation
| FC: Jennifer Lawrence |
Taken-Horseygirl
She showed someone something they were trying to forget by accident. It sent them into depression and now she feels guilty. She's recently heard that they're self harming and that's weighing on her consciousness. She's terrified that they'll commit suicide and that'll be her fault.
Name: | Age: | Specializing in: |
Empathic Manipulation
| FC: Darren Criss | OPEN
He's always had his little ways of getting things, and never used to be afraid to use his powers to do so. Or, at least, not until a year or two ago. Someone knew what he was doing, and wasn't very happy with it. He had to get out quick. He thought he had pulled it off- until they reappeared over the summer.
Katie Waltz | 17 | Covert Ops and Behavioural Analysis |
Invisibility
| FC: Dianna Agron|
Taken-xxxTensionxxx
When her power first became obvious, she used to worry that she would disappear altogether. Now, she just wants to disappear. She can't escape what she done, even behind the safety of Umbrase's walls. She hasn't told anyone- and it's eating her up.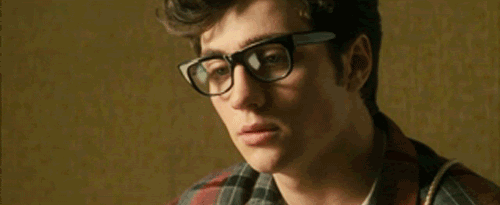 Stefan Enriquez | 16 | Situation and Negotiation Tactics and Computer Analysis |
Illusion
| FC: Aaron Johnson|
Taken-iCat
He used to be a different person. In the space of three months, something happened and that changed. People haven't had a chance to find out what- and he would prefer to keep it that way.
Rosalinda Ortega-Cruz | 18 | |
Lie Detection
| FC: Ariana Grande |
Taken- BleedingLover
Her parents made a major revelation to her over the summer. The only reason they did so was because her power meant she knew that they were lying to her. She's still almost in shock because of it...
Name: | Age: | Specializing in: |
Puppet Master
| FC: Luke Pasqualino | OPEN
He's used to controlling others- but the tables were turned over the summer. Someone blackmailed him into doing something he would never usually do. He's worried that he's going to be punished for it and that they won't believe his story about blackmail.
Charlotte Candor | 16 | Covert Ops |
Rapid Cellular Regeneraton
| FC: Mila Kunis|
Taken-gezzygezzy
Recently, her healing times have slowed and she's been feeling... not unwell, but out of sorts. She's worried that something's wrong with her, but she doesn't want to trouble her friends with this knowledge.
Alex Marshall | 18 | Specializing in: |
Sedation
| FC: Lucas Till|
Taken-xxtensionxx
His "friends" dared him to sedate a family member over the summer. He did so, meaning to let them come around in a few seconds, but the minute he sedated them, his friends pulled a gun and told him to keep her under. They then proceeded to kidnap her. He let the police know and his family member was rescued before any harm could come to them. He's slow to trust as a result.
Kendall Lee-Serverin | 17 | Covert Ops |
Shape Shifting
| FC: Alexis Bledel |
Taken-Wanderer
She's currently in a controlling relationship. Her partner was slow to let her go back to Umbrase, and he swore that he was going to keep tabs on her. She wants to leave him, but is scared of what he will do to her if she does.
Name: | Age: | Specializing in |
Seismic Burst
| FC: Chace Crawford |
Reserved-BleedingLoverHe's possibly facing charges after he accidentally used his powers on someone he thought was going to attack him. He could be called to court at any time, and that's got him on edge.
Name: | Age: | Specializing in: |
Mental Manipulation
| FC: Grace Phipps |
Reserved-CuteAsKaylahShe witnessed a murder shortly before returning to school. The murderer saw her, and she's worried that they're after her. She trusts the safety of Umbrase, but that doesn't stop her worrying.
Name: | Age: | Specializing in: |
Electronic Communication
| FC: Stefan Salvatore | OPEN
He contracted what could only be described as a computer virus over the holidays. While he's just about recovered, he still has little or no control over his powers. He overloaded a website server a few days ago when he was connected to it on his laptop. The site was down for over 24 hours as they tried to repair it.
Valerie Dayle | 18 | Situation and Negotiation Tactics |
Force Fields
| FC: Amber Heard |
Taken-NadieQuerida
Between Umbrase's security and her power, she's used to feeling safe. Something happened over the summer, though, something that overwhelmed her powers. She's feeling insecure and worried, like even Umbrase isn't safe anymore.
Code: Select all

[font=Georgia][right][img]GIF 1[/img]
[img]GIF 2[/img]
[img]GIF 3[/img]
[img]GIF 4[/img]
[img]GIF 5[/img]
[img]Feel free to add in any more GIFs![/img][/right]

[b]Name:[/b]
[b]Nicknames:[/b]
[b]Age:[/b]
[b]Hometown:[/b]
[b]Sexuality:[/b]

[b]Power:[/b] Describe what exactly your character can do with it. The link provided is purely for guidance.

[b]Secrets:[/b] Expand on the one outlined with the character, and any others your character may have.

[b]Skills:[/b]
[b]Deficits:[/b]
[b]Likes:[/b]
[b]Dislikes:[/b]

[b]Personality:[/b] 1-2 paragraphs minimum.
[b]History:[/b] Should be longer than personality.

[b]Other:[/b]
[/font]
Taking place in...
22 posts here • Page 1 of 1
22 posts here • Page 1 of 1
Arcs are bundles of posts that you can organize on your own. They're useful for telling a story that might span long periods of time or space.
There are no arcs in this roleplay.
There are no quests in this roleplay.
Welcome home, Promethean. Here, you can manage your universe.
Arcs are bundles of posts from any location, allowing you to easily capture sub-plots which might be spread out across multiple locations.
You can create Quests with various rewards, encouraging your players to engage with specific plot lines.
Settings are the backdrop for the characters in your universe, giving meaning and context to their existence. By creating a number of well-written locations, you can organize your universe into areas and regions.
Navigation
While not required, locations can be organized onto a map. More information soon!
There are no groups in this roleplay!
By creating Collectibles, you can reward your players with unique items that accentuate their character sheets.
Give your Universe life by adding a Mob, which are auto-replenishing NPCs your players can interact with. Useful for some quick hack-and-slash fun!
Locations where Mobs and Items might appear.
You can schedule events for your players to create notifications and schedule times for everyone to plan around.
Add and remove other people from your Universe.
The Forge
Use your INK to craft new artifacts in Umbrase Academy. Once created, Items cannot be changed, but they can be bought and sold in the marketplace.
Notable Items
No items have been created yet!
The Market
Buy, sell, and even craft your own items in this universe.
Market Data

Market conditions are unknown. Use caution when trading.

Quick Buy (Items Most Recently Listed for Sale)
None
Discussions
Topics

Replies
Views

Last post
72 Replies
1914 Views
Last post by NadieQuerida
on Fri Apr 05, 2013 12:20 am

Announcements
by iCat on Sat Mar 09, 2013 1:51 pm


3 Replies
286 Views
Last post by iCat
on Wed Mar 13, 2013 1:48 pm
Most recent OOC posts in Umbrase Academy
There have been no posts in the OOC topic for this roleplay!