---
---
---
---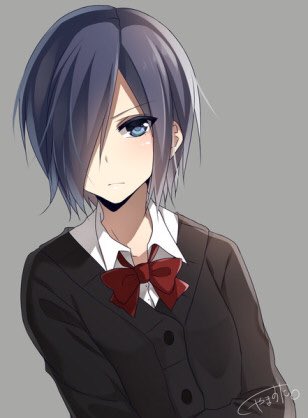 Name
Yaela Nirav Kairis
Age
22
Gender
Female
Sexuality and Relationship Status
Pansexual, single.
Personality
By choice, Yaela does not speak, so she comes off as standoffish. Contrary to this popular belief, however, she is a very sociable person. She loves to be in the company of others, and is distraught when left alone.
Heart always left on her sleeve, Yaela is quick to trust, but unforgiving when she is hurt. She has a dangerous sense of loyalty, and would give her life for someone she cares about.
---
---
Build
Other than being a smidgen shorter than the average female adult, the isn't anything interesting about Yaela's build. She stands to be about 5'2", and has all of the curves one might expect from a woman of her age.
Facial features
Piercing blue eyes are the first thing someone will notice about Yaela, followed by her silvery-blue hair, which she wears short. Being fair skinned, she burns and bruises easily (to her dismay).
Clothing/armour/markings/extras
She will wear anything from cargo pants and a baggy t-shirt to extravagant gowns and anything in-between. She usually wears varying shades of blue, grey, and white. Yaela is rarely seen without her
leaf necklace
around her neck.
---
---
Weapons
Her most powerful weapons are her words, literally speaking. She also carries a small pistol at her waist in case of emergency.
Skills and Talents
After taking an interest during her teenage years, Yaela has honed her musical talents and is able to play a sweeping number of instruments. She yearns to sing, but is wary of the effects her voice might have on her surroundings.
Flaws
Yaela lets her emotions get the best of her, causing her to be easily distracted in critical situations.
Power/Abilities
Voice Manipulation: Using rote memory and a unique sonar recognition, Yaela has the ability to manipulate her voice and use it as a weapon or a tool (as of yet she is only aware of the former). This ability would make one able to mimick sounds and voices, as well as speak, sing, whisper, yell, hum, etc. in any pitch or tone, whether it be abnormally high, or extremely low. Uncontrolled, Yaela's ability has potential to negatively affect her and her surroundings (ex. deafening others, destroying objects, etc). Alongside this is the flaw of her being rendered useless if gagged.
---
---
Basic history
Perhaps upon instinct, Yaela did not utter a sound for the first few years of her life. When she finally did, she was not shocked to learn that her ability was a harmful one.
The dog was just a stray, wandering it's way in and out her yard for a few days. Eventually Yaela became bored of watching it roam, and made out to greet it. The stray was quick to accept her. Perhaps it was it's willingness to be fed, as she had brought a slab of red meat with her as offering. Their bond was quick to form, and stayed strong throughout the years. One evening, her stray did not meander into the yard like it always had. Yaela worried and set out to find him. It didn't take long for her to locate the stray and the pack of wild animals surrounding his body. Yaela screamed and the animals fell in unison. She remembers her ears ringing as she carried her stray's body back to the house to give it a proper burial.
After the incident, her parents agreed it was time she became more involved in the Cult. Both had been esteemed members before her, so they were proud to learn she had inherited a striking ability. Yaela was introduced to the Celtlight Cult, and has been comfortably living amidst them since.
Events to note so far in the RP
~Other~
---