Name: Eric Moore
Age: 112, but look like he is in his late teens or early twenties.
Appearance:
Eric stands just north of 6' with a slim, athletic build. He has light brown eyes and a prominent scar that runs down the right side of his cheek that mostly stays hidden beneath his dyed red hair. His attire consists of a black, 3/4-length, hooded leather jacket with red interior linings and the British Union flag sewn on the left arm, a gray tanktop, black fingerless gloves, black faded jeans, and black military boots.
Personality: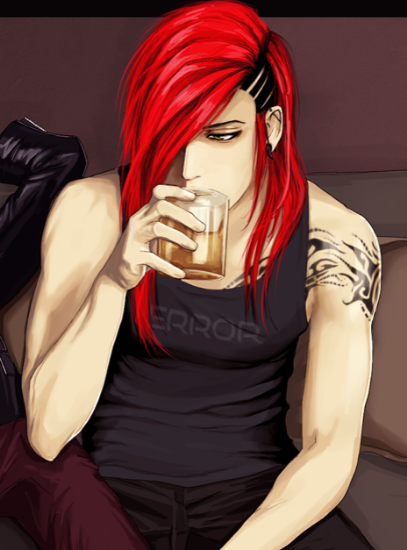 Eric is very rebellious towards authority figures, but laid-back to anyone else. Living on the periphery of society and caught between two worlds, he feels like an outcast. Disinterested and often unmotivated, but with a quick wit and black humor, he is disaffected and disassociated with society, and quite apathetic. He has no fear, and no respect for authority. He has no qualms with engaging in debauchery and other hedonistic acts, mostly because he believes he won't be around for too much longer, because of all the monsters constantly breathing down his neck. However, Eric has a huge heart beneath all of this rough exterior. He purposely chose to live out his life his own way because his eyes were opened to evil as a child, especially when the people who were supposed to take care of him turned out to be monsters. He decided to take a stand and fight back, no matter what happens. He has no qualms about accepting those who choose the side of good, like Roth.
Eric also enjoys fighting, shown when he sometimes does not fight at his full potential so he can toy with his opponent or make a fight last longer. Eric easily gets bored with fighting weak opponents and only finds entertainment in fighting strong opponents who will give him a challenge. He has a fondness for pizza, and while he complains about olives, he always ends up with them on his pizza. He is also shown to favor strawberry sundaes as well as pizza with it being pointed out on several occasions that those two foods are all he eats. He has adapted well to the constant changing of what's considered the norm within society.
Ability: Right now he sits comfortably with the power to "make children's games real," a little gift he won off a trickster god. Anyone who steps within the range of the games rules is forced to play by said rules, even Eric himself. Best thought of, "You win, you live. You lose, you die." Thankfully, Eric is not required to tell the other person said rules ahead of time.
Equipment: The blade, dubbed Izanagi, appears as a small dagger when Eric wields it normally. However, when Eric unlocks the blades full potential, Izanagi's blade glows white and extends at high speed to impale Eric's opponents from a distance. The blade also carries tremendous force when extending, often quickly overpowering those who come into contact with it. In addition, Eric can maintain the extension and swing the activated Izanagi in wide arcs, attacking multiple targets quickly and simultaneously. Izanagi's maximum length is equivalent to one hundred times its original length.