Name: Gabriel Aretino/Bob
Age: Appears: 22, Actual Age: 22
Appearance: Gabriel's appearance is a bit of a hard thing to explain. You see, just before he was resurrected by Daisy, he was attacked by a rogue Ta'ge symbiont, that he now calls Bob, seeking to take control of his body. Gabriel was killed in the process, but before Bob could assume full control of Gabriel's body he was resurrected by Daisy. As an unintended side-effect of this, Gabriel now has Bob sharing the space inside his skull. So, usually, Gabriel looks just like an ordinary twenty-two year old. He has messy dark hair, bright blue eyes, a roman nose and a strong jaw, he is clean shaven and olive complected, he stands at five feet and ten inches, and weighs in at about one hundred and fifty pounds. He is of average build, and he usually wears a black turtleneck underneath a black shell-jacket to cover the lump on his back created where Bob infiltrated his nervous system, with dark pants, and black boots and gloves.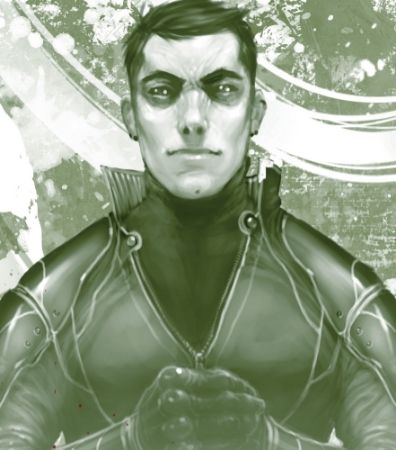 Now, when he decides to utilize Bob's abilities, he takes on the Bob's trueform. When this happens, black tentacles erupt from his back and engulf his body, forming a slithering second skin. A moment later the tentacles recede to reveal his terrible new visage.Image All chitinous armor and red, sinewy muscle, the symbiont trueform is a powerful thing. Gabriel's hands and feet are replaced with sharp talons, and a third, bulbous eye grows on his forehead.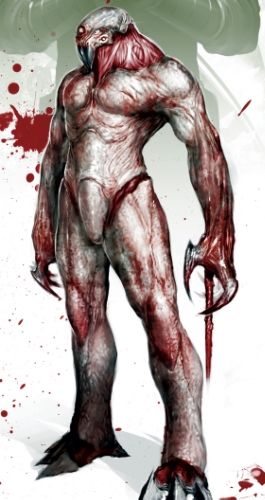 Personality: Gabriel has always been considered something of a maverick by his peers. He's an instigator. He jumps at the chance to do anything that looks fun to him, and while some would be humbled with the knowledge that they are actually a member of the Undead, Gabriel sees it simply as a chance be even more reckless. However, he calmed down a bit upon discovering that he can still experience pain after a mishap involving a roof and a one hundred foot drop. In fact, he doesn't even resent Bob for trying to kill him, and they've actually become friends of a sort. Bob will form a mouth with it's tentacles next to his head, and the two will converse from time to time. As you can see he is generally a happy-go-lucky, roll with the punches kind of guy. He is quite sociable and will try to meet new people. Sometimes even when they don't want to meet him. Sometimes especially when they don't want to meet him. Being new to the world of the Exorcists, Gabriel is still unaware of the harsh realities that accompany this line of work. He hasn't experienced the loss, the defeat, or the horror that some other, more experienced Exorcists might be familiar with. That said, he has been on a few hunts, and this has only served to fuel his self-assurance. He seems like the insubordinate sort, but he has a good sense of the chain of command, and follows his orders without question or hesitation. When he hunts he doesn't care if his target is malicious or just wants to live in peace. After all, if it was truly a peaceful monster, why did he receive a kill-order for it? When he hunts he prefers to shift into his trueform to make use of the plethora of abilities it affords him. He runs across the rooftops of the city, leaping from one to the next in quick succession, and hanging from ledges to stalk his quarry. He will attempt to herd it into a secluded area, at which point he will leap down and commence his attack, tearing into his target with wild abandon.
Gabriel's symbiont, Bob, who can speak through a mass of tentacles that form near his head, is kind of an ass. He's rude, lecherous, but overall a pretty funny guy(thing?). The two get along quite well considering Bob tried to kill Gabriel.
Ability: Gabriel's most powerful ability would have to be Bob's trueform. Obviously, it confers upon him enhanced strength, speed, agility, and senses, enhancements that he retains even outside of his trueform. However, it's weapons make it deadly all around. The third eye on his forehead moves independently of the other two, and fires blasts of eldritch energy. His enhanced strength, coupled with his sharp talons and the sharp retractable blades that extend from his forearms make him a vicious killer up close. Not even aerial targets are safe, however, as his debilitating Howl can bring them crashing to the ground, and knock other opponents off of their feet. However it is his final weapon that is his most devastating, a mass of black tentacles burst forth from his chest, flaying the flesh off those unlucky enough to get in the way. Before they return, Bob will choose one of these victims as it's meal and drag it back with the tentacles where it swallows it whole, an ingenious way to hide bodies.
One interesting thing that Gabriel has found about living with a Ta'ge symbiont is that he does not need to work out in order to remain in peak condition. There is something about Bob that keeps him in shape, despite his horrible junk-filled diet. His life as a hunter is naturally active, so that isn't a problem, but this side-effect allows him to focus on more specialized types of physical training, or not, as is more often the case.
Equipment: Gabriel doesn't carry much in the way of personal weaponry, as Bob's trueform takes care of most of his weaponry needs. He does, however, carry a holdout pistol in the waistband of his pants.