The day is young. In her pack are only the bare necessities: a water bottle, a knife, a camera, a dagger, matches, and whatever else she felt was necessary . Naively, being only eighteen years old, Jana had decided to start her life afresh and enter the wilderness of the "forbidden forest." Why it is forbidden, she does not understand, but this was what the city people would always proclaim to be the most dangerous place to be. "Don't enter the forbidden forest," the old would proclaim, "There are creatures unimaginable, and dangers innumberable." Yet to Jana, this sounds like adventure. She has decided that this was where she was going to reside and journey for the rest of her life, if that was possible. If she doesn't, at least she can try, right?
As the girl made her way through the forest, she sees the strangest sights, creatures she never imagined ever existed. Although she is too afraid to approach them, on her first day, she sees trolls, fairies, dragons, and strange animals of all shapes and sizes. Of course, she had been to national forests before, and had seen many ordinary animals in her life, but had never seen such fantastical sights. With the spirit of adventure alive in her heart, she marches on, snipping photos with the precious film of her Polaroid.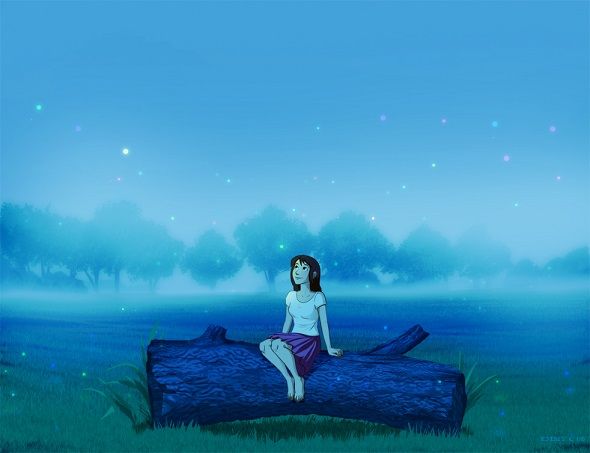 After a day's journey into the forest, Jana finds the perfect field to settle in for the night. The air is humid and abuzz with fireflies and lightning bugs. Jana sits on a log in the middle of the field, and relishes the sight of the atmosphere lit up with the activity, a sight incomparable but oddly familiar to the electric flicker of the city lights. In minutes, she is soothed. However, as she sat, feeling herself bathed in the humid night air and the sheer relaxation brought on the forest smells and sounds, she feels a drop of water upon her cheek. One of the characteristics of the forbidden forest, she will soon discover, is the rapid changes in weather. In seconds, she is nearly drenched in water, and shivering in the cold. When all of a sudden, she hears a voice from behind her.
"Hey, you look a little wet."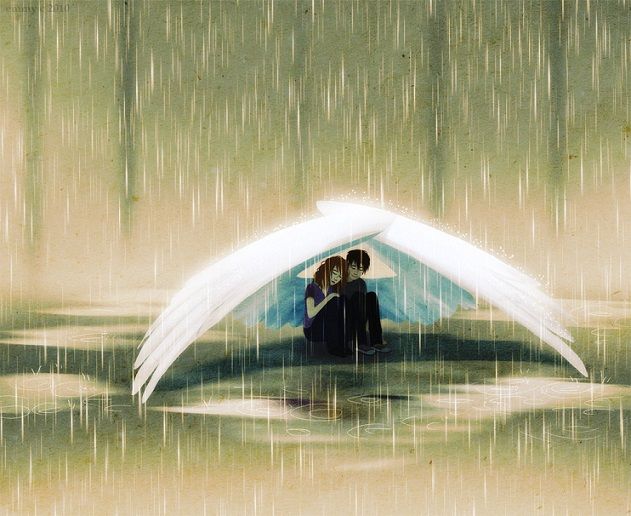 No, duh, I am soaked,
she thinks. Jana turned in irritation, to discover enormous wings extended all around her, protecting her from the rain. She soon finds herself gazing into the handsome face of a boy around her age, give or take. He has a handsomely chiseled face and kind, soft eyes, and a gorgeous smile. Considering herself average in appearance, generally shying from the boys, Jana is both flattered and perturbed by his immediate presence. But Jana has to admit, with the warmth of his skin and the dry shelter of his wings, crouching beside him is a nice place to be.
Their story starts here. What Jana doesn't know is that they will soon start a friendship that quickly blooms into a romance, and they will embark on the greatest adventure of her life.
*drawings courtesy of B1nd1 and imaginism from Deviantart
Characters:
Jana (OPEN)
Caelum (OPEN)
Taking place in...
7 posts here • Page 1 of 1
7 posts here • Page 1 of 1
Arcs are bundles of posts that you can organize on your own. They're useful for telling a story that might span long periods of time or space.
There are no arcs in this roleplay.
There are no quests in this roleplay.
Here's the current leaderboard.
There are no groups in this roleplay!
Welcome home, Promethean. Here, you can manage your universe.
Arcs are bundles of posts from any location, allowing you to easily capture sub-plots which might be spread out across multiple locations.
You can create Quests with various rewards, encouraging your players to engage with specific plot lines.
Settings are the backdrop for the characters in your universe, giving meaning and context to their existence. By creating a number of well-written locations, you can organize your universe into areas and regions.
Navigation
While not required, locations can be organized onto a map. More information soon!
There are no groups in this roleplay!
By creating Collectibles, you can reward your players with unique items that accentuate their character sheets.
Once an Item has been created, it can be spawned in the IC using /spawn Item Name (case-sensitive, as usual) — this can be followed with /take Item Name to retrieve the item into the current character's inventory.
Give your Universe life by adding a Mob, which are auto-replenishing NPCs your players can interact with. Useful for some quick hack-and-slash fun!
Mobs can be automated spawns, like rats and bats, or full-on NPCs complete with conversation menus. Use them to enhance your player experience!
Current Mobs
No mobs have been created yet.
Locations where Mobs and Items might appear.
You can schedule events for your players to create notifications and schedule times for everyone to plan around.
Add and remove other people from your Universe.
The Forge
Use your INK to craft new artifacts in Under the Shadow of Your Wings. Once created, Items cannot be changed, but they can be bought and sold in the marketplace.
Notable Items
No items have been created yet!
The Market
Buy, sell, and even craft your own items in this universe.
Market Data

Market conditions are unknown. Use caution when trading.

Quick Buy (Items Most Recently Listed for Sale)
None
Discussions
Topics

Replies
Views

Last post
Most recent OOC posts in Under the Shadow of Your Wings
Okay, submissions are closed. Deguu and Horseygirl, I made the first post. PM me your response to it (RP as Jana) and I'll approve the character who I feel is more compatible with mine or whose rping style I like more. I really don't know who to decide, so if I see the way you RP it'll help a lot. Thanks :)
Actually, I was looking for either a Jana or a Caelum. I was going to play the other character. :) I've already had two people interested in Jana, so I'll probably be Caelum. Unless someone wants to be Caelum of course, and I decide to accept that person instead.
Hello! Which character are you looking for exactly? :3

Never mind, you're looking for Caelum, I think. xD Sorry!