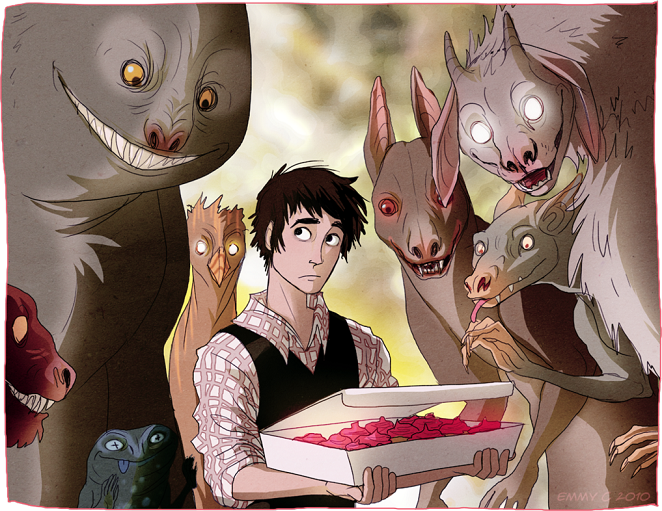 Cool and laid-back, Caelum thinks that life is all about having fun. He is restless by nature and easily bored of idle activity. A natural athlete and a mature hunter for his age, he decided from the early age of 14 that he would go off on his own to explore the world. As the tribe that he came from was a group of hunter-gatherers, it wasn't a surprise to them when he went off missing one day, as he was one to always gaze off into the distance with yearning.
Caelum has little patience for laziness or arrogance, and although there are few things that tick him off, when you infuriate him he can start off raging. Despite his immature outlook on life, he has an emotional sensitivity towards girls at his fitting age, and pays close attention to them as they are something new and foreign to him. As a child, he had little exposure to girls, and rather avoided them, so this new interest is something quite novel. An adventure, so to speak. He is pure-minded and focused more on the beauty of life rather than carnal things, never having been contaminated in the small mountain village that he had been born in.
He has a way with the creatures of the forest, as he has gotten to know many of them. Despite his restlessness, he can have great patience when he feels love towards an animal or person, and can wait hours in the rain for them.
He can communicate rather fluently with the creatures with gestures and just a few words. Caelum is a man of few words, and although he can get his point across rather bluntly, he's not one who can spell out his emotions very well all the time, but this is a flaw of the male sex in most cases.
He is always sure to maintain his dignity and respect, because although he is easy to get along with, as with most people, he hates the idea of being seen as a fool, and will fight to the death to retain his pride. His tribe drilled this into his head from birth, so personal honor is very important to him.
Caelum is a tall, slender-bodied young man, with broad shoulders and a strong upper body from hunting on his own for many years. He doesn't look it at first, but his arms are sinewed with compacted muscles. He has disheveled, uncombed black hair that gives him a boyish look that is rather adorable. It is tempting to run your hands through it or ruffle it, and if you do, you would find that it is rather thick yet soft at the same time. His large and rather owlish cocoa-brown eyes are very expressive, and most of the time they are cheerful in appearance. When he raises his eyebrows, straight horizontal lines appear faintly to show his apprehension. He is 6"2. His face is clear in complexion with a decently strong jawline and an athletic look.
Enormous wings extend from his shoulder bones and are impossible to hide. However, they are surprisingly lightweight and when folded behind his back, don't hinder him from being able to run fast, although he rarely resorts to running as it is unnecessary. With a strong flap of his wings, he can lift himself off the ground almost instantly.
He has an elaborate tattoo on the left side of his face to identify his kinship to the Avis Tribe.
Historical Background: (w-i-p)