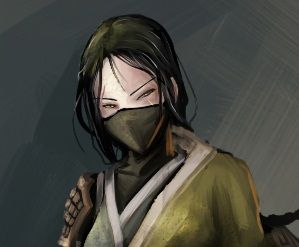 BASIC
-
Full Name:
Li Kazuo
-
Age:
23
-
Gender:
Male
-
Role:
Supporting Earth Bender
-
Primary Element:
Earth
-
Secondary Element:
Metal
---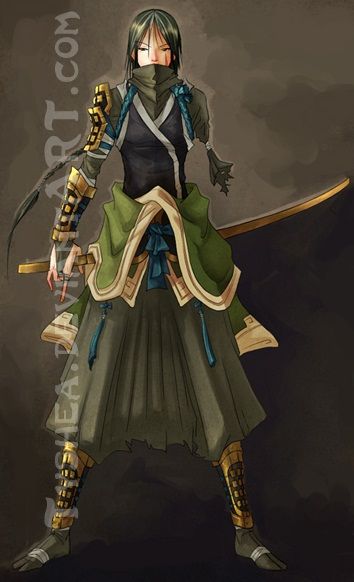 APPEARANCE
-
Hair and Eyes:
Li's hair, something he hates, is thick, black, and beautiful. It's luscious and shines no matter what happens to it, it is resilient, radiant, and women would kill to have it themselves. It reaches down a good 30 centimeters down to the upper echelons of his spine, he prefers it shorter than this, but whenever he cuts it, it just starts to grow even faster... However, there is one small strand that he braids, it currently reaches down to his butt, he cuts it off every time he loses in a fight. Li's eyes are a dark, unfaltering, amber, they pierce into the minds of those his gaze strikes, causing women to swoon and men to become angry.
-
Complexion/Facial Structure:
Li's complexion is another thing he hates, it is a beautiful ivory color, silky smooth on his entire body, no matter what he does it remains as such. The few blemishes on him are two scars, one large one encompassing his left body, from when his arm was cut off, and the other reaching from directly below his left eye to the top of his left collar bone. His face is very smooth, and well rounded, his features are not very defined, each flowing smoothly into the next, like a sharp knife through warm butter. Most people would think he spends time to make his skin and face look as wonderful as they do, but(much to Li's dismay) they just are like that...
–
Height and Weight:
5' 9'' (179.26cm) | 138 lbs. (62.95kg)

-
Body Type:
He has very feminine curves, which got him a lot of mockery as a child, and his entire body type is in and of itself, very feminine. His waist is small, which makes him very mobile in a fight, and his arm and legs are muscular however. His over-all frame is a bit small, but what he lacks in brute strength, he makes up for in mobility.
PERSONAL INFORMATION
-
Likes:
His favorite thing in the whole world, is sex. He loves sex, and hates working for it, so he spends almost all his money on prostitutes. This stems from a very large internal inferiority complex and needing the recognition and love, even if it's fake, of a woman as she unfolds... He also likes drugs, he never combines this with his favorite thing, but he still uses them every once in awhile. He mainly uses cactus juice, just a little, causing him to hallucinate and forget his life for a few hours. He also loves animals, for they were the only nice thing in a childhood of pure misery. The only other thing he really likes, is fighting. He loves the adrenaline rush from fighting a worthy opponent, the smell of battle, and the feeling of dispatching those that dare think themselves worthy to fight him...
-
Dislikes:
Li hates many things, but the most prevalent thing is being touched by men. This stems from his awful childhood, and being raped by his uncle and his drunk friends repeatedly after his parents died. If a man touches him outside of battle, Li will begin to hyperventilate, then attack the man, ignoring everything around him until the man apologizes or passes out. He also hates rapists, for obvious reasons, and parents who are mean to their children, he has punched parents(father AND mother) that yelled at their children before. He also despises people who waste food, for when he was with his uncle, he would be starved for days on end for his amusement.
-
Quote:
"I wouldn't recommend sex, drugs or insanity to everyone, but they've always worked for me." - Hunter S. Thompson
-
Theme song:
Lilium - Noma Kumiko
-
Potential Interest:
Anything female that moves at the moment
-
Other:
Li lost his arm at the age of 12, when he tried to kill his uncle, after 8 years in his "care." His uncle didn't like the idea of Li trying it again, so he cut off his left hand. It got infected so his uncle cut off the whole arm, making sure to clean it, and dress it regularly, in-between other things of course. After two more years in his care, Li killed his uncle by bludgeoning him to death with earth bending for eight hours straight.
-
Personality:
The psyche of Li Kazuo is a myriad of broken, depressing, fragmented misery and ecstasy. The most undying memories of torture and rape and burning insides linger within him, causing him to be detached, miserable, and a bit sadistic. The years of undying torture cause him to never linger with people, never staying in a single town for long, and never getting to know anyone, fearing that they will cause similar pain onto him. He has a deep seeded survival instinct, being forced to not scream while being subject to immense torment under fear of greater, prolonged pain. He never had time to harbor ill will or gratitude towards a specific type of person(other than hatred towards men and bad parents), so he is completely indifferent towards women(even in bed) or anything of that nature(race, class, etc.). Li has a huge inferiority complex, stemming from the power his uncle had over him(even beating him to death slowly didn't alleviate the baggage), he never thinks he's good enough for love, or position, or respect, so he constantly tries to prove his worth. He has sex with as many prostitutes as he can, making them call themselves weak and under his power and control, and he gets into fights as much as he can as well, mocking the enemy as he beats them down, slowly, enjoying the praise and superiority, before it flees from his body, leaving his an empty, self-hating husk once more...
---
ANIMAL GUIDE
-
Name:
Hayate, meaning smooth, Li has no idea why, he just liked the sound of it
-
Type:
Raven Eagle