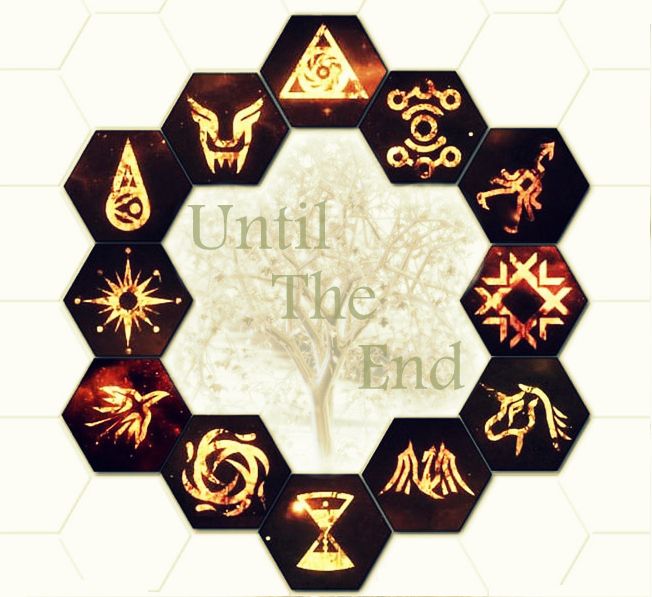 ◣cнαиgε is Inevitable◥
Of a time of castles, brave knights and quests. Nowhere else but the exceptional country of Verreie ('ver-ray-a'). The sights of its vast landscapes could take anyone's breath away and magic still runs deep through the every vein of the planet.
The Great fifteen year war had finally found its resolve. Humans and other creatures alike were able to settle and peace returned to the land. The great gods and goddesses who watched over Verreie's inhabitants called for a celebration amongst themselves in honor of this newfound peace. The Garden; a place so beautiful yet so shrouded in mystery that many believe it has been there since the beginning of time itself. Around the table the twelve ethereal beings sat, each gifted with their own unique powers and abilities. A feast of rich nectar and sweet ambrosia, merry music, whilst the sun shone bright and the wind was gentle. And of course, at the very center of the festivities, was the dazzling Tree of Protection. Its branches gave off silvery light that matched with the very fruit it bore. Ripe silver apples that looked more like stars poking out from under its delicate leaves. But most of all, it was the delicious scent that perfumed the air, for any regular being, it would be hard to think of anything else even while in the midst of such a wondrous event. One God stood, and the whole table was quieted immediately. For he was considered the wisest of the twelve and any words he spoke were always held in the highest regard. He had told the others beforehand that he had an announcement and he promised them all it would change everything.
"Dear friends,"
he began, his velvet voice was strong but pleasant,
"For centuries, we have watched life blossom in our gentle world. We've seen each race mature, grow and adapt. The violent Centaurs have become a race of peacekeepers. The dwarfs, known for their solitary and withdrawn attitudes, have become renowned for their skill in crafting. Even we, as gods have grown."
He looked at his fellows tenderly.
There was a quiet murmur of agreement.
"However,"
His tone grew a little more serious,
"Humans have brought me much worry. Though their race may be the one of the most numerous, their behavior, their natural aggression and apathy distresses me. Time and time again, we have given them opportunities and chances to allow them to show us their virtues. And time and time again, they have chosen greed over charity, wrath over patience, they turn against each other like dogs--"
He stopped to take a calming breath. It was clear that his list could have continued for quite some time. He needn't continue.
"...They are a race,"
He began again, more softly this time,
"that has shown me nothing but that they have no potential to grow. The other races grow weary and disdainful of them. Is it not unjust for them to be punished with the very presence of the human race after their own kind has done so much to change? Humanity's behavior has spoken for them and it is time for us to make a choice. All men must die. All things must come to an end. I believe the humans are long overdue."
He lifted his head majestically, his eyes looking towards his comrades,
"Come my friends! Do not falter in your choice for Change is inevitable!"
He had expected a resounding unanimous agreement.
What he received instead was less than pleasing.
While six of the celestials stood to applaud his speech, the other half of the table sat in an uneasy silence.
"Sir, I cannot agree with your resolve."
A girl this time, stood up quietly. Her voice, her unconfident way of standing, all pointed towards her timidity.
"I don't believe that humans are the way in which you have painted them out to be. If change is inevitable, then it means that humans can change too. It is not our right to interfere in such a manner. "
He looked incredulously at this tiny girl before him. Was this some sort of joke? What an insult. The youngest and newest to join them dared to speak out against him now. He would've scoffed if the other five hadn't risen to stand behind her.
"There is no way to sway you."
He said as a statement rather than a question. He could already tell.
"I'm afraid not, Sir."
The silent tension in the atmosphere rose. The gods were divided. How would this conflict be solved? It was the elder whose eyes darted to the tree first. He knew the sides were equal, and it would only take but a single bite of the sacred fruit to overpower the other. As soon as she caught his gaze, she had no doubt of his intensions. Instantaneously, they both sprang towards to tree, quicker than lightning itself.
It was this final event that was the most curious of all. A force that dispelled all the gods from the garden. Some whisper that it was The Tree, in a final attempt to protect itself, unleashed a force so powerful that the world had never known. Anyone outside the garden would have only seen a warm bright light; some even took it as a blessing for their newfound peace. They couldn't have been more mistaken.
In the end, he was right. It certainly changed everything.
◣вυт do we always cнαиgε for the better?◥
-------------------------------------------------------------------------------------------------------------------------------------------------------------------
◣It wasn't sυρρσsε∂ to have turned out like this.◥
The world is in ruin. Who knows how long it's been since our battle had begun. I'm certainly not counting anymore. The day that was supposed to celebrate peace was now the day that started the largest battle of all. Since the Great Tree banished us, we all lost our physical forms. But Gods never really die…we linger in spirit, and instead we found
vessels
. Bodies which can contain our souls. We carefully choose our vessels, we choose someone who would have key personality traits and the strength to make them stand above the crowd. Since it is only myself and the Elder that gain full control over their body, the other gods are only able to speak with their vessel. Thus, they are wise to choose one with a motive to stay on our side. With them, our spirit is able to live on. And through them, our battle goes on. As time passes the vessel will have more and more access to our power, however, at the same time, a mortal body cannot continue to harbour our spirit. It is simply too much. Any vessel is fated to die within a couple years. My time with this poor girl is almost complete, and we have not yet found a resolve to our conflict. I'm sure the others have chosen their next already. The transfer begins this very night. As always, I hope that this cycle will be our last.
I apologize to all of the families that lose their loved ones on this night. I ask that you burn this letter.
◣Do those ρεяƒεcт lives that we heard of really εxιsт?◥
_____________________________________________________________________
◣History repeats itself◥
Light (Leader) -
[Open/Reserved/
Taken
]
The youngest as well as the most timid. Powers at the mildest level simply serve as a guiding light. As it advances, can be used to bend the light to the eye for optical illusions as well as creating powerful and devastating beams of light.

Water-
[Open/Reserved/
Taken
]
A great strength of having the power of water is it's abundance. The vessel will be able to take from sources of water and shape the water to their will. Weight, is still a factor in its beginnings however. At its strongest, the vessel will be able to take moisture directly from the air to create devastating waves that can sweep the land. Naturally, this vessel's personality will negatively clash with the fire vessel.

Fire -
[Open/Reserved/
Taken
]
Fire known for its aggression and powerful after-effects, can easily be destructive in any combat situation. Will always need a spark to start the flame in its beginnings. They also won't be burnt by high temperatures, which can be handy when you're dealing with flames so often. Though it's not confirmed, some say a few vessels have been able to call forth the great Phoenix by the end of their cycle. Naturally, this vessel's personality will negatively clash with the water vessel.

Earth -
[Open/Reserved/
Taken
]
You can always trust them to be, down-to-earth. Can increase growth of plants, and command them to a point. However, this control is limited that it cannot make a certain plant appear from the ground on a whim, at least a sprout of some sort needs to be pre-existing. As well as the plant cannot be dead, for a life is a life and they cannot be brought back. This is also a diverse power however, since they also gain control over rocks, boulders etc. At advanced stages, they can be the cause of ground wrenching earthquakes and deadly poisonous plants.
Time-
[Open/Reserved/
Taken
]
Perhaps the most difficult power to advance and master before a vessel's limit. It is a difficult task amounting to the Time Lord after all. Their power does not stop time itself, but affect another's perception of time (almost like momentarily freezing them). At first, they must have skin contact in order to freeze them in time, but as they grow, they will develop a range and will be able to increase the amount of people they can affect at one time. Eventually they will be able to see into the past and maybe, just maybe, into the future as well.
__________________________________________________________________________________________________________
Telepathy (Leader) -
[Open/Reserved/
Taken
]
This vessel will naturally have a strong mind, and this power will strengthen it further. They will be able to look sift into others' minds to sense thought or emotion. Not only that, but soon enough, they will be able to lift objects by simply thinking of it. Usually the quickest to advance to his final stages which concern having influence over one's free will.
Teleportation -
[Open/
Reserved
/Taken]
A power shrouded in mystery that is not to be underestimated. This power is known for its speed and agility, and though at first the distances and number of times a vessel can handle may be short, it is enough to outdo many in battle. At its more powerful stages, the vessel can teleport others along with them, though it can be very draining on the user. The range of which they can teleport greatly improves while they are on their own. Some could swear that they were in two places at once. This power however, cannot be used to teleport within the garden from any distance.
Lightning -
[Open/
Reserved
/Taken]
They say the sting from a scorpion's venom comes from the great god of lightning himself. Any amount of electricity can paralyze the body, making this a very deadly power. Most users at the beginning stages must use a conductor (such as their sword) to strengthen their power for any sort of effectiveness. However, it becomes a great deal more trouble for any opponent later on in the vessel's cycle when they channel that electric energy through their own body, making a single touch a shocking surprise. Some say they can even command lightning storms to bend to their will.

Ice -
[
Open
/Reserved/Taken]
This power is unique in the way that it can awe as well as harm. Very similar to The Water Vessel in the sense that they need a source of water first to freeze. Eventually they can take up the moisture from the air to create cutting hail storms and even create unique weapons of ice. Their touch could, very literally, give someone a cold shoulder by freezing their opponents. Blood is, after all mostly water, just waiting to be frozen. Their own body in turn, will be immune to cold temperatures. This is the best opponent for Earth, as they can render any plant life useless.
Air -
[Open/Reserved/
Taken
]
An element is commonly associated with logic and intellect. It is indeed, no mistake. As one who can control the air around them, they can sense nearly everything that happens. However, it still means at the early stages a Vessel can only push or nudge with the air. When it does advance, they can become a frightful opponent. Others cannot can the upper hand on this one from the element of surprise and it will be difficult to even stay on the ground. This vessel will no doubt be able to fly, though in terms of speed, they can't compare to Teleportation.
◣History repeats itself◥
Tl;Dr
Gods fighting: one side wants to destroy humans, the other side is protecting them
Use vessels to fight. Living beings that they grant their powers to and can speak to.
Both sides are racing back towards The Garden to reach the tree.
Code: Select all

[center][img]PICTURE CODE HERE[/img][/center]

[center][size=150]Character name (you can type it or do it in font meme if you like)[/size][/center]
[center][size=120]Username[/size] [/center]
[center][size=120][color=color1]▇▇▇▇▇▇▇▇▇[/color][color=color2] ▇▇▇▇▇▇▇▇ [/color][color=color3]▇▇▇▇▇▇▇▇▇[/color][/size][/center]

[size=200][color=color3]T h e B a s i c s[/color][/size]

[list][list][list][size=100] [color=color2][b]a naмe:[/b][/color] [color=color1]CHARACTER NAME[/color]
[color=color2][b]age ιѕ вυт a nυмвer:[/b][/color] [color=color1]AGE AND/OR WHAT AGE THEY APPEAR TO BE[/color]
[color=color2][b]ι ιdenтιғy aѕ a: [/b][/color] [color=color1]GENDER[/color]
[color=color2][b]love can вe тrιcĸy: [/b][/color] [color=color1]ROMANTIC ATTRACTION[/color]
[color=color2][b]ι мay ѕeeм norмal вυт ι'м acтυally: [/b][/color] [color=color1]RACE [/color]
[color=color2][b]I нavε bεεи cнσsεи by:[/b][/color] [color=color1]WHAT GOD[/color]
[/size][/list][/list][/list]

[size=200][color=color3]I n t o M y H e a d[/color][/size]

[list][list][list][size=100][color=color2][b]wнo ι aм:[/b][/color] [color=color3]PERSONALITY. [/color]
[color=color2][b]тнe тнιngѕ ι нave ѕeen: [/b][/color] [color=color3]A LITTLE BIT ABOUT THEIR PAST [/color]
[color=color2][b]мy deѕιreѕ: [/b][/color] [color=color1]AT LEAST 3 LIKES (add more if you like)
☆ LIKE 1
☆ LIKE 2
☆ LIKE 3[/color]
[color=color2][b]мy ғearѕ[/b][/color] [color=color1]At least 3 dislikes.
✘ Dislike 1
✘ Dislike 2
✘ Dislike 3[/color][/size][/list][/list][/list]

[size=200][color=color3]A B i t D e e p e r[/color][/size]:

[list][list][list][size=12] [color=color2][b]wнaт мaĸeѕ мe [i]мe[/i]:[/b][/color] [color=color1]FIGHTING STYLE/ WEAPONS/ EQUIPEMENT [/color]
[color=color2][b]no one can ĸnow:[/b][/color] [color=color1]Secret, fears, regrets, defining moment in past. [/color]
[color=color2][b]мιѕcellaneoυѕ: [/b][/color] [color=color1]Anything you want to add that couldn't be covered in the other parts[/color]
◣You wanted it αℓℓ.◥

Even gσ∂s have Rules...
вαнαvισυя
Ⅰ First and foremost, Treat everyone with respect. Play nice. If not, I won't hesitate to break it up. One way or another. ;D
Ⅱ This is my first roleplay, so please go easy on me! Of course I'd love feedback too! But I'm not that familiar with this site's habits.
Ⅲ No, I don't think I'm the god or whatever of this RP. I think Roleplays are so much greater when interesting plot twists happen. So, don't be shy to discuss anything with me or your fellows.

ρяσƒιℓεs
Ⅳ For races, I'm very open. Heck, make one up if you want to. As long as you don't make it all mighty powerful, and tell us a little bit about them and their abilities in your profile, it's completely fine.
Ⅴ Faceclaims are appreciated, but not mandatory. Drawn, or photograph, it makes no difference to me.
Ⅵ If you're to be against humans, it makes more sense for your character to be something other than a human no? Unless you come up with a really amazing backstory to reason why your human wants to destroy all humans, I probably won't allow it.
**Ideas for a character that's not a vessel? You go right on ahead!! In fact, I encourage it!

ρσsтιиg
Ⅶ So I'm not that fussy with posting length. Not a text message, but not a book either. As long as you keep grammar and spelling in check please!
Ⅷ If you have to go away for vacation, please please please tell us! We may even stall the entire RP just for you, so you won't miss a thing. I won't get angry if you decide to quit either, I will, if you just drop and leave us all hanging though.

◣Are you sαтιsƒιε∂ now? ◥
5 posts here • Page 1 of 1
5 posts here • Page 1 of 1
Arcs are bundles of posts that you can organize on your own. They're useful for telling a story that might span long periods of time or space.
There are no arcs in this roleplay.
There are no quests in this roleplay.
Welcome home, Promethean. Here, you can manage your universe.
Arcs are bundles of posts from any location, allowing you to easily capture sub-plots which might be spread out across multiple locations.
You can create Quests with various rewards, encouraging your players to engage with specific plot lines.
Settings are the backdrop for the characters in your universe, giving meaning and context to their existence. By creating a number of well-written locations, you can organize your universe into areas and regions.
Navigation
While not required, locations can be organized onto a map. More information soon!
There are no groups in this roleplay!
By creating Collectibles, you can reward your players with unique items that accentuate their character sheets.
You can schedule events for your players to create notifications and schedule times for everyone to plan around.
The Forge
Use your INK to craft new artifacts in Until The End: The Battle of the Gods. Once created, Items cannot be changed, but they can be bought and sold in the marketplace.
Notable Items
No items have been created yet!
The Market
Buy, sell, and even craft your own items in this universe.
Market Data

Market conditions are unknown. Use caution when trading.

Quick Buy (Items Most Recently Listed for Sale)
None
Usually it's a struggle just to rub the sleep from your eyes. But tonight's dream seems especially lucid.
Discussions
Topics

Replies
Views

Last post
Most recent OOC posts in Until The End: The Battle of the Gods
There have been no posts in the OOC topic for this roleplay!