---
---
" It may sound foolish of me to keep clinging to it, but that's simply my dream. "
【

The Beginning : ONE OK ROCK

】



【 Dialogue :

#3D93DA

: Thought :

#042c62

】



【 Face Claim : Aoba Seragaki | DRAMAtical Murder 】
---
" Bring me someone with hair trouble and I'll make them fabulous. "
---
◤
◥
FULL NAME
Hiruka Sorayuki
Meaning : Winter's Noon Sky
NICKNAMES
Hiru-cchi | Sora-chan
AGE
25
GENDER
Male
ORIENTATION
Biromantic Homosexual
ETHNICITY
Japanese
◣
◢
---
" Sometimes, it's fine to accept that life isn't always kind with you. "
---
◤
◥
HAIR / EYES
Blue / Light Brown
HEIGHT / WEIGHT
6'2'' / 155 Ibs
COMPLEXION
Pale
GENERAL APPEARANCE
Hiruka is a young man with an appearance which is commented by many to be "fragile and feminine", as some people often mistaken him for being a girl. He had a skinny build but still showed himself to be athletic and he'd been trying to improve his frame by working out everyday, which is seemingly paying off. What makes up for him is probably his impressive height that towers most others he came across. His skin is quite pale, but not to the point where it seemed to be unhealthy.

He had gradient blue hair that flows to the length of half his back. Though he isn't very comfortable if people touch it. Sometimes he did tie it into a pony tail when he wanted to feel some wind on his back. His light brown eyes often emitted a calm, somewhat innocent feeling to them, no matter how odd they seemed to be at times. Though they can be quite intimidating when Hiruka is serious. He has quite some scars scattered on his body, but most of which had faded by now, thankfully.

In term of clothes, Hiruka is always being seen wearing a white and blue jacket. Underneath is a navy long-sleeve shirt, blue jeans and a blue studded belt. He wears matching shoes with dark blue leg warmers. He once wore studs, but stopped since they didn't seem to fit him. Other than that, he'll just wear things that he felt comfortable in the most. And one of his prominent trademark is a large, retro pink headphones that hang around his neck and a watch which acts as his phone. He wears them so often that they seemed to be almost inseparable with him.
◣
◢
---
" It is only what is happening in the present that is mattered. "
---
◤
◥
◇ Calm ◇ Determined ◇ Kind ◇ Sociable ◇ Undefeated ◇
Hiruka is a calm and collected individual, who always bring forth a soothing and peaceful aura to anyone around him. He rarely ever loses his temper and can seemingly keep his head cool no matter the situation, with a gentle smile ever presented on his face. Despite having an outlook of someone who is fragile and needed to be protected, he's in fact a lot stronger and more determined than most people think. Once he had set his eyes on a goal, Hiruka will never stop until it is achieved.

While it is true that he had an appearance that attracted a lot of people (which is mostly males, specifically), it is his kind-hearted and caring personality that made him a lovable person. He always helps others without anticipating of being repaid in any means and always looks out for those who are important to him. He's outgoing and get along well with many types of colorful people and never judged anyone just by the outlook. It can be surprising on how easy it is to become friend with him.

But that is not to say Hiruka is completely a harmless and innocent guy. He will never let anyone bully or look down on him, and he's totally capable of taking care of himself and others when the situation calls for it.
◣
◢
---
" Whenever you need, just call, and I'll be there "
---
◤
◥
◇ Handsome Men : More than anyone, Hiruka loves beautiful men with all of his heart, and would never hold back his tongue to flirt with them.
◇ Music : Hiruka could listen to music almost anytime, anywhere possible, which explains why he's always carrying his headphones with him.
◇ Reading : Hiruka finds that it is truly relaxing whenever he indulge himself in a book.
◇ Friendliness : Since Hiruka is always nice with almost everyone around him, he'll expect them to show some hint of friendliness with him too.
◇ Games : He's not an addict, but there are times when Hiruka can stay up all night to play games.
◇ Dishonesty : Hiruka is observant enough to see whether if someone is lying to him or not, so he hates that someone is being dishonest.
◇ Betrayal : Hiruka can be really forgiving, but betrayal is something that he might never forgive nor forget.
◇ Dairy Products : He doesn't know why, it just that ever since he's small, these kinds of protein had always been nauseating for him.
◇ Smoking : Seriously, there's nothing healthy and refreshing about it. Just don't exhale a breath of white smoke in front of him.
◇ Arguments : It is his nature to be peaceful, so of course, he hated conflicts and disagreements of any kinds, and will usually be the one to settle things when they heated up.
◇ Expert Hairdresser : Some would say that Hiruka got some sort of magic in his hand that could make any type of hair become stunning.
◇ Cooking : Hiruka had to learned how to cook at a young age to feed both him and his brother, so you could say that he was quite good at it.
◇ Martial Arts : Despite not looking like it, Hiruka can actually put up quite a good fight.
◇ Sleeping Around : With a rather broad-minded view about sex, it's one of Hiruka's bad habits to easily get laid with some guys he'd just met.
◇ Swimming : Hiruka once had a problem with water before, so just the thought of dripping himself deep is scary enough, let alone swimming.
◇ Perfectionist : Hiruka wanted anything he did to be completely flawless, and that's why he can be working too hard sometimes.
◣
◢
---
" The world is full of obstacles, and you can't move on unless you kick them down. "
---
◤
◥
There are meetings that would entwined two hearts as one, there are fates that would forever be connected to each other, no matter how far they maybe with each other and there are loves that would surpass even the separating distance and the cold passing time. At least, that is what Hiruka believes. For all of his life, it was just a single incident that happened that noon that has completely changed his life. It has clung to him all of his life and filled his heart with nothing but nostalgia and the love that he couldn't forget easily, even til now. And, he had hoped that it could stay that way forever.

Born in the small town of Miyabi under the wings of a loving couple, Hiruka has never had an easy life outside the safety of his house. Because he had always been a fragile and vulnerable boy, he was always the target of bullying, whether it was Kindergarten or Elementary school. But he couldn't do anything. He cried, he suffered, he tried to fight back, but it was all to no avail. And soon enough, Hiruka given it up. He shut his heart and become stoic with everything. It's hard to imagine how lonely a child like him had felt. That is, until he met him.

It was just like any other afternoon when he reached the age of 8, he was walking from school back home as usual. A gang consists of five upperclassmen cornered him and bullied him as they always did. He clenched his fist, trying to endure as usual. But before any of them could do anything, the boy appeared and beaten them all up. When he introduced his name, the name that had never stopped ringing in Hiruka's mind, he smiled to him. A smile that had completely changed his life. Their friendship began here and their lives had become anew by each other's side.

They were the best of friends, never doing anything without each other. Soon, they realized that the feeling they have for each other had long surpassed the line of friendship. However, when it almost feels as if nothing could separate them anymore, their families decided to move away from the small town where they've grown up together. They were broken-hearted, but they've sworn that one day they will reunite again, in a better place for both of them.

Hiruka started his Junior High days in the prefecture of Hiroshima. Here, he had taken up a kendo and karate class along with his brother and now had become more confident in himself than ever. No one dared to bully him again, nor showed any odd with his appearance, after he single-handedly beat the pulp out of a group of so-called delinquents trying to pick on him. Hiruka had made new friends, but the boy had become an irreplaceable part in his heart.

Years went by and Hiruka finally grown up into the man he is today. After graduated from high school, he pursued an institute in hairdressing and had shown many promising talents ever since then. After finishing the course, he moved to Tokyo with his brother, Makoto, and become a well-known hairdresser in one of the most popular barber shop in the city.

Hiruka, however, had never been too lucky with his love life. He had dated and going out with many guys up to now, but none of them ended happily. Because of this, he soon didn't take any relationship seriously anymore as the only thing he would do whenever he found a new guy is to sleep with them, as well as becoming a rather frequent patron at a gay bar opened by his brother. Deep down somewhere in his heart, Hiruka still yearned for love and happiness and hoping that he could meet that boy again.
◣
◢
---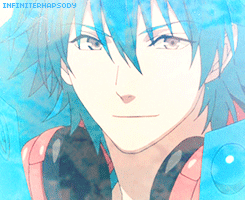 ◇ Father : Izami Sorayuki : 47 : Alive
◇ Mother : Miharu Sorayuki : 45 : Alive

◇ Younger Brother : Makoto Sorayuki : 22 : Alive

---
◤
◥
cs by StarlightPrincess
inspired by The_Queen , ઽ૮૨Α
filled by Chrian Blaire
◣
◢
---