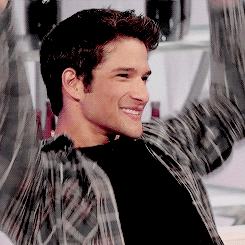 ---

Full Name:
Liam Jordan Brooks

Nickname:
Dork || Neutral
Jordy || Likes
LJ || Prefers

Birthday:
October 18th

Age:
17; Seventeen

Sexual Orientation:
Heterosexual

Hometown:
Brooklyn, New York

Character Role:
The Dork

---
---

Family:
Jordan Brooks || Father || Alive
Liam gets along very well with his father, in fact he's the only family member he ever has gotten along with so well. Liam has always been there for his father, just like he has and always will be for his friends. Not only does Liam call Jordan his father, but he is also a best friend.

Miranda Brooks || Mother || Deceased
Liam's mother passed away in July due to cancer. He was never all that close to his mother, but he did love her and it has taken a huge toll on his home life. His father went down into the slumps, causing Liam to pick up all the pieces.

Home Life:
Liam was born to a loving couple, though the two of them had him when his parents were only teenagers. Regardless they brought Liam up to be a respectful, yet awkward man. While growing up he was never the most popular in school and that never seemed to matter to him. In fact, he was actually one of the smartest in his class. This is what allowed him to be welcomed into St. Jude's. If it weren't for his academics, he wouldn't have attended the school and met all of his great friends and even some enemies, though let's not get into that.

When Liam was ten years old, his mother was diagnosed with cancer and has fought hard for the next seven years. But the summer of his senior year, she passed away. This caused the Brooks household to begin to crumble. Liam's father eventually quit his job, began picking up on drinking, and has also been known to sleep with women he met in the bars. Because of this, Liam ended up getting a part-time job in order to pick up on his father's slack.

Academic Career:
Liam's academics got him into St. Jude's. When he first started his grades has always been great but once his mother passed away, they slowly began to slip because of having to deal with his new responsibilities at home. He no longer had as much time to focus on his studies.

Future Plans:
Liam hopes to go to college after graduating, though he hasn't exactly made up his mind on where yet. But he has also taken a huge interest in one day becoming a comedian. Liam has always enjoyed making people laugh and smile, so he decided he mind as well try to make a career at it.

---
---
Personality:
Awkward: Liam has always been classified as an awkward person because of the fact that he either has a hard time maintaining an interesting conversation or starts talking about things nobody cares about.

Random: During awkward silences or moments when he is bored, he'll start saying or doing something out of the blue just to lighten the mood.

Caring: Liam has always been one of the most caring guys around. Whenever his friends or family needs help, he is always there to have their back, no matter what the circumstances.

Independent: Within the short couple months since his mother's passing he has learned to be a lot more independent than he ever was. He began relying on no one but himself in order to get things done and taken care of.

Stubborn: Liam has not once ever decided to change who he is or change his opinion on things he believes. If he ever does, it would be a miracle.

Apologetic: Has been known to say sorry a lot, even in situations where nothing was ever his fault or a sorry was needed.

Hobbies:
Skateboarding: Whenever he is stressed, angered, upset, etc. he tends to take to his skateboard and drift around town in order to calm himself down or think.

Video Games: Playing video games brings him out of his reality and allows him to jump into a life where he has nothing to worry about. It's also a great pass time.

Telling Jokes: Liam has always enjoyed putting smiles on people's faces.

Bad Habits:
Cracks his knuckles: Whenever bored he tends to crack his knuckles in order to give himself something to do.

Talks with his mouth full: On numerous occasions he has been known to talk with his mouth full. Most of the time he doesn't realize he's doing it but whenever it's pointed out, he just shrugs it off.

Leaves his wallet/keys in random places: Liam has always been known to do these things ever since he received his wallet and keys. He doesn't do it purposely but when he does, he tends to forget where he placed them at times.

Likes:
Comedy: He is always saying or doing something that will make people laugh and enjoys watching comedy himself. His favorite comedian of all time is and always will be Kevin Hart.

Night: The night time has always been his favorite part of the day. Mainly because it's quiet, and much more beautiful at night.

Fire: Liam has been known to randomly set things on fire, but he has enough control over himself to make sure he doesn't set anything important on fire or hurt anyone.

Dislikes:
Fakes: It bugs him when people try to fit it by pretending to be someone they're not. He'd rather get to know someone for who they are and not by someone they portray.

Crowds: Liam hates being in huge crowds, mainly because he tends to feel a bit paranoid. He never seemed to understand where this came from, but it's just something he has dealt with ever since he was a small child.

---
---
Face Claim:
Tyler Posey

Height:
5'10"

Weight/Build:
159 lbs. || Athletic

Hair Color:
Brown

Eye Color:
Chocolate Brown