---
▬▬▬▬▬▬▬▬▬▬▬▬▬▬▬▬▬▬▬▬▬▬▬▬▬▬▬▬▬▬▬▬▬▬▬▬▬▬▬▬▬▬▬▬▬▬▬▬▬▬▬▬▬▬▬▬▬▬▬▬▬▬▬▬▬▬▬▬▬▬▬▬
---
░░░░░░░░░░░░░░░░░░░░░
◤
◥
I V A N
J O H N S O N
☽ "Though I am often in the depths of misery, there is still calmness, pure harmony and music inside me. I see paintings or drawings in the poorest cottages, in the dirtiest corners. And my mind is driven towards these things with an irresistible momentum." ☾
Get it Right || Diplo ft. MØ /|\ One of Them Days || Kiana Lede
Fᴀᴄᴇ ᴄʟᴀɪᴍ ✦
Bryshere Y. Gray
Dɪᴀʟᴏɢᴜᴇ Cᴏʟᴏʀ ✧
#E9AB17
Tʜᴏᴜɢʜᴛ Cᴏʟᴏʀ ✦
#995B00
◣
◢
---
▬▬▬▬▬▬▬▬▬▬▬▬▬▬▬▬▬▬▬▬▬▬▬▬▬▬▬▬▬▬▬▬▬▬▬▬▬▬▬▬▬▬▬▬▬▬▬▬▬▬▬▬▬▬▬▬▬▬▬▬▬▬▬▬▬▬▬▬▬▬▬▬
---
X
X
✦Fᴜʟʟ Nᴀᴍᴇ✦
Ivan Gregory Johnson
✧Nɪᴄᴋɴᴀᴍᴇ✧
Ivy {Only by baby Kat} || Vin or Vinny {Common; the latter is mostly used by his sister} || Lux or Lux Lyfe {Stage name}
✦Bɪʀᴛʜᴅᴀʏ & Sᴛᴀʀ Sɪɢɴ✦
Dec 18th & Sagittarius
✧Aɢᴇ✧
16
✦Eᴛʜɴɪᴄɪᴛʏ✦
100% African American
✧Sᴇxᴜᴀʟɪᴛʏ & Mᴀʀᴛɪᴀʟ Sᴛᴀᴛᴜs✧
Demi-bisexual & Single
✦Rᴏʟᴇ✦
The Sweetheart
---
▬▬▬▬▬▬▬▬▬▬▬▬▬▬▬▬▬▬▬▬▬▬▬▬▬▬▬▬▬▬▬▬▬▬▬▬▬▬▬▬▬▬▬▬▬▬▬▬▬▬▬▬▬▬▬▬▬▬▬▬▬▬▬▬▬▬▬▬▬▬▬▬
---
✧Hᴇɪɢʜᴛ & Wᴇɪɢʜᴛ✧
5'8 & 156 lbs
✦Lᴏᴏᴋs✦
Although this occasionally lovable goofball will say oftentimes not acknowledge his own attractiveness and say that Nurys is the gorgeous sibling, there's a reason that Ivan has gotten some attention over the years, especially since coming to New York. Now better fed and being taken care of properly, he's no longer underweight. He'll never be able to bulk up like so many guys want, but his wiry yet strong build fits his rather petite frame, which he definitely will growl about if you ever called him petite to his face. Whoever his father was contributed to a browner complexion than either his mother or sister, and to the hints of gold in his soft brown eyes. He's known for toting various low cut styles on his natural hair, courtesy of his sister and complete with designs on high-top fades and sponge-twists. Both of his ears are also pierced.
✧Sᴛʏʟᴇ✧
Outside of St. Jude's, Ivan notably adheres to an urban street-wear wardrobe that, much like his sister, doesn't include the most expensive clothes money can buy. Which is what Ivan is most comfortable with, to begin with. From time to time, Michelle has enabled him to get expensive shoes and his jewelry does tend to wind up being designer simply because she doesn't like him wearing anything fake since that was what he came to New York wearing.He doesn't even try to spruce up his uniform because he doesn't see the point of going to such extreme lengths for something that was made to be strict on their freedom.
---
▬▬▬▬▬▬▬▬▬▬▬▬▬▬▬▬▬▬▬▬▬▬▬▬▬▬▬▬▬▬▬▬▬▬▬▬▬▬▬▬▬▬▬▬▬▬▬▬▬▬▬▬▬▬▬▬▬▬▬▬▬▬▬▬▬▬▬▬▬▬▬▬
---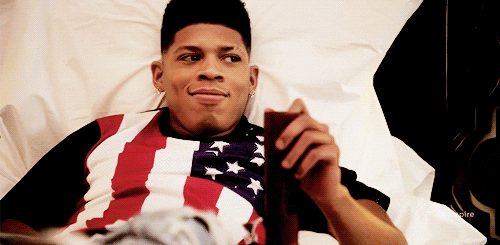 ╔══════════════════════════╗
XXX

Honest ✦ Optimistic ✧ Goofy ✦ Vivacious ✧ Impulsive
Compassionate ✧ Loyal ✦ Passive ✧ Emotional
╚══════════════════════════╝
i. editing..

ii. editing...

iii. editing..

iv. editing...

v. editing...
---
▬▬▬▬▬▬▬▬▬▬▬▬▬▬▬▬▬▬▬▬▬▬▬▬▬▬▬▬▬▬▬▬▬▬▬▬▬▬▬▬▬▬▬▬▬▬▬▬▬▬▬▬▬▬▬▬▬▬▬▬▬▬▬▬▬▬▬▬▬▬▬▬
---
✦Lɪᴋᴇs✦
Ivan has a really bad sweet tooth, particularly for baked goods. Much like his sister, he has a rather deep love - though his is definitely deeper - for waffles, but never frozen. No, they have to be home-made. But honestly put anything baked and sweet in his face, and he's ten years old again. Ivan is a really good rapper and he loves writing his own lyrics, or lyrics that he'd share with his sister. He'd fallen in love with the hip hop genre as a child, though since he's of this generation, Ivan does listen to a lot of trap music. Not his favorite because he favors songs with an actual message,but he'll turn up to most anything, to be quite honest. Also, Ivan likes taking photos, not just to post on social media, but to collect because he likes collecting memories. He couldn't do that before and some part of him fears that what he has now - even though it's not perfect - could be taken at any point. He wants to chronicle it all. She gets on his last nerves, but Ivan really does like his sister just as much as he loves her, but only because she's pretty bomb at video games for someone who claims she never has time for childish stuff.
✧

Dɪsʟɪᴋᴇs

✧
The one thing Ivan was never really fond of, surprisingly, was candy. A lot of things have artificial flavors in them, but he just couldn't get with the obsession that most children had with it. Not when one could get cookies instead. With that being said, he absolutely hates oatmeal raisin cookies, as trivial as it sounds. He just couldn't stand oats unless they were cooked, like with oatmeal, and he hates raisins in general. While he is used to it and even resigns himself to it, Ivan hates feeling invisible. Everyone's always focused on his sister or just someone else, so they always miss him and what's happening with him. He also hates medication, even though he technically needs it and refuses to take it because he hated the initial reaction his body had to them. A novel thing when considering his generation and how they function, Ivan's not a fan of meaningless sex or random hook-ups. He already isn't inclined to do it much or at all because of a lot of factors, most notably his orientation and just not really feeling it, but he doesn't need to be slobbered down by a complete stranger to gain pleasure. Conversations, listening to music, and writing work just as well, thanks.
---
▬▬▬▬▬▬▬▬▬▬▬▬▬▬▬▬▬▬▬▬▬▬▬▬▬▬▬▬▬▬▬▬▬▬▬▬▬▬▬▬▬▬▬▬▬▬▬▬▬▬▬▬▬▬▬▬▬▬▬▬▬▬▬▬▬▬▬▬▬▬▬▬
---
✦Tᴀʟᴇɴᴛs✦
i. talent - editing

ii. talent - editing

iii. talent - editing
✧Fʟᴀᴡs✧
i. weakness - editing

ii. weakness - editing

iii. weakness - editing
---
▬▬▬▬▬▬▬▬▬▬▬▬▬▬▬▬▬▬▬▬▬▬▬▬▬▬▬▬▬▬▬▬▬▬▬▬▬▬▬▬▬▬▬▬▬▬▬▬▬▬▬▬▬▬▬▬▬▬▬▬▬▬▬▬▬▬▬▬▬▬▬▬
---