Kaori Collins
---
---
Name:
Kaori
Age:
18
Gender:
Female
Height:
5'9
Weight:
120
Oddity:
None
Sexuality:
Heterosexual
Romantic Interest:
None at the moment
Nationality:
American/Japanese
Job:
None
Type of Singer:
Harmonic Rock songs tend to be her cup of tea. Anything with great guitar and drums. She also loves to sing acoustic songs and lullabies. She sings both in English and Japanese.
Instrument(s):
She plays the harp. Only when she's singing lullabies though. She only brought her small one to the acadamy, while her big one is at home.
---
---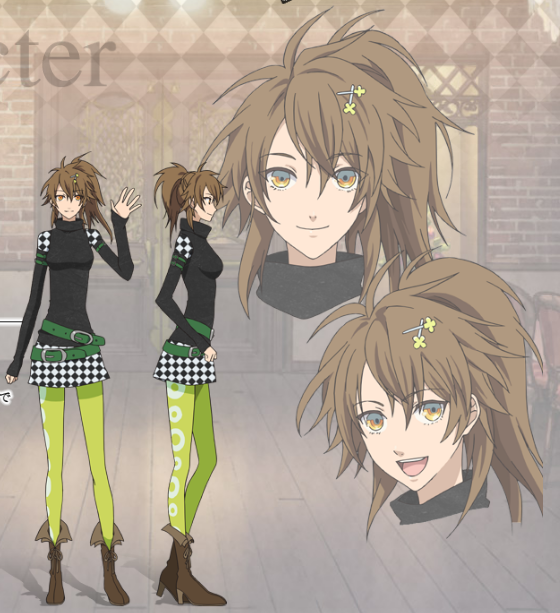 ---
---
Personality:
One word to describe her is spunky. She is incredible jumpy and enjoys activities where she gets to use her body alot. She is extremely friendly and she would never imagine hurting somone's feelings unless they're being incredibly mean or rude because then she kind of feels like they need to get a taste their own medicine, but she feels bad afterwards and usually apologizes.
Despite this she is quite easily hurt herself, she is her biggest critic and handles it bad when others tell her something mean but she's learned to hide it well when she's hurt because she's too proud for that. She does not want to show a weak side of her. She thinks apologizing and realising you've done something wrong is admireable and she tries to do that alot.
The only thing that makes her feel better is her singing and she always carries her harp with her in a shoulderbag because she never knows when she might need it.
She tries to avoid conflict as much as possible since there is a possibility of hurting someone or getting hurt.
When she's singing she loves to jump around and she's got a big stage presence but she can quickly change her pace from something up beat to something more subtle and still maintain that presence.
Likes:
Video games
Singing
Fairy tales
Ice cream
Her family
Rain
Dislikes:
Insects
Rap music
Cold
Vegetables
Boasters
Fears:
Deep waters
Losing a loved one
Being locked up – Claustrophobic on top of that
Talents:
Singing
Good climber
Great at sports
Flaws:
Claustrophobic
Not very academic
Hobbies:
Climbing
Videogames
Baking
---
---
---
---
Bio:
Kaori was born in the USA. Her father is American and her mother Japanese. She grew up happily with two elder brothers and a younger sister. Her father was able to provide well for them and her mother ran a Japanese shop nearby with hand made kimonos and yukatas which sold very well.
As Kaori turned 10 her family went on a vecation to Japan just so that the children would get to see the other part of their nationality and Kaori loved it and so did her siblings so the family decided to move to Japan, although her father stayed in the US to work there but comes to visit from time to time.
Her singing talent was discovered as she won her school's talent show with her harp and singing. Her brothers played a lot of rock music and she started singing some of that aswell and found she loved singing that aswell. Her love of lullabies comes from her mother singing Japanese and English lullabies to her and her siblings when she was little.
Other:
Really loves sweets and is usually seen chewing on some kind of candy or sweet.
Character Thoughts On Others:Males
Sora Minami
~ "I've noticed his two habbits of sleeping and eating, alot. I think he seems friendly though, even though he doesn't really talk all that much."
Fate Sarutobi
~ "The shy guy? *chuckles* He's cute and I wish he'd speak more but I'm not gonna force him."
Chihaya Ogiwara
~ "Another quiet one, I just want to hug them all. He looks so cute, he looks tired all the time."
Dameon Louis
~ "I've only heard him being a bit grumpy and maaaybe a bit negative but I see the glint in his eye when he does something he loves and he works hard for it."
Tristan Aeol
~ "It saddens me a bit that he never smiles. I don't know much about him since he rarely speaks."
Nick O'Shields
~ "I don't think his gun makes up who he is. I'd say he's somewhat the opposite to what some thinks."
Jun Katanami
~ "His musical taste is great! He's very kind aswell and I feel like we have much in common..."
Jack Caraway
~ "Some call him a pervert but I don't think that's fair. He's super nice and funny!"
Robin Dumas
~ "He's one of the most hard working peple I've met, sometimes even too hard working. He's friendly but I think there's something more than just that."
Alexander Rammis
~ "I think it's a shame so many people are quiet or shy. I've never heard him speak once and I think it's a shame. His synthesizing skills are incredible though."
Females
Wotamin Yori
~ "I can tell she's sick and it seems to affect her voice considering the mask. I think her singing is amazing despite this."
Saki Yuuki
~ "I can tell she's careful around strangers with her attitude and I guess it's understandable to not trust someone right away."
Jayson Preston
~ "She is absolutely adorable, almost doll like. We haven't spoken much though but she seems like someone you could trust."
Anaïs Chevrier
~ "She's so bubbly and very sweet. Though it seems like she speaks before she thinks at times..."
Haruka Okada
~ "She's so cute but also very shy. I usually see her reading a book and it's a new one almost every time. I admire her ability to read so much, I wish I could do that. Maybe my grades would be better if I could..."
Esmeralda Farcaley
~ "So much energy in that small body, it's adorable!"
Miku Kuronomi
~ "I find her interesting. Both her personality and her sining. Very intersting indeed and oh so cute."
Charlotte Hansen
~ "Smart, pretty, tall, she's got it all..a bit jealous I admit. She's also one of the shy ones, I wonder why."
Sample of Voice/Instrument:
Amaranthine by Amaranthe
Best of me by The Letter Black
Lyra's song from Fairy Tail
Zelda's Lullaby
Natsuhiboshi from Naruto
Amnesia by Zoetrope