Earth- 2516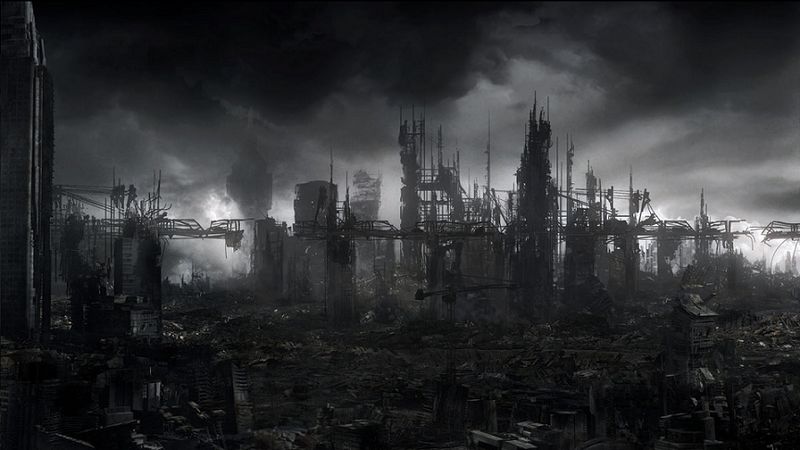 The world has become a desolate place. Plagues, famines, every sort of disease imaginable, and unimaginable, are raging on the surface, in the air, and under the sea. Man's greatest escape, man's greatest accomplishment, is the V Game. V Game, the virtual world that mirrors the original, however, whatever your mind can imagine, is placed onto the world. All lives are different; unique to those who play it.
In the V Game, there are very few rules. Be what you will, do what you will, but always follow the Developer. The Developer is more like the game's resident God and Master. He, as rumor holds it, is the great Creator of the V Game, and many have begun to worship him as such, much to his disgust. Unfortunately, there are some who do not believe the Developer to be a 'god', but a man like everyone else. Those who think this, are often shunned by the fanatics of the game, and have often been seriously injured, or, in some cases, killed. It is because the people, who believe the Developer to be a man, believe that it was created by him, but with greater help.
Outside the game, however, deep within a tall structure in the heart of a nation's once great capital, many Game Masters are working hard to keep the game running smoothly. Unfortunately, with everyone hooked up to the system, it has begun to strain the system, causing many blackouts which have resulted in the rude awakening of many players who play it. This has caused them great pain, placed them into a comatose state, or, in some rare cases, killed the player.
For the moment, a program is being developed to bring players out of the game safely during the random disconnections. Unfortunately, due to the large scale of players which span over the entire globe, complications are bound to arise.
_______
A knock at the door reveals a medium sized brown box. As you take it into your home, wonder and curiosity fills your mind, and you begin to ask aloud as to who had sent this package. With hesitant fingers, you strip the tape from the center, and gently open the flaps. Packing peanuts greet you, but your hands dive into the package, eagerly questing for the unknown. Your eyes grow wide, and a smile plays upon your lips; at last, you find your prize. A small, black box appears in your hand, and attached to it, a folded note with a smiley-faced sticker in its center.
As you carefully remove the sticker, you notice that a strange
symbol
is splayed in the top left corner. To the right of the symbol, the letters RNC can be seen. This reminds you of the international corporation which had released a new game system, which allows everyone to be anything they wish to be. Eagerly, but with more confidence, you open the black box, practically tearing into it. Inside is a pair of headphones with a thick band which arced between them. On one side, a short, thick antenna could be seen protruding from it. While on the other, a long chord, which has been tied into loops, is waiting to be hooked up with the nearest computer software.
Just as you are about to start up the game, you remember the note attached, and gently pick it up. Your eyes briefly scan over the letter, only pausing to read the congratulatory introduction into the V Game and the small warranty which lasts for about a year. The rest of the letter, you throw down, not wanting to read up on the history of how the V game began, and quickly attach it into your computer. A small light can be seen from within the band, and you hasten to put it over your eyes.
A blue sky opens to your eyes, and you can hear the ocean off into the distance. It is then that you realize that there are no controllers with which to move about, nor a microphone to speak into. As panic begins to set in, you hear a small voice, male; appear in your right ear. "Peace," he says, "Peace. Be still. The product of which you have just received, is a perfected piece of equipment which allows you conscious mind to move, speak, and interact with other people." A black robed figure appears in front of you, with only his mouth and hands visible to your eyes.
"You may experience a slight numbing behind your eyes, but you must not panic. This is only the device which is currently accessing your mind, and synchronizing with it." Just as he speaks this, a small numbing pain appears behind your eyes for a few moments, but something strange begins to occur with your body. You cannot move. The robed figure nods slowly, resuming his speech, "Your body should be numb by now, but do not fret. This is only natural, as your mind is currently being transferred into the world known only as V Game." The robed man vanishes, as does the ocean-side view.
Lights begin to pass you by, just as the
opening theme
of the V Game drifts into your ears. The lights begin to pick up even more speed, until they become a blur. Towards the end, you are enveloped in a blinding light, and you find yourself high above a strange land. Far below, you can see many players of all shapes, sizes, colors, etc, all battling monsters, each other, or performing various tasks. You pass the large stone-walled city made up of white marble called Tsar No'uul, the City of Pure Song. A large spire can be seen in the center of the city, and atop the spire is an empty thrown that overlooks the city below. This begins to excite you, and you are transported to a strange, open arena, where you will begin your tutorial of the V Game.
Code: Select all

[b]Basic Out of Game Character Skeleton[/b]-
Name:
Age:
Height:
Weight:
Appearance: (NO anime pictures)
Personality:
Occupation:
Background Information/History:

[b]Basic In Game Character Skeleton[/b]:

Name-
Age-
Race-
Height-
Weight-
Appearance- (Anime only)
Personality- (ONLY if different from your out of game character)
Occupation-
Equipment-
Background Information/History- (optional)
Create whatever you desire to be, and be original about it. If you are wanting to be Mario, then do so. If you wish to be a Demon Hunter from the depths of Hell itself, then do so. Be what you want to be, but be reasonable with it.
No God modding.
No Mary Sues/Gary Stues. I know this is a contradiction to the unique character structure, but you MUST be reasonable with your character creations.
Post at LEAST 1-2 paragraphs. One-three lines is NOT a paragraph, and will be systematically ignored.
Post often, but if you're not going to be around, let me know or post it on the OOC forum.
Do NOT put on your character sheet that you are a Game Master without consulting me first. It will be rejected otherwise.
Other than that, follow the site rules, and keep it PG-13.
Taking place in...
Arcs are bundles of posts that you can organize on your own. They're useful for telling a story that might span long periods of time or space.
There are no arcs in this roleplay.
There are no quests in this roleplay.
Here's the current leaderboard.
There are no groups in this roleplay!
Welcome home, Promethean. Here, you can manage your universe.
Arcs are bundles of posts from any location, allowing you to easily capture sub-plots which might be spread out across multiple locations.
You can create Quests with various rewards, encouraging your players to engage with specific plot lines.
Settings are the backdrop for the characters in your universe, giving meaning and context to their existence. By creating a number of well-written locations, you can organize your universe into areas and regions.
Navigation
While not required, locations can be organized onto a map. More information soon!
There are no groups in this roleplay!
By creating Collectibles, you can reward your players with unique items that accentuate their character sheets.
Once an Item has been created, it can be spawned in the IC using /spawn Item Name (case-sensitive, as usual) — this can be followed with /take Item Name to retrieve the item into the current character's inventory.
Give your Universe life by adding a Mob, which are auto-replenishing NPCs your players can interact with. Useful for some quick hack-and-slash fun!
Mobs can be automated spawns, like rats and bats, or full-on NPCs complete with conversation menus. Use them to enhance your player experience!
Current Mobs
No mobs have been created yet.
Locations where Mobs and Items might appear.
You can schedule events for your players to create notifications and schedule times for everyone to plan around.
Add and remove other people from your Universe.
Orphanage
By marking a character as abandoned, you can offer them to your players as pre-made character sheets.
The Imperium needs a Hero, and I shall answer the call of duty.
"I'm just as capable as any- Ohmygod, is that a butterfly? It's so cute!"
What is the meaning of life?!?
The Forge
Use your INK to craft new artifacts in V Game. Once created, Items cannot be changed, but they can be bought and sold in the marketplace.
Notable Items
No items have been created yet!
The Market
Buy, sell, and even craft your own items in this universe.
Market Data

Market conditions are unknown. Use caution when trading.

Quick Buy (Items Most Recently Listed for Sale)
Newest
Be what you will. Do what you will, but break my rules and you will suffer my Judgement.
Trending
Be what you will. Do what you will, but break my rules and you will suffer my Judgement.
Most Followed
Be what you will. Do what you will, but break my rules and you will suffer my Judgement.
None
Discussions
Topics

Replies
Views

Last post
Most recent OOC posts in V Game
There have been no posts in the OOC topic for this roleplay!