sindri

hyuga


♞♘

"Cats are cute."

♘♞


♞ 432 Hz ♘ Boost Your Aura ♞ Clearing Subconscious Negativity ♘
status aristocrat
age 18
enrollment night class
year third
extracurricular gardening club
zodiac cancer
desire acceptance
secret ⬛⬛⬛⬛⬛⬛⬛
power healing
hunter weapon n/a
greatest talent pottery
the first thing you notice his imposing stature


appearance
Sindri's height normally catches everyone's attention at first. He towers over most people and has fully filled out his body. You'll likely catch his shadow before you notice him. He has soft short hair that is an eye-catching green that matches his eyes. Sin usually wears loose clothing as it is the most comfortable. He does wear tight shirts underneath certain clothes at times if he knows he may need to dress in layers to appear normal. If Sin isn't covered up, you may see some tattoos adorning his flesh. These are only temporary tattoos though. Besides a tattoo or more, Sin does like to wear earrings, necklaces, and gloves. Lastly, and most importantly, you may see his clothing decorated in cat fur.
---
---
blood,

sweat, and tears; a promise to oneself.
"I will take care of any cat that comes into my care."
---
---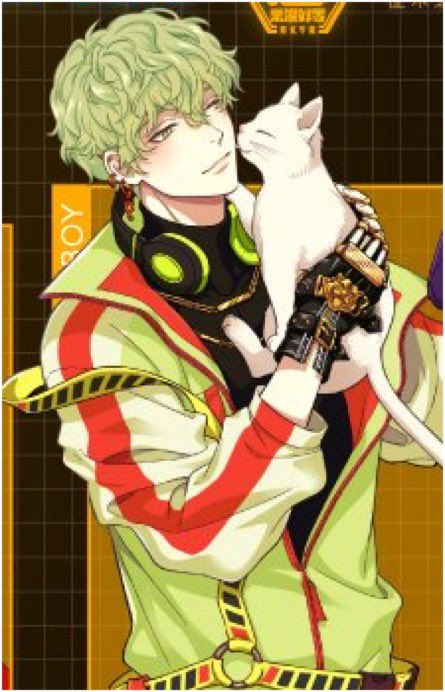 demeanor
Sin is a gentle giant. He is gentle and calm with everything he does and with everyone he speaks to. His voice is smooth and soothing while still being deep. He is a sweet person who cares for others. Although, since he lacked social interaction growing up, he is not the best at socializing. He can easily say the wrong thing at the wrong time.

Sin tends to stay quiet and in the background since he was a secret child. He usually doesn't have much to say, which makes him be perceived as the strong and silent type. When he does speak, He really is like a cookie that is warm, soft, and gooey. When people discover his soft nature, some people are tempted to walk over all over him and or take advantage of him.

People do seem to think Sin is simple-minded though. He sometimes doesn't do the smartest things. Sin was never one for studies, so may not know what most people do. His street smarts aren't too much better either. Some would call him a fool at times if they weren't scared of his stature. Although, no one can say they ever saw his temper.

He will protect others by putting himself in the line of fire. He is not someone to fight back as he is a pacifist. He would rather contain the threat until it has passed or others are safe if possible.

Lastly, he gives others the benefit of the doubt. It was why it is hard for him to see the bad in people. He mainly tries to understand why they did what they did. Some would say he is too forgiving as he seems to never know when to stop giving people chances.

ghosts
That he is a monster simply because of what he is and humans will fear him if they found out what he was. They have some awful stories about his kind. There are vampire hunters as well who hunt the worst of the worst of his kind as well. He feels like he will never be accepted by the vampires as well thanks to his infamous past.

saving grace
protective

achilles' heel
pushover

likes
felines ♥ the moon ♥ dreams ♥ music

dislikes
children ♦ rumours ♦ vampire hunters ♦ schooling
---
---
---
---
history
Sindri Hyuga was a child who was kept a secret most of his life as he was born out of wedlock thanks to an affair between aristocrats. When Sindri was born, he was an easy and sweet baby. It was why his parents decided to have him be taken care of in the middle of the country by a live-in human nanny. Sin lived with the nanny for the beginning of his childhood. He loved it as he even got to play with her son when he got to tag along.

Unfortunately, vampire hunters discovered where he was and came after him. He was barely able to escape them. For better or worst, he had been saved by another aristocrat vampire. This vampire took him to his father's home. The secret child was no longer a secret. The cat was out of the box. The Hyuga family was now infamous. Everyone knew Mr.Hyuga cheated on his wife and had a bastard. He never revealed who Sindri's birthmother was and raised Sin with his wife who kept him.

Sin felt out of place living with a father he never knew and a stepmother who wished he never had been born. It wasn't a surprise when he was sent off to Cross Academy.
darkest secret
⬛⬛⬛⬛⬛⬛⬛⬛⬛⬛⬛⬛⬛⬛⬛⬛⬛⬛⬛⬛⬛⬛⬛⬛⬛⬛⬛⬛⬛⬛⬛⬛⬛⬛
⬛⬛⬛⬛⬛⬛⬛⬛⬛⬛⬛⬛⬛⬛⬛⬛⬛⬛⬛⬛⬛⬛⬛⬛⬛⬛⬛⬛⬛⬛⬛⬛⬛⬛
⬛⬛⬛⬛⬛⬛⬛⬛⬛⬛⬛⬛⬛⬛⬛⬛⬛⬛⬛⬛⬛⬛⬛⬛⬛⬛⬛⬛⬛⬛⬛⬛⬛⬛