---
---
"Don't fight the fears you have. Embrace them."
---
---
Nickname:
N/A
Age:
17
Sex:
Male
Race:
Human
Role:
Guardian
---
---
"Let's just all turn to dust. It's part of our fate anyway."
---
---
Hair Color:
Naturally a lighter brown, but is bleached blonde.
Eye Color:
Blue-Hazel
Skin Tone:
Almost death white, with pink undertones.
Height:
6' 5"
Weight:
158 lbs/72 kg
Physical Description:
Ren is a very "odd" individual in the Day Class. He's very slim, taller than most, and extremely light skinned compared to his peers. He also prefers his hair blonde, which is also uncommon (for his class, anyway). His eyes are also blue, revealing him to be at least somewhat of a "foreigner". His face is slightly angular around the jaw, in par with his thin bones. His posture is almost constantly slouched as the building isn't built for people his size. He has one tattoo on the back of his shoulder that looks like a traditional Chinese dragon. He has quite a few scars from childhood.
He also smells like a mixture of smoke, leather, and old books.
---
---
"True happiness...what I would give to make that a reality."
---
---
Potential Interest:
Ren is too busy ruining his health and running after fan-crazed girls to care about anyone in that way, really. He's also unsure of his sexuality, and hasn't really explored anything yet.
Skills and Abilities:
Ren is a master at managing sleep, running, and faking feelings. He's not really involved in any clubs, simply preferring to use his free time to think about things. Surprisingly, he can teach himself a lot of things. One of the things he actually knows how to do is handle himself in a fight, using a mixture of a bunch of styles from fighting games and his time in "hell". He has a high pain tolerance.
---
---
"Everyone dies at some point. What matters if it's now, later, by your own hand, or naturally?"
---
---
Other:
Ren suffers from depression and tries to hide it by putting on a "cool, mature, badass" front. That's why his normal attire consists of leather jackets with tees underneath, dark jeans, and a pair of dark Toms. He also has a pair of pretty cool sunglasses (pictured). He loves video games and English literature. It's rumored that he is actually bilingual in Japanese and English, since others suspect his heritage is not fully Japanese. He wears brown contacts to cover his eyes up. He has a bad habit of mildly swearing sometimes.
---
---
"To be or not to be, that is the question my friend."
---
---
Personality:
As stated, Ren likes to pass of as "mature". Since his depression causes him to be emotional (an in his mind "unmanly"), he tries to cover it up by being mean and cold. He sometimes comes off as a snob or a little bratty. His carefree attitude gets him in trouble with adults a lot, but he's not hot headed. He's very calm on the outside. He rarely talks to anyone unless he's forced to. If he is talking, he tries to keep it short, since his mind is always trying to keep up the act. He doesn't truly know who he his, which scares him. He's normally holed up in his room reading Shakespeare or something of the like.
History:
Ren is an orphan. When he was a child, the place the government placed him was hell to him. The adults didn't care, and the other children were horrific. Since he was "different", and the youngest at the time, they placed him in dark rooms for hours at a time, beat him with anything they could find, and mentally tortured him. Once he was fed up with it, he started to fight back. Even though it barely helped with the treatment he received, Ren felt a little better about it.
One night, the head of the orphanage was caught abusing one of the older girls by his wife. Ren was young, so he didn't understand at the moment. The wife had been drinking for years, and when she found out, she bludgeoned the "Master" and the girl to death, and proceeded to burn the building down. All of the children were asleep, including Ren. But for some reason, Ren had woken up outside the burning building. He assumes he's the only one alive. After what they've done to him, Ren honestly doesn't care if they're alive or not.
After hitch hiking and walking to the nearest city, Ren was around the ripe old age of nine. He had spent six years in the orphanage, and didn't know anything about the world outside of it. He was forced to live out on the streets. Not a single person gave him the time of day...except for someone Ren calls "Mr. Red". This man was also different somehow, and always stopped every day to give Ren food and some company. It was nice, to have someone to talk to him like a human being instead of some animal. But it only lasted around a year.
It was winter. Ren had slept in a bit in his usual spot, and Mr. Red had come at his usual time. When Ren awoke, Mr. Red was staring. Before the poor boy could say anything, Mr. Red had dragged him into a dark alley way and attacked him just like any Mad Vampire would do. If the Headmaster hadn't shown up when he did, Ren would be dead....
He's been living at the Cross Academy ever since, trying to come to terms about his parents origins , the experience at the orphanage, and Mr. Red.
---
---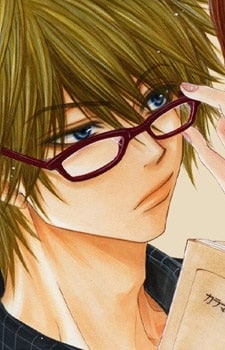 "When you've walked the path I have, you wouldn't be so trusting either."
---
---