"Courage is not the towering oak that sees storms come and go; it is the fragile blossom that opens in the snow."
---
---
"Snow falling soundlessly in the middle of the night will always fill my heart with sweet clarity"
---
---
Nickname: Snow White, the alias that had been given to her by the Hunter Association when she first joined due to her snow white hair and fair skin tone. Nearly everyone knows her by this, Hunters and Vampire alike, however she just prefers to go by Snow. Kari, close friends are the only ones allowed to use the nickname her little brother had made up for her, everyone else at Cross Academy call her by her first and or last name.

Age: 18

Gender: Female

Race: Pure-Blood turned human.

Role: Pure-Blood turned human Prefect, Day Class Student Council President.

Hair Color: Natural snow white, but depending on the lighting around her, sometimes her hair will appear a light pink instead of white.

Eye Color: Dark scarlet that often change shades with her mood

Skin Tone: Fair/Pale

Height: 5'6

Weight: 132 lb
"His cloak was his crowning glory; sable, thick and black and soft as sin."
---
---
Physical Description:
Soft strands of pure white hair fall down Hikari's back, laying across her the back of her mid thighs, her hair is the only thing that gives away the fact that she has yet to get a hair cut since she was fifteen, since her hair grows at such a slow pace, she decided long ago to let it grow up at much as possible as she grew herself. The long waves of hair contrast with her crimson eyes, making them a more violent, vibrant shade of red then necessary, however, compared to her snowy hair and scarlet eyes, her skin is as pale and fair as it could possibly get.

Because Hikari grew up in Northern Canada, where it snows year around, she never really got a tan or even a sunburn, even if she did go out in the sun through, her skin never changed from the pale tone that would always stick with her. She is often seen in strange clothes when she goes on mission or to any meaning that involve the Hunter Association. No one really understands why she wears the old fashioned blue jacket or the button up shirt or the white boots that lace up higher than her knees, to be honest she doesn't really understand why she's wearing these things, but she feels they fit her personality and she doesn't look all that odd in them.

Other times she'll been seen in the normal school uniform along the the Prefect patch on her arm. It's very rare to see Kari around the school not in her uniform, through it has happened before. Hikari also always has her Anti-Vampire Sword on her person, but it's not like a normal sword, she can make it grow and shrink at will, and when it is completely shrunk down int's in the form of a pen that she always has with her. When Snow was sixteen, her brother and herself had went on a mission to get rid of some Level E Vampires, but during the mission her right cheek had gotten slashed open.

After they had disposed of the Vampires, her brother had stitched her cheek back up, but it never healed properly and so it will always be there, because it reminds her of her brother she gets snappy when someone mentions it, she doesn't like having to remember him when she considers him most likely dead. However the scar does add to her tall, snow white intimidating appearance that often frightens to rest of the Day Class into following her orders, it's made clear that she is not someone to be messed with when you look onto her crimson eyes, they hold something dangerous within them, like a monster waiting to brake through.

Romantic Interest: TBA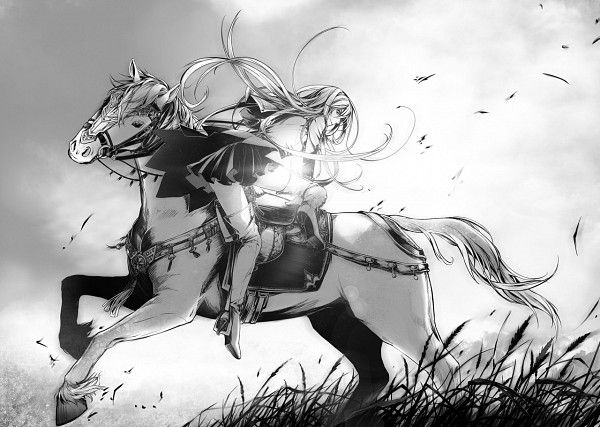 "They had no where to go. Some continued upward, and died. Some went downward, and died. Some stayed where they were. They died as well." "
---
---
Skills and Abilities:
Hikari is one of many yet no talents. She can write and draw and paint and she is brilliant at sword fights and working out, she loves to run and swim and be as involved with the Academy as possible, she is also book smart, she works hard when it comes to her study's and often helps others when they are in need, however, even through she can do all of this, she only truly cares of horse back riding. She grew up learning how to fight with swords and hand to hand combat, but the thing she always valued the most was when she learned how to ride her horse. When Kari rides she put 100% effort into it, and then pushes herself further.

She grew up with her horse that her father had gotten her when she was just a child, at the time it was just a little pony, but they grew together. She is very close with the horse horse that's coat was so white it nearly looked blue, because of the color of the horse, she named her Frost. In the mornings or late at night after going on patrols, when Kari cannot sleep, she often goes down to the horse track that the Academy had made last year and rides Frost until her mind is put at ease, she can move through obstacle courses like she built them herself and she always talks with Frost, even if the horse cannot speak, just being around the horse she relaxes and lets down her guard.

Hikari is very good when it comes to animals, she even has befriended a Hawk that often helps her in fights or just fly's around her. When she is reading outside the Hawk will come and sit near her, and she'll read allowed. It's a strange friendship, but it's nice. In some ways the Hawk believes that it is Hikari's protector, because whenever she is in harms way, he will rush to her and protect her with his life
"you cross the field in the snow leaving tracks in perfect whiteness ...disturbing my placid universe...marking the landscape within me ..."
---
---
Dominant Traits:

STUBBORNNESS: She hates being told what to do and when to do, she likes you go her own way and not listen to people if their being unreasonably bossy.

BIG HEART: She tends to be too trusting and loving, she takes pity on others and she loves everyone, through she hides it, and her emotions can get the best of her sometimes.

HUMOR: She tends to crack jokes all of the time, even at the worst of times.

SHORT TEMPER: She has a very short temper, and when it gets off she tends to see red and do thing's she shouldn't do, which never really ends up helping the situation.

TARDINESS: Never bothering to set alarms of any kind, Snow often finds herself losing track of time and thus being late. Due to her stubbornness, she refuses to even simply wear a watch or set an alarm on it.

DETERMINATION: Once Snow sets her mind to something, she never gives up on the idea. She thinks that if she works hard enough at it, at perhaps, becoming stronger, she'll be able to protect her loved ones instead of watching them all die. She never wants to go through that again.

BRAVERY: She acts despite her fear if people she care about are in danger, because when she was young she nearly lost everyone she ever loved, she thinks if she can protect everyone now, she will never have to experience that pain again.

Likes:
✔ Reading
✔ Writing
✔ Flowers
✔ Music
✔ Rain
✔ Night time
✔ Drawing/Art
✔ Horses
✔ Birds
✔ Colorful Things
✔ Old Books
✔ Friends
✔ Snow/Cold
"A cold wind was blowing from the north, and it made the trees rustle like living things."
---
---
Dislikes:
✘ Bright lights
✘ Loud people
✘ Boring classes
✘ The heat
✘ Mornings
✘ Messes
✘ Death
✘ Loss
✘ Rudeness
✘ The Sun
✘ Memories
✘ Dogs
✘ Fish
Other:
Unknown to most is the fact that Hikari is a human turned Pure-Blood, in fact it is unknown to ever herself. The young girl has no idea that her real family are actually descendants of the
King
who had made the deal Devil, which is why to most her blood smells very pure and tempting. When she was younger her parents, who loved her dearly, turned her human in hopes of saving her from the darkness that they had become a apart of so long ago, and from a hunter attack that would soon descend upon them. However, Hikari's
younger brother, Hiroshi,
had been away with their Uncle, no he never had the option of being human.
When the hunters found them, they were surprised that the two Pure-Bloods had a small human child with them, and thinking the worst, they killed them and took the small girl with them. She didn't know anything except her first name, so the hunters passed her off to another family, who raised the girl as a hunter. The reason Hikari hates some Vampires is because she has been led to believe that the Vampires that had her were the ones that had killed her real parents. Hikari has no idea that all it would take to get her memory's back and to turn back into what she was truly meant to be, is one bite from a Pure-Blood Vampire. She attended Cross Academy because she doesn't want to hate all Vampires, and wants to get over her belief that they are all blood thirsty monsters, through that is easier said than done.
Her real brother followed Hikari to the school, because before his parents had died they had sent him a messaged, begging him to keep an eye on her until she was turned back into a Vampire, so he joined the night class and keeps an eye on his older sister as much as possible. She doesn't know that the Hawk she is so fond of is his pet.
Her real family, her mother and father who were twins, were the children of the king, and one of his
mistresses
who birthed two of his children before he left, but he was not aware of this. The children grew up, and had two of their own children, their eldest is Hikari, and their youngest is Hiro.
It has been noticed by few that Hikari looks a lot like the mistress who served under the king, but it is not known by her.
"...winter crescent resting in the high pine bough - you fly through the woods like a lone snow bird..."
---
---
Personality:
Valiant:
1. Possessing or showing courage or determination: "a valiant warrior".
Courage or Courageous:
1. The ability to do something that frightens one.
2. Not deterred by danger or pain; brave.
3. Strength in the face of pain or grief.
Snow is very tough, and it's hard to earn her trust. Most of the time, if someone wants to gain her trust, she has to know she can be happy around them, that she can put her life in their hands and they wont end up killing her. Often she isn't at the front of the group but rather at the back watching and learning far more than you would think. She has always been able to read people and see things about them that others can't. She is quick witted and willing to speak the truth when no one else will, she has a knack for showing the harder side of life that people want to ignore. Most people take notice of when she butts into a conversation, since she more than likely has something important to say, but she'll only say something important if she thinks it's worth while. She's the girl who stands up for what she believes in, doesn't let others push her around, and does what she wants. She's headstrong, and everyone used to say she was born a natural leader.
Hikari holds a great hatred towards most Vampires, her
adoptive grandfather
would always tell her little things, like how somehow,everyone weakness was their strength, how she would one day fight not for other's believes, but for her heart. Ari looked up to her grandfather more then she did her
adoptive older brother
, her grandfather would take her out into the woods, twice every week, and teach her how to fight, how they used to fight in the old ways instead of the new, which she also was learning from her parents, but he had never taken her brother out there to train, only her.
Snow is a firm believer in the idea that scars never go away, that time cannot heal everything. This goes is part of the mindset she has that people need to face there problems and that it is by doing this that they can grow as a person. Never being one to shy away when problems arise up her direct and no nonsense attitude in life makes it so that she very rarely has an issue that is not dealt with quickly. Hikari is really smart, and she tends to speak her mind freely and if she offends someone by what she says she always points out that its only offending because they know it's true. She doesn't like to be pushed about or bossed so she stands up for herself and her friends because she believes that if your going to pick on someone, you should be per paired for what would happen next.
She is very imaginative, creative, and extremely crafty. She likes to think out of the box, no matter how ridiculous her ideas are. She hates being told how to do anything, when she should do it, or that she is wrong. She's very blunt, in your face, and can border on rude because she will not hold anything back. She often gets that sarcastic and witty look like she's about to mess with you, but if she doesn't know you and doesn't know if she can trust you, she wont.. She is extremely good at lying and fibbing and shes mostly and extremely, painfully, stubborn. However, if you should ever, ever get past that side of her, you'll see someone who wishes they could trust others, but try's to avert from doing so. When she helps someone, she helps them in a natural way, making it seem like she did it cause she had to. When angered, she'll simply glare or just walk away. She hates to be around crowded areas and prefers to be alone most of the time.. She's distrustful, but all around nice on the surface to nearly everyone. Though she doesn't stand for any injustice, she understands that the world is often filled with injustice, and there isn't much she can do about it. Words are rare when it comes to Snow, since she doesn't really like to speak to anyone she doesn't know.[/font]
"We are so used to releasing words, we don't know what to do with them if they stay. No matter how many times we let them go, no matter how badly we don't want them to stay, they come back. The words that matter always stay."
---
---
History:
Hikari was raised by a hunter family, to be a hunter in Northern Canada. When she was five hunters found her in a home with two Pure-Bloods, they had saved her and given her off to the Tanaka family, who were high up in the Hunter Association and they raised her and led her to believe that her true parents had been killed by those Pure-Bloods, and that is why they had killed them and saved her, but in all honesty they had killed them because they were descendants of the King and very first Pure-Blood, they never knew what she really was, in fact very few know, and she is not one of them. Snow often trained with her grandfather, rather than her parents and older brother, and so she took on a new view of the world. As she grew, her hate for Vampires grew, and it didn't help that she had watched her grandfather, her idol, killed by a vampire. In hopes to rid her of some of this hate, Hikari left for Cross Academy, she had been there for two years and started to feel a bit better about vampires, but she knew these were the only good ones out there, the few that came to this school and wanted more than to kill humans.

When ever someone brings up her real parents or her grandfather, she gets either very angry or very sad, mostly Hikari hates that she hadn't been able to save any of them, so she tries to make herself stronger, because she often feels so weak and helpless. She recently found out that her adoptive older brother went missing on a mission to clean out a nest of E-rank Vampires, everyone had been searching for him, herself included, but when he was not found right away, all hope was lost. Snow cant help but blame the vampires for what had happened, but at the same time she is angry with the Hunter Association for not putting more effort into fidning him, for now there is nothing she can do but help protect the school from any and all Vampire attacks.
"The more I see, the less I know, the more I'd like to let it go."
---
---
Theme Song:My Black Dahlia-Hollywood Undead