---
---
---
---
"I'm the Null Hypothesis. The Tabula Rasa. Emptiness. Nothing. And the potential in that is infinite, or so they tell me."
---
---
---
---
Basics
---
---
---
---
"So what, you think you're special? You think the way you were born makes you that way? Show me the work of your hands, what you've done with all that talent and blood of yours. Then we'll talk."
---
---
Nickname: Sora is occasionally referred to (unkindly), as "Kara," a play on the kanji of his first name, which read one way can mean Sora, or sky, but read as "kara" means "empty." He is also known as Null, but not by the same people that know him by his actual name.

Age: His school records indicate that he's rather young by vampiric standards, placing him at 124 years of age. Like all mature vampires, he resembles a young adult, around 18 or so years of age.

Gender: Male

Race: Vampire

Role: Pure-Blood; though the headmaster has requested that he be a prefect on several occasions, he refuses.
---
---
Appearance
---
---
---
---
"Who cares how I look? What can a face tell you about anything? The world would be better off if we couldn't see how other people look at all."
---
---
Hair Color: Black, shot through with bluish strands if the light is right.

Eye Color: Also black, to the point where it's impossible to distinguish iris from pupil. There are people who find this disconcerting.

Skin Tone: Pale.

Height: 6'2"

Weight: 175lbs

Physical Description: Those with more poetic demeanors have described him as darkness incarnate. It's overly dramatic, of course, and he laughed in the face of the only person foolish enough to ever report this fact to him, but there's a little something to it. Certainly, it accurately reflects the coloration of his eyes and hair: both such a deep, pitch black that you'd expect light to be absorbed into them rather than reflected.

That's maybe just from afar though. Up closer, it clear that his hair catches and reflects light wavelengths in the blue-purple spectrum, giving it a dark, but not colorless, sheen. From the way it hangs in feathery bits around his face, there's a fair guess that it's soft, though honestly, if you attempted to touch it, you might lose the hand. His eyes are uncanny, and most of the time seem to be rather dull and uninterested. The same bad poets have commented upon this by saying that to hold his gaze for more than a few seconds is to stare frighteningly into the void. Sora calls bullshit on that one. This said, they do change significantly when something holds his interest, gaining an intelligent glimmer that usually seems absent, but this happens only rarely.

Like any pureblood, his facial features are fine and well-arranged, though his seem to have a bit more roughness and sharpness about them than most. It's something in the downward angle of his brows, the proudness of his nose, maybe, or the fact that his mouth seems to bear a permanent scowl. When he does smile, it's wolfish and not at all reassuring or soft, often with just the faintest flash of fang. It's hard to forget that Sora's a predator—pretty much everything about his body language and movement exude it. He is not without grace aplenty, but he is far from delicate in any of his features.

With Sora, nothing is wasted. His musculature fills out his frame, and he has almost nothing in the way of excess fat. Indeed, he seems very solidly-built, and in this sense unmistakably masculine in appearance. His wardrobe favors black, and occasionally other dark colors as well. Unlike many, his hands are rough, well-callused, more suited to the hilt of a sword than fine china.
---
---
Personality
---
---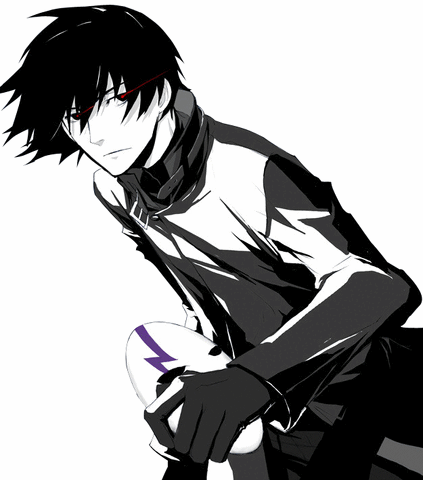 ---
---
"I guess you were expecting someone else, huh? Too bad for you."
---
---
Romantic Interest: TBA

Skills and Abilities: As a pureblood from a very old family, he has much of what you'd expect, and shares in all the common abilities of his kin. His family shows a particular proclivity for the manipulation of lightning or electricity, which has long made them valuable as soldiers and assassins, even among vampires. It also means that the other houses have long fallen over themselves to remain in favor with the Tsukinos—useless sycophants, all of them.

On a personal level, Sora is also well-trained in close-quarters combat, enough to match or exceed anyone he's met, including some very, very old vampires indeed. His own personal vampiric talent helps very much with this: though he does not make a public spectacle of it, he isn't referred to as "the null hypothesis of the blood" for nothing. Curiously, he is capable of completely nullifying any other vampire's abilities, should they attempt to use such talents on him. It is an ability that was quite feared by the other pureblood houses when it was discovered that he possessed it, though nobody knew exactly which of the Tsukino heirs had it.

Other: It should be noted that his prodigious talents in some areas have left him rather deficient in others. Sora lacks most of the social graces of other purebloods, and is often considered something of a heathen or a barbarian among them. He also doesn't deal well with emotions of any kind, from himself or others. It makes life… difficult.

Likes:
+ Sarcasm, both employing and being around people who regularly employ
+ Exercise and any kind of physical exertion
+ Honest people who speak straightforwardly
+ Spicy food
+ Cats

Dislikes:
- Most pureblood vampires, including the remaining members of his own family
- Excessive pomp or ceremony
- Talking for the sake of talking
- Disingenuousness
- Summertime

Personality: Whatever you were expecting when someone told you that Sora Tsukino was a pureblood vampire is untrue. Well, most things anyway. He's no refined, well-spoken gentleman, and he'll at least do you the courtesy of making sure you know that up front. Though he knows the proper manners and standards of decorum, he doesn't use them unless he absolutely has to, and you'll have a hard time forcing the headstrong young man to do anything he doesn't want to. Where others of his kind speak in honeyed or flirtatious or playful words, he refuses to go in for any of it. His statements are blunt, direct, and to the point enough that they're sometimes… awkward.

He's a bit crass in his language, and peppers in oaths when he feels like the situation warrants it. Again, he knows how to speak with all the sophistication and sophistry of his kind, but he refuses to do so. They, like he, are in the end predatory animals who would as soon rip out a human's throat as talk to them, and he's not going to hide that. Actually, he doesn't mind humans at all, he just understands that there's no point in pretending to be the same as one. He's a killer, and an incredibly-dangerous one at that, and he refuses to sugar-coat that for anyone. It's probably kinder in the end—this way, those with any sense of self-preservation will know to stay away. And those without any, well… he probably likes them more anyway.

His opinions on his own kind are… less than favorable. He sees the vast majority of vampires, pureblood and otherwise, as needlessly-sycophantic idiots too concerned with the likes of blood and purity and privilege to even begin to understand that the humans are slowly winning the world while they sit around and pontificate about their own superiority. It sickens him. If that's the way they really are, the humans deserve the world.

Like many previous members of his family, Sora could be compared to lightning in his demeanor, then: he strikes too fast to see and without mercy, and even when not actively aggressive, there is something sharp and deadly simmering just beneath the surface of his skin. It tends to intimidate, and gives the impression of someone with an absolute disregard for life. Not quite true, but the reputation suits him just fine. If you happen to be among the people he likes, he's wickedly funny, and skilled in the deployment of sarcasm and dark humor. Most people never get close enough to see it.
---
---
Background
---
---
---
---
"There are some things you're better off not knowing."
---
---
History: The Tsukinos have long been considered one of the most dangerous clans of purebloods in the world, due to their uniquely combative abilities and the special, in-house combat training that saw their each generation flourish in the darkest corners of vampire society, carrying out assassinations sanctioned by the family, and keeping close watch on its enemies. This often had other clans going to great lengths to be their allies, so that the blades would never be turned against them.

It seems that people can only be pushed so far before they push back.

Sora was the fifth child of his parents, both Tsukinos of the main family line, though as the second son, it was not expected that he would inherit. Still, the lesser children of the clan were the ones most often trained in the stealth and assassination arts, and he was no exception. When he came into his powers, it was discovered that he possessed a never-before-seen talent for nullification. Seeing an opportunity to push their status yet further, the Tsukinos subtly let slip that one of their new heirs had this talent, as a method of intimidation. Unfortunately, the move backfired, causing several other houses to band against them in fear, and a slaughter was planned.

It took a great deal of vampires just to slay the main family, and even then, they didn't succeed completely. Though his brother, sisters, and parents were brutally slain, Sora survived the massacre intact, as did a few members of the branch families. An act of aggression of this scale had not been seen in vampire society for ages, and it shook up many established alliances. Sora's family banded behind him, appointing him the new head of household at the staggeringly-young age of 110, but in truth he has very little to do with it. He lets his grandparents run the household, and does his own part to recover what was lost: he searches for those responsible, and eliminates them.

He has recently enrolled at Cross Academy due to a troublesome directive from his grandparents, and generally considers it a waste of time. They keep him there, however, with the suggestion that perhaps he can find more information on his family's killers there. To the wider world, the Tsukinos are considered a disgraced house, and everyone assumes the child they were afraid of has been killed, and that Sora himself is just a member of a branch family or something.

Nobody has thought to connect him with the appearance of a masked vigilante called Null.
---
---
---
---
"I don't fight my demise. I embrace it, every single time. Most days, it's my job to fight. Often, it's my job to kill. Someday, it's going to be my job to die."
---
---