---
---
"Be heartless, soulless and mindless. It's the only way the world can't break you." -Unknown
---
---
Nine hundred years ago, when Demons and other Monsters alike roamed the earth, there was a great war that has been hidden over the years from prying human ears and eyes. This war was fought between men and what are now known as Vampires. The few Humans who were skilled enough to fight were controlled by a ruthless man named Thanatos. This man had a personal vendetta, he didn't care about the men working for him - following him without question - all he cared for was winning each battle. Where Thanatos went, death followed.

As the war carried on, more lives were lost, Thanatos seemed to take pleasure in killing both Humans and Vampires, and studying their nature, however when the young solider died in battle the war shortly ended with a truce. No one expected Thanatos to return as a Monster that he once relished in destroying. The toll of death that followed after his return was lost in old records and documents, the Vampire was filled with rage that it had been a Human to kill him, someone he had trusted with his life. When Thanatos returned he ripped out the mans heart, and cursed him to live for all of time, Heartless.

Thanatos doomed the man who had once been his best friend - a man known as Kenelm - by taking his Humanity, however, the Gods, who had been watching as Earth fell into fire and devastation, decided to use the cursed man as a weapon, by granting him a power great enough to end Thanatos. A grand fight took place, and before Thanatos was banished back into the deepest depths of the earth, he promised revenge on mankind.



"You humans are foolish, hearts tainted by the evil you have been taught from birth. You live such sinful lives, turning a blind eye to those who have been labeled as 'insane' or 'inhuman', locking us away in dark cells, believing we cannot live for ourselves.
Tis the judgement you have passed onto me, and in turn, making me forsake the humanity I once knew.
I shall devour your hearts one by one, and, you and your loved ones will know the heartlessness that exists in the world."


After the death of Thanatos the world seemed to lapse into a time of peace, Vampires and Humans finding a way to coexist peacefully by coming together to make an Academy, where Vampires and Humans could live in harmony as one. Over time the knowledge of Vampires was lost to Humans except for a select few. Kenelm vanished after Thanatos's death, cursed and alone, he couldn't live with mankind nor Vampires, for he was neither. He was one of The Heartless, one of the few cursed by Thanatos and The Gods.

However, even in this time of peace some where waiting for Thanatos to hold up on his threat, and to return, and he will to seek revenge on Kenelm and his ancestors. His banishment will be over soon, and none is safe. Thanatos will return, but there is more to this story than there seems, more than there has been told. The time of reckoning in close, and war is in the air.
---
---

---
---
Males
Females



Visuvius Mikael

| Vampire
Played by | Gentlemiss






Zane Ulrich

| Vampire
Played by | Bugbuster






Raiden Tatsuyoshi

| Human; Prefect/Ancestor of Thanatos
Played by | Leej10100






Diaichi Ryuu

| Dhampir; Student/Hunter
Played by | Silently_Writing




Kanache Knight

| Vampire
Played by | Purpl3_Flam3s





Ciel Nyx

| Vampire
Played by | Ever






Mamoru Kimi

| Human; Prefect/Ancestor of Kenelm
Played by | Silently_Writing





Madeline Black Moore

| Human; Student
Played by | CookieCupcake
---
---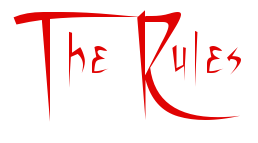 ---
---
First Rule

|| Follow and read meh rules || It's not a hard rule to follow, if you read these you'll learn what the secret code is to reserve a character and you'll get a better understanding of what I expect out of you all. If you don't read the rules and don't have the secret code, you wont be able to join and I will remove you without hesitation.



Second Rule

|| Commitment & Literacy || I want you all to be a part of this roleplay, when I join or make a roleplay I want everyone to get along like one big family. I want everyone to be active in the OOC and to be able to have fun with each other, because I have an evil plot bunny and we'll all need to work together outside and inside the roleplay if we want this thing to boom. The code for reservations is your favorite quote and who said/wrote it. As far as Literacy goes, if you cannot make a proper sentence, please do not join this role-play. While I do not expect you to be an advanced literate role-player, I would expect you to know how to use spell-check and have basic grammar skills. If you need help, don't hesitate to ask! Once you are brought into this roleplay you join a family. Family's help each other! So everyone should be helpful and unafraid to work together!



Third Rule

|| Growth || This role-play is meant for you to grow as a role-player and hopefully expand your writing skills as well, and we also want this roleplay to grow, if things go as planned, if we finish this roleplay I will make a part two for it, so this kind of ties in with commitment.



Fourth Rule

|| Characters || Be creative and follow the character sheet that'll be up in the OOC! I most likely will not accept any bland, boring and unoriginal characters. Give we detail through guys!



Fifth Rule

|| Reservations || When you place a reservation, you will have up to 24 hours to get your character in, if you need extra time PM me and you will be given an extra 24 hours, after that we'll have to talk. The code is somewhere in the rules, go read them and see if you can find it :)



Sixth Rule

|| Fun || Just have fun with this, okay guys? I want everyone to enjoy themselves, and I do NOT want the rules to stop any of you from joining, it may seem like a lot, but really, when you get down to it, it's not. I also know that the character sheet is kind of big, but it's just because I want everyone to be able to go through your character sheet, and feel like they could walk down the street and have a conversation with your character! So please!! HAVE FUN!! xD



Warnings

:

Consist's of adult language, mild violence, gore, and explicit themes. It is to remain within RPG's guidelines.
Taking place in...
0 posts here • Page 1 of 1
0 posts here • Page 1 of 1
Arcs are bundles of posts that you can organize on your own. They're useful for telling a story that might span long periods of time or space.
There are no arcs in this roleplay.
There are no quests in this roleplay.
Here's the current leaderboard.
There are no groups in this roleplay!
Welcome home, Promethean. Here, you can manage your universe.
Arcs are bundles of posts from any location, allowing you to easily capture sub-plots which might be spread out across multiple locations.
You can create Quests with various rewards, encouraging your players to engage with specific plot lines.
Settings are the backdrop for the characters in your universe, giving meaning and context to their existence. By creating a number of well-written locations, you can organize your universe into areas and regions.
Navigation
While not required, locations can be organized onto a map. More information soon!
There are no groups in this roleplay!
By creating Collectibles, you can reward your players with unique items that accentuate their character sheets.
Once an Item has been created, it can be spawned in the IC using /spawn Item Name (case-sensitive, as usual) — this can be followed with /take Item Name to retrieve the item into the current character's inventory.
Give your Universe life by adding a Mob, which are auto-replenishing NPCs your players can interact with. Useful for some quick hack-and-slash fun!
Mobs can be automated spawns, like rats and bats, or full-on NPCs complete with conversation menus. Use them to enhance your player experience!
Current Mobs
No mobs have been created yet.
Locations where Mobs and Items might appear.
You can schedule events for your players to create notifications and schedule times for everyone to plan around.
Add and remove other people from your Universe.
The Forge
Use your INK to craft new artifacts in Vampire Knight: The Heartless. Once created, Items cannot be changed, but they can be bought and sold in the marketplace.
Notable Items
No items have been created yet!
The Market
Buy, sell, and even craft your own items in this universe.
Market Data

Market conditions are unknown. Use caution when trading.

Quick Buy (Items Most Recently Listed for Sale)
None
Discussions
Topics

Replies
Views

Last post
Vampire Knight: The Heartless
1

,

2by Pyxidis on Fri Mar 14, 2014 10:19 pm


33 Replies
1218 Views
Last post by CookieCupcake
on Sun Mar 30, 2014 2:30 pm

The Hearltess: NPC Thread
by Pyxidis on Wed Mar 19, 2014 10:04 pm


3 Replies
449 Views
Last post by CookieCupcake
on Sun Mar 23, 2014 11:08 pm

Chracter Sheet
by Pyxidis on Fri Mar 14, 2014 10:42 pm


0 Replies
349 Views
Last post by Pyxidis
on Fri Mar 14, 2014 10:42 pm
Most recent OOC posts in Vampire Knight: The Heartless
There have been no posts in the OOC topic for this roleplay!