Name:
Amira (Mira) Levitt

Age:
27

Gender:
Female

Race:
Elf

Appearance:
Amira stands at five feet and nine inches tall. She has rich chocolaty tone to her skin and vibrant silvery white hair. She has shining sea blue eyes and long eyelashes. She's decently fit from morning runs as she likes to stay in good shape. Amira has tattoos all over her body, on her cheekbones, shoulders, lower back, stomach, hips and thighs. All of them are a pink shade that compliment the subtle pink undertones in her skin. Amira likes to wear dresses mostly when she's going out, but youd be hard pressed to find her at home with anything but leggings and a sweater or tank top on. She likes to wear wearings, and a circlet, but she rarey wears any other jewelry.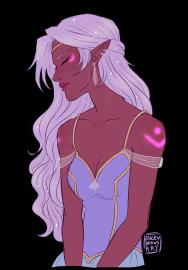 Personality:
Amira is a happy and outgoing girl. She can easily befriend pretty much every person she meets as she is quite charming. You couldnt describe this woman as shy in the least bit. She can be stubborn and a little too into her work occasionally, but she always makes sure to take care of herself right. Amira is known to laugh and joke a lot, often teasing those she knows can take it as a joke. She's hard working and full of life, though she does rather enjoy a quiet night at home most nights, she does like to get out when she's up for a little adventure.

History:
Amira was born to a tribe of traveling elves to a family of higher ranking members. She has three siblings all younger than she is. She grew up a decently pleasant and relaxed life traveling around. When she was nineteen however her parents decided she should marry and pushed her to marry a warrior man nearly twice her age. She refused and they tried to force it. Amira had enough of the tribes pushiness to marry a man she hardly knew who was nearly old enough to be her father. She left one night and made her way around, eventually coming to veritas island where she discovered chocolate. She fell in love and worked at a chocolate shop in the kingdom for a while until she made enough to start her own chocolate shop on the islands. Now she's had the shop for nearly to years and business is growing. Recently her room mate moved out and she found she didnt feel right living alone. So, she put up an advertisement to find a new room mate.