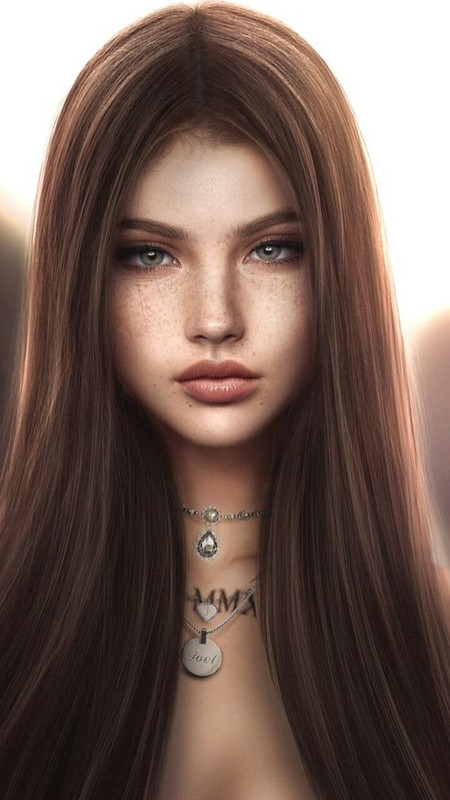 Name: Elizabeth Mabel Clements-Decker
Age: 28
Gender: Female
Sexuality: Bisexual
Species: Human
Height: 5'5"
Weight: 190lbs
Hair colour: Dark brown
Eye colour: Grey
Skin colour: Fair
Trade/Job: Knight/Sailor

Appearance:
Standing at five feet and five inches in height, Elizabeth is a curvy, muscular woman weighing roughly 190 lbs. Elizabeth has fair skin an a constant smattering of freckles across her cheeks. Her hair is dark brown with highlights from the sun. It is silky straight and comes down to approximately the middle of her back. She usually keeps her hair in boxer braids because she spends a great deal of time training or fighting, and this keeps her hair from getting in the way and allows it to fit nicely beneath helmets and armour. She has a low browline, narrow grey eyes, a relatively undefined nose, and full lips. Elizabeth has an anchor tattoo on the front of her thigh, a sword tattoo behind her right ear, and a large tiger tattoo covering her upper left arm. She has a series of numerals tattooed across her upper chest, just below her collarbone, and has never told anybody what the meaning of these numerals is.

Personality:
The strong, silent type, Elizabeth is an observer first and foremost. She is perceptive and likes to keep an eye on her surroundings at all times, even when she's not in a combat situation. Elizabeth doesn't usually have much to say, but she is one for joking around when she feels comfortable doing so. She is slow to warm up to people, usually being wary of them even when there's no need to be, even after they've proven themselves. When she does warm up to someone, though, she is fiercely loyal - almost to a fault - and protective of them. Elizabeth isn't the best in social situations, and is hot-headed, angering quickly. She tends to get mad first before actually attempting to resolve a matter, and when she's angry, she absolutely has the mouth of a sailor, stringing together all the most colourful words and phrases she can. In fighting, Elizabeth is brash and aggressive. She will take advantage of every opportunity presented to her and likes to overpower her opponents by sheer volume of attacks.

History/Bio:
Elizabeth was born to a single mother who was only seventeen when she had her. Her mother worked as a servant in a noble house, but she left her job and fled after discovering that she had become pregnant by the noble house's middle son, who was five years her senior and more than a little out of her league. She took a job as a bookkeeper in a shipyard for the duration of her pregnancy, helping to keep an organized ledger of ships, goods, and people who came in and out of the shipyard. She took some time off when she had Elizabeth and feared she would be unable to return after being gone for two years, but the shipyard's owner took pity on her and welcomed her back to her job, even going so far as to have his teenage daughter come and look after Elizabeth while her mother was working.


As a result, Elizabeth grew up around ships and she became fascinated with them. The sailors who would come in and out of the shipyard were quite taken with the bold little girl, and they were happy to teach her all about the ships while they were docked and her mother was helping to take inventory. She learned quickly, and when she was nine, she told her mother that she wanted to be a sailor. What Elizabeth didn't know at the time was that her mother had become romantically involved with a ship's captain who frequented their shipyard, so the next time he stopped there, her mother asked if he would be willing to take Elizabeth out sailing. He agreed, and Elizabeth took to it like a natural. She started to sail with him frequently when he was docked at the shipyard, and when he got a new ship he even named it The Elizabeth after her.

Elizabeth was fourteen when her mother and the captain got married, and when she was fifteen she asked her new stepfather if she could join him out on the seas. He told her that he would love to take her to work with him as she would make an excellent sailor, but that he wanted her to learn to fight first because pirates were a huge issue out on the open waters. Elizabeth was more than eager to learn, so her mother and stepfather found a place in the city where Elizabeth could learn to fight and, as with sailing, she took to it like a natural. Her teachers were fascinated with how quickly she learned and how well she was doing, and she was deemed ready to go out sailing with her stepfather before her seventeenth birthday came around. She joined her stepfather's crew and was well-loved and respected aboard her namesake ship. She got her anchor tattoo when she was eighteen and sailing with her stepfather.


When Elizabeth was nineteen, she and her crew were in port a good ways from home when a couple of men attempted to attack her. She fought them off with ease, drawing the attention of some local guards who'd been passing by and were about to intervene before seeing that Elizabeth had the situation under control. The guards informed Elizabeth that the royal family of that kingdom was looking for new knights and soldiers, and that she should consider joining the royal legion. Elizabeth was quite interested in such an offer, fairly certain that she'd do well in a job like that, so she decided to go for it. It took three years of formal training before Elizabeth was made a knight, and she was one of the youngest female knights in the legion. Her superiors were fascinated with her fighting skill and started using her as a test for new recruits. Elizabeth loved the looks on the faces of the boastful, swaggering young men when they realized they'd just been bested by a woman.

She stayed with the legion for six years, helping to keep the city and the royal family safe and helping to train new recruits. Whenever she had time off, she would use it to sail home and either go sailing with her stepfather or visit with her mother. Her mother wanted grandchildren, but Elizabeth was never ready for romance or a family. She loved her life, she loved her job, and she wasn't interested in getting married or making babies any time soon. One day when Elizabeth came to visit home, she found her mother reading the news and crying. When Elizabeth asked what was wrong, her mother had her sit down and she told her that her biological father had died. Elizabeth had asked about her father when she was a child, but her mother had always been evasive and dismissive about it, always steering the conversation in some other direction to avoid answering. Now, though, her mother told her everything: her biological father was a nobleman whose house her mother had worked in when she was young. She'd had a brief tryst with him when she was a teenager and had become pregnant with Elizabeth, so she'd left. She'd heard nothing of him until that day when she'd seen in the news that Lord Clements, his wife, and one of his two daughters, along with many of their friends and family, had died in a tragic fire at their youngest daughter's birthday party.

Elizabeth realized that if Lord Clements was her father, that meant that the surviving daughter was her half-sister. Realizing that this girl, whose name was Priscilla Clements, was probably lost and alone in the world without any surviving family to speak of, Elizabeth decided that she needed to go find her half-sister and be there for her. She headed home to the kingdom she'd been serving in and she informed them that she needed to take some extended time off due to a family emergency. They were more than willing to give her all the time she needed, saying to come back when she was ready and able and that she would resume her duties as normal. They gave her some parting gifts and wished her luck dealing with her family issues, and then she set out to track down her half-sister.