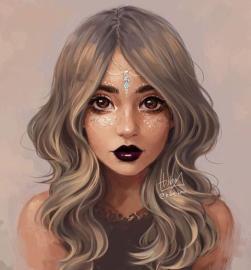 Name:
Marinda (Mari) Winters
Age:
14

Gender:
Female

Race:
Human/Elf

Appearance:
Marinda is a little short, standing at five feet tall, though she'll likely get a little taller as shes not finished growing. She has wavy ash blonde hair that sits just below her shoulders, slightly tanned skin and chocolaty brown eyes. She is a little on the thinner and more frail looking side, but shes not exactly the prissy little things she looks like. She likes to wear darker colors, shorts and jeans rather than dresses or anything like that. She does keep a few dresses she does like wearing though that arent frilly or puffy. She wears make up despite her young age, though mostly just as a form of artistic expression. Shes gotten good at it though, and she enjoys doing it daily as part of her routine. She also loves dangly jewelry, things with natural more common stones and things.

Personality:
Marinda is a frienly young girl, more outgoing in social situations than most girls her age, but being a little different doesnt bother her one bit. She likes to go out and explore, to learn about new things and see them for herself, and she likes making friends along the way, whether they be people or animals. Shes very sweet to those who she considers friends, and would do anything for those close to her. She has a stubborn side, stemming from being her fathers daughter.

History:
Marinda was born and raised on the islands. Her mother was from a tribe of elves and her father a human man working on the docks as a guard at a warehouse there. Her parents met while her mother was traveling and they fell in love, settled down a year later and had their little girl. Years passed and they gave Marinda a younger brother, who is around nine years old now. Her home life is simple and peaceful.