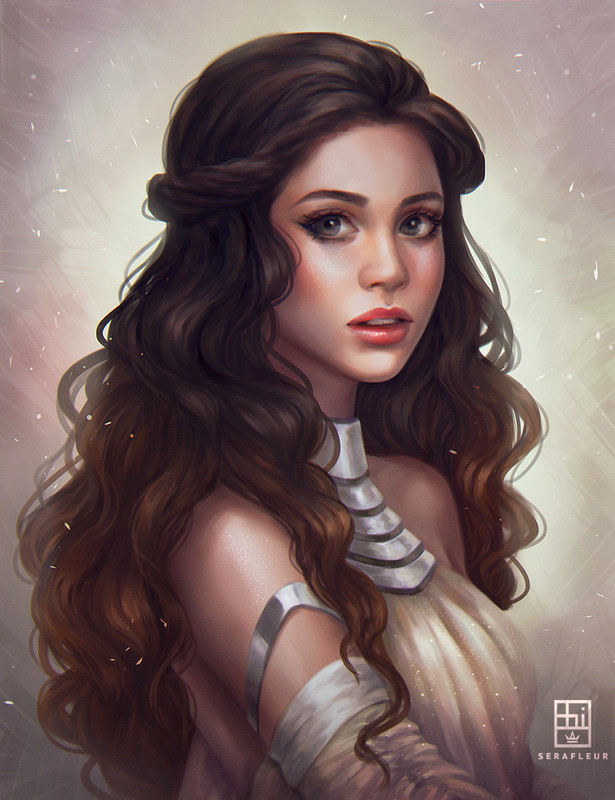 Name: Priscilla Jane Clements
Age: 18
Gender: Female
Sexuality: Straight
Species: Human
Height: 5'7"
Weight: 140lbs
Hair colour: Dark brown
Eye colour: Grey
Skin colour: Fair
Trade/Job: None

Appearance:
Standing at five feet and seven inches, Priscilla is a slender young woman of approximately 140 pounds. She has fair skin with pink cheeks and she often wears a light layer of makeup on her face. She has big eyes that are grey in colour and defined dark eyebrows. She has a petite nose and heart-shaped pink lips. Her dark brown hair is thick and curly and difficult to tame. It tends to be lighter at the ends due to sun exposure and she tries to keep it neat and tidy. Priscilla has a birthmark on the side of her right hip approximately the size of a plum. She tends to wear sundresses or maxi dresses as casual wear and has a preference for the colour pink. Priscilla usually wears strappy sandals or high heels, and she rarely wears practical or comfortable footwear or clothing. She always wears a golden signet ring on her left index finger and she has a nervous habit of spinning it when she's anxious or uncomfortable.

Personality:
A positive, friendly, and good-hearted person, Priscilla is extremely outgoing and loves to meet new people. She is charming but fairly talkative, which can become annoying after a while. Priscilla absolutely cannot keep a secret to save her life, and sometimes loves to gossip, though she usually only does so in social situations where others are doing it first - she'll rarely start the gossip, but she does love to continue it. Priscilla believes that rules are in place for a reason and that people should be expected to follow them. She is obedient and always tries to do what is expected of her, even when it comes at the price of her own personal happiness. Priscilla is quite naive and innocent and she knows little about the bad in the world. She is a caring, loving person and always tries her best to get along with everyone she meets. Priscilla has an average intelligence but always works hard and pays attention in her studies. She enjoys playing the harpsichord.

Bio/History:
Born to a noble house in the Kingdom below, Priscilla has always lived a life of luxury and duty. An obedient and well-behaved child, Priscilla's parents were always grateful for what a good child they had, and when Priscilla was four, they decided to have another. Priscilla was five when her little sister Henrietta was born, and her sister was an absolute demon child. She was constantly screaming and crying, and as she got older, Henrietta became disobedient and rebellious. Priscilla and her parents were all frustrated by Henrietta's behaviour and nobody could figure out how to get her to behave. They kept hoping she would grow out of it, but she never did.

Priscilla, meanwhile, grew into a prim and proper young lady. Courteous and well-mannered, it wasn't long before eligible young bachelors from all over were seeking to meet the young Mademoiselle Clements. Priscilla was happy to meet with any suitors her parents agreed to let her see. None particularly interested her, but she knew that her parents wanted her to choose one of her own accord, so she paid close mind to the things they said about these suitors and eventually selected one that she knew would make her parents happy - a man of good standing in another noble house, respectful and polite and wealthy, whose parents got along well with her parents. The two started courting, and Priscilla's parents were overjoyed. Around the same time, Henrietta befriended a group of girls from town - commoners, not nobles - who were significantly older than her, all around Priscilla's age, and all of whom shared her rebellious side.

It was at Henrietta's thirteenth birthday party that all hell broke loose. Despite her rebellious side, her parents loved her and tried to do everything they could for her. All of her friends from town came to her birthday party, and they brought along some men, all around Priscilla's age or a little older. Priscilla and Henrietta's parents tried to insist that the men not come, but Henrietta threw a fit and her parents reluctantly relented. Henrietta's friends went wild, drinking much too much and getting all kinds of rowdy. One of them even tried to hit on Priscilla, but the gentleman courting her stepped in and put an end to that. Unfortunately, things started to go too far and Priscilla's father asked the men to leave. They got angry, though, and started threatening the partygoers with weapons that they'd snuck in with them. They ended up attacking Priscilla's father, and then they started a number of fires throughout the mansion, blocking all the exits and refusing to let anyone leave.

Priscilla's mother managed to sneak her out of the party, sending her out a window and telling her to run into town to get help. When Priscilla asked her mother to come with her, her mother refused, saying she needed to go back in there and get Henrietta. Priscilla was reluctant about leaving her mother behind, but did as asked and went into town to get help. By the time they got back, the manor was ablaze, and by the time they were able to put the fire out, several had died inside - including Priscilla's gentleman caller, her parents, and her little sister. Priscilla was heartbroken and devastated over losing everything - her home, her family, the man she was courting... There was nothing left for her.

She stayed for a while with a family friend, trying to mend her broken heart, but then one night she had a dream in which she saw her sister. Henrietta was sitting in a ring of fire and crying, and when Priscilla went to her, Henrietta apologized again and again for what had happened, saying she never wanted any of that to happen. Then, Henrietta told Priscilla that all she'd wanted was to escape from the strict life her parents had laid out for them and that she wanted to go to the floating islands and be free as a bird. It was then that the dream cut off, and Priscilla was convinced that the dream was a message directly from her sister - an apology for what had happened, and guidance as to what Priscilla should do next. She wasn't sure what she would find waiting for her on the floating islands, but it seemed like the only logical step forward to move on after what had happened, so she packed her bags and set out for Veritas Isle.