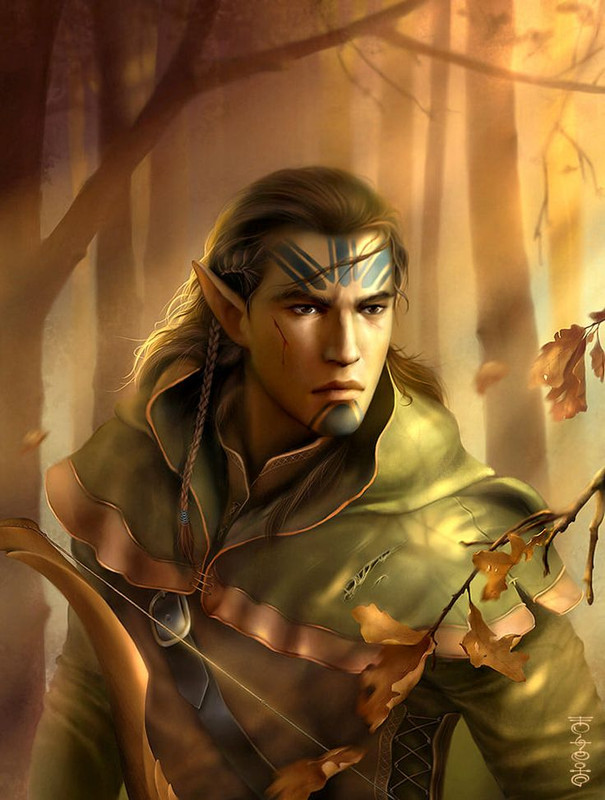 Name:
Quilodor Arakalyn
| Age:
21
| Gender:
Male
| Species:
Elf
| Sexuality:
Straight
| Height:
6'7"
| Weight:
200lbs
Hair colour:
Dark brown
| Eye colour:
Brown
| Skin colour:
Fair; suntanned
| Trade/Job:
Hunter/Archer
Appearance:
Quilodor stands at 6'7" in height and weighs an average 200lbs, making him neither slender nor large. He is relatively toned, however, and he has strong arms due to his archery experience. His hair is dark brown and silky straight, coming down just past his shoulders. He generally keeps it combed back with a few braids in to keep the annoying bits out of his face. He has brown eyes and features that are narrow yet strong. He is light-skinned, though he spends a great deal of time outside and has a pretty solid tan as a result. Quilodor has tribal tattoos on his forehead and chin and one of his ears is pierced, sporting a single golden hoop. He also has an
arm tattoo
. Quilodor generally dresses in warm layers, his clothes made of simple and affordable materials.
Personality:
Quilodor is a callow, friendly man with a cheerful demeanour. He loves talking to people, tending to care deeply and become attached quickly. He can be a bit talkative at times. He's upbeat and positive, always trying to see the good in things. He's a bit of a flirt at times, but longs for a long-term relationship with a good woman. He has a habit of becoming jealous or envious easily, though it's something he's aware of and actively working on. Quilodor is quite the naive idealist, always believing things to be better than they are and lacking a lot of knowledge about the world outside of his tribe. He does, however, have a great deal of knowledge about the forest and the creatures within it.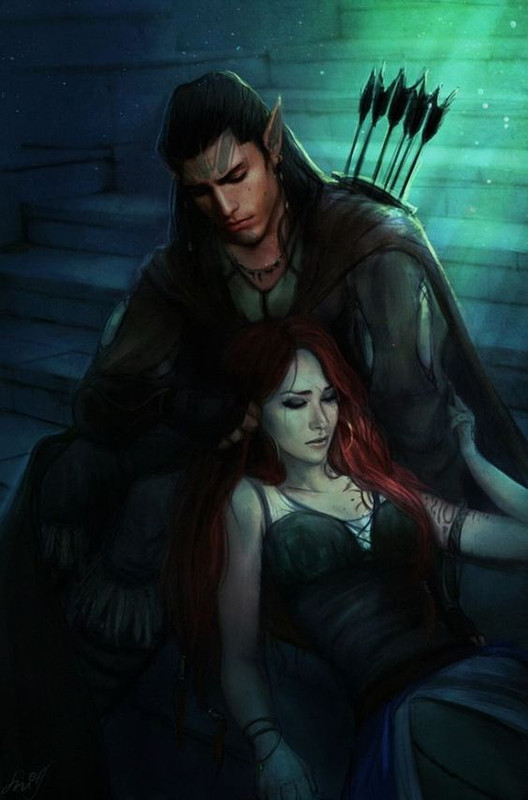 History/Bio:

Quilodor grew up his entire life in his elven tribe. They weren't a terribly nomadic tribe, settled within one forest and generally staying in that area. As a child, Quilodor loved being outdoors and enjoyed learning about the wildlife and animals that lived there, so the tribe decided to train him as a hunter. He studied stealth and archery when he wasn't playing with his cousins. He was an only child as his birth caused complications that resulted in his mother being unable to have any more children, though not for lack of trying. As such, Quilodor's five cousins were like siblings, and they grew up close.

When Quilodor was a teenager, he was out hunting when he discovered an injured human man. The man was large and brutish-looking, but Quilodor couldn't just leave him there, so he helped the man back to his tribe and the healers took care of him. In exchange for refuge, the man did work for them, doing everything from heavy labour to hunting and fishing, and even helping them to fight from time to time when they had scuffles with rival tribes. They called him Yalathanil, for human brother, and to Quilodor and his cousins, Yalathanil really was like a brother.

In time, Quilodor's eldest cousin Tenestrae fell in love with Yalathanil. They sought the blessing of the tribe's leaders and received it, and became betrothed. Quilodor was overjoyed for his cousin and friend, but all too soon, tragedy struck. Tenestrae and Yalathanil were out for a walk in the woods together and didn't come back. Quilodor, among others, was sent to seek them out. The next day, they found Tenestrae's dead body in some ruins among the bodies of some elves from a rival tribe. Nobody could find Yalathanil, however. They sent a diplomat and a warrior to the rival tribe to see whether they'd taken him prisoner, but the rival tribe told them that one of their scouts had witnessed the fight and had seen a human woman join in. The human woman had killed both Tenestrae and the other elves, and then she had taken Yalathanil by the arm and all but dragged him away before he even had time to mourn his lost love.

Quilodor, his family, and his tribe were outraged that this human woman had killed one of their own and taken Yalathanil. Some speculated that Yalathanil had intended to go to this woman all along, but most believed that he had been taken against his will. Over the years, they have sought out Yalathanil and the woman who took him, but they were never able to locate them - until recently, when a scout reported that Yalathanil had been spotted in a nearby human settlement in the company of other humans. The tribe selected Quilodor and his cousin Sariandi to seek out Yalathanil due to their closeness with him and their tie to Tenestrae.

In the time since Yalathanil went missing, Quilodor has done very little. He briefly courted a young woman from within his tribe, but she lost interest and broke it off. His parents expected him to take a wife by now, and are rather irritated that he has yet to do so. Aside from that, he simply spends his days out hunting in order to help feed the tribe, though he longs to do more with his life than spend the rest of his days hunting.