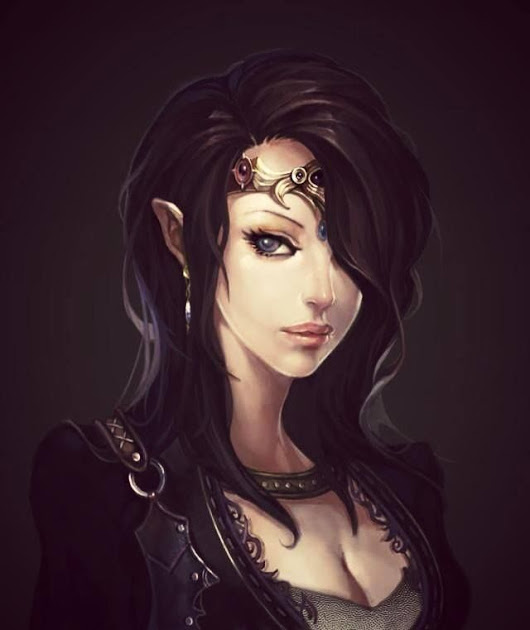 Name:
Sariandi Arakalyn
| Age:
18
| Gender:
Female
| Species:
Elf
| Sexuality:
Gay
| Height:
5'8"
| Weight:
125lbs
Hair colour:
Dark brown
| Eye colour:
Blue
| Skin colour:
Fair
| Trade/Job:
Washerwoman
Appearance:
Sariandi is tall but has a petite, slender build. She is slender despite the fact that her job requires a great deal of lifting and carrying and she has quite fair skin despite the fact that she spends a great deal of time outside. Her features are dainty and delicate, and she has lidded blue eyes with thick lashes. Her hair comes down to her shoulders and is dark brown, almost black in colour, with a slight wave to it. She typically dresses in black, wearing dresses that are comfortable but elegant. She has a circlet that was left to her by her great-grandmother, and she wears it almost constantly, believing it to have arcane abilities that will protect her. She has a
back tattoo
, a
stomach tattoo
, a
thigh tattoo
, and a
foot tattoo
. She has a few self-inflicted scars on her wrists that she keeps hidden beneath long sleeves or cuff-style bracelets.
Personality:
Sariandi is quite quiet, though she isn't shy and can hold conversation quite well if she wishes. From a young age, Sariandi was fascinated with the occult and the things that lurked in the dark. She has always been somewhat rebellious and would often sneak out at night and look for monsters. She has some sadistic tendencies that she has yet to really explore, and she tends to be quite selfish and spiteful at times. She cares for few people, generally concerning herself only with her immediate family, though she does tend to be quite protective over them. She has no interest in romance or relationships, though she has her suspicions that this is only because the tribe forbids same-sex relations and she finds herself attracted to women.
History/Bio:
Sariandi grew up her entire life in her elven tribe. They weren't a terribly nomadic tribe, settled within one forest and generally staying in that area. She had three siblings - a brother named Rothomir and two sisters named Maeradyth and Tenestrae. As a child, Sariandi was fascinated with the occult. She would sneak out in the night against the wishes of her parents in order to look for monsters. Though her family tried to sway her away from it, her interest in evil and dark forces only grew with age. As she grew older and gained more freedom, Sariandi started to try to perform forbidden magic or dark rituals, though she was rarely successful in doing so. Sariandi has a vast collection of books on dark creatures such as demons, werewolves, vampires, and witches.
Her parents were disturbed by Sariandi's interest in these dark topics, and took her to see the tribe's elders in the hopes that they'd have a solution. The elders declared that keeping Sariandi occupied was the only way to keep her from meddling with forces beyond her control, so they gave her a job as a washerwoman, forcing her to be responsible for the clothes, blankets, and bedding of the entire tribe; her only help was the middle-aged woman already working as a washerwoman, though she was developing arthritis and struggling to keep up with the demands of the tribe. It was a nonstop job and Sariandi hated it, but she found it to be quite mindless and would often let her thoughts wander.

Sariandi was a teenager when her oldest sister, Tenestrae, was killed. She'd been out in the woods with her betrothed when they were attacked by some elves from a rival tribe. Tenestrae was found dead the next day, while her lover was nowhere to be found. A trip to the tribe of their rivals revealed that a scout had seen the whole fight and Tenestrae's man was taken by a human who had come along, interfered in the fight, and killed all the elves including Tenestrae. Sariandi and her family were devastated to lose Tenestrae.

Now that she is eighteen, Sariandi's parents are hoping to marry her off, but her troubled past made it hard to find a suitor for her. There is one man who's rather interested, though he has a reputation in the tribe for being somewhat harsh and her parents are hesitant to make the arrangements for fear that he'll hurt their daughter. In the meantime, Sariandi is being sent on a mission into a human settlement with her cousin, Quilodor, to seek out a man called Yalathanil - a human who used to live among their tribe as one of their own, and Tenestrae's missing betrothed - whom they believe to have been taken by some of the humans.