|
Name:
Thuling Aldraur Garmold |
Age:
28 |
Gender:
Male |
Sexuality:
Straight |
Height:
4'9" |
Weight:
125lbs |
|
Race/Species:
Dwarf |
Hair Colour:
Dark brown |
Eye Colour:
Hazel |
Skin Colour:
Tanned |
Trade:
Locksmith |
Appearance:
Thuling is a little taller than average for a dwarf, standing at four feet and nine inches in height. He has a bit of a dadbod, as he isn't entirely slender nor is he terribly toned, but he's also not quite overweight or pudgy. He has narrow, thin facial features with high cheekbones. His hazel eyes are slightly narrow and he has a low brow. He has a narrow, somewhat pointed nose and relatively thin lips. His dark hair is silky straight and falls roughly around his chin and he has a small amount of facial hair that he keeps neatly maintained. Thuling generally dresses quite simply, and he always wears his
brown trenchcoat
. Thuling has a
tattoo
on his left shoulder of a heart-shaped lock with a ribbon attached to it, and three keys strung along the ribbon. Each key is made of the names of one of his children - Bershek, Migni, and Isgoz. The tattoo was originally left open after Isgoz's key, with the ribbon unfinished so more names and keys might be added in the future, but after his divorce was finalized Thuling had the end of the ribbon tattooed in to complete the tattoo.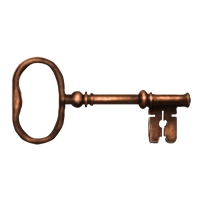 Personality:
Generally, Thuling is a very kind-hearted man. He is generous and would give you the shirt off his back. He cares deeply for others and has a tendency to be something of a pushover at times. He loves his family immensely. Thuling isn't overly talkative unless he's with people with whom he feels comfortable. Thuling can be somewhat sad because he often feels he isn't as great as all his younger siblings are. He never excelled at anything in particular and had to take a mediocre job doing something at which he was mediocre. While his siblings all exhibited great talent from young ages, Thuling never did. He is also saddened by his divorce and frustrated with his wife keeping his children from him, both of which have left him with large amounts of stress and have led him to sometimes act out of character.
History/Bio:
Thuling was raised in the underground dwarven city of Bhagh-Nernwahrum and is the eldest child of Tarumin and Lharmina Garmold. He led a relatively unremarkable childhood. He never excelled at anything in particular, but he loved his family and his little siblings. As a teenager he fell in love with a young woman named Kanansi. They married when she was eighteen and he was nineteen, having their first child, a son named Bershek, two years later. Kanansi worked as a bladesmith while Thuling took on a job as a locksmith. Their second child, a daughter named Migni, was born a little over a year after her brother, and two years later they had their third child, a daughter named Isgoz.
Kanansi was very harsh and controlling, and Thuling disliked the way she parented as they watched their children grow older. They argued frequently about this, especially after he witnessed her hit one of their children. They quickly grew apart and became resentful of one another, right up until the day that Kanansi kicked Thuling out of their shared home. He was devastated, returning to his parents' home since he had nowhere else to go. He knew and accepted that his marriage was over, but Kanansi was taking it one step further: she refused to let him see their children, often using them as bargaining chips and weapons to guarantee that she would get what she wanted. Though their divorce agreement stated that Thuling would get to see his children at least once a week, she was constantly finding excuses or canceling on him, even outright telling him on multiple occasions that she didn't want the kids seeing him.
While all this was going on, Thuling's younger siblings started to leave Bhagh-Nernwahrum one by one to live on the surface, traveling to a far-off city called Veritas Isle. First was his younger sister Barynn, pursuing her dream of owning a jewelry shop, followed by Istrain, who traveled frequently to the surface for his work but decided to live there permanently with only visits to the dwarven city. The loss of two children brought shame to the rest of the family, and gave Kanansi more reasons to keep Thuling from his children. His parents arranged a marriage between one of his younger sisters, Unarelle, and a young man from a high-ranking family, but Unarelle and her twin, Yoranda, instead ran away to go be with their other older siblings. Next was the second-youngest brother, Cherono, whose leaving was a surprise to the rest of the family since he was well-established in the dwarven city and had a house and a shop of his own. Finally, after her husband's tragic passing, the eldest of Thuling's sisters left home with her two-year-old son to be closer to the rest of her siblings, needing a change of scenery after becoming a widow at such a young age.
The more of his siblings who left, the more Thuling's family suffered. Kanansi taunted him for being the brother of six leavers, since only Thuling and his youngest teenage brother remained, and Kanansi insisted that his family's falling status was even more reason to keep the children from him. Thuling's parents were furious that their children were all leaving. Determined to help improve his family's standing, and to finally win back the right to see his children, Thuling agreed to venture away from Bhagh-Nernwahrum to Veritas Isle to try to convince his family to return. He knows that he can't fall victim to the island's allure that seems to have stolen away most of his siblings, because he has something that will always bring him back to Bhagh-Nernwahrum: he has his children.