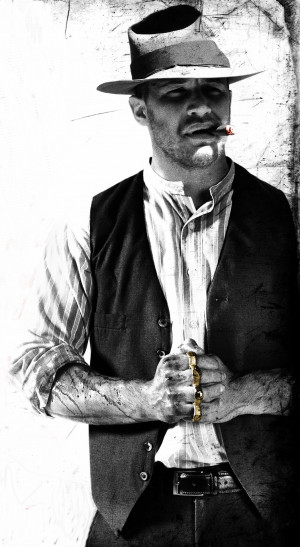 name: REMINGTON BATES

origin: GRETNA, LOUISIANA

present digs: GRETNA, LOUISIANA

years: TWENTY THREE -- APRIL 5TH, 1899

accolades: HARLOW BATES -- HONEY
NOLA MAE BATES -- BABY GIRL
NOEL BATES -- BIG BROTHER
ROUX BATES -- LITTLE BROTHER
THE WEST MISSISSIPPI HONEY STOP
OLD DOG NAMED RUGER

catharsis: LIVIN' GETS ROUGH SOMETIMES, BUT IT'S STILL BETTER THAN NOT

demeanor: DON'T MEAN NO HARM BUT WON'T THINK TWICE

word about town: FLIRTIEST THING AROUND
MARRIED HIMSELF THAT GOOD GIRL
HEART OF GOLD
WHAT'S THE LAW GOTTA DO WITH A BATES, ANYHOW?
Them Bates boys ain't never been nohtin' but trouble since the day they was each born. Good or bad dependin' just how you sit with that family of their's. They ain't bad seeds, that's the truth. Them good people. Watch their back, they'll watch yours.

Remy done always been the middle man. Born that way, raised that way, work that way. Never seemed to mind much. Got a good head on his shoulders, that one. Talks about a mile a minute and smiles so bright he might just split his face open one day. Good at mediatin', so they say.

Rough as any other kid back in the day. Jumpin' off roofs just to prove he could. Climbin' over barbed wire fences. Fallin' down too often. Gotta scar or two that still makes his mama's head spin. That boy was wearin' holes in the knees of his jeans even when he was too young to be tryn' so hard to keep up with his big brother.

Wouldn't catch him startin' any fights in the school yard but he mighta been finishin' em. Rem never quite liked them bullies, said he didn't have the time for no hissy fits. Clenched his teeth, called em 'pussies', squared up and took em out.

Was learnin' how to outrun the the local sheriff before he even knew how to spell that first name of his. Wasn't nobody round these parts surprised though. Could count on them boys to get anythin' done so long as you could trade em a couple of peaches or so to take on home.
X
Everybody with eyes can see them Bates boys grow up nice. Got them those good genes or some shit. One of them was 'bound to take notice, figured it'd be Rem. Heart a gold with heavy fists? Them young girls all thought they'd be the one to get up under his skin, be the thing he couldn't quit.

Word is they all knew what they were gettin' into. Remington Bates ain't no liar, spread his cards out right there on the table. Didn't stop blonde curled darlin's from cryiin' they eyes out when he didn't remember their names come mornin'. Yeah, that Southern Boy's sheets seen some things.

Daddies round town can't quiet stand to see 'im. Shotguns weren't stoppin their little girl's hearts from beatin' too fast at the sight ofa crooked smile behind cigar smoke though. He got his fingers in the best of them, from loose Missy down on Lane to the Preacher's girl.

Didn't nobody expect it to be Harlow Snow he hung his hat up for, definitely not so damn young. Wasn't that she wasn't pretty enough or nothin', just that she came from one side of the river and he came from another. Bad idea tryna tell Rem Bates what he can and can't have though. Oh, he woulda took a solid no from her, sure, but he wasn't listenin' to anybody else.

Theory is she was just too much of a challenge for Remy to pass up. Quick an' sharp an' too damn good to fall for his winks and rugged charm. She had that kinda face he couldn't walk away from, and he had that laughter in his soul that pulled her in no matter how hard she tried to stay away. Became the talk of the town in a quick minute. Wasn't nobody ignorin' the fact that Rem's eyes hadn't strayed from her in a couple of months. Greatest thing they'd seen in ages, and they all needed a lil' somethin' good.

Best believe he married that girl. Calls himself lucky every damn day. His gaze still goes a little honeydewed every time it falls on her. Yeah, boy's got that good love.
The Bates never had it real bad off, but tyin' a name like Snow in put Harlow and Rem higher up. They had a real easy goin' that first year, had each other, had a beautiful baby girl, had very few worries even as the town went dark and the law made life h a r d.

Wasn't never much a fight in the Bates home, them two just seemed to love each other too much. Spats were traded with mischievous eyes and smirks that were too damn difficult to hold down. Completely taken with each other, didn't have it in 'em to be angry 'bout anythin'.

The mama's after church us'ta say ol' Mister Snow wasn't too happy when his little girl grabbed herself a Bates, but he came 'round in time. No surprise there, really. Hard workin' folks, them Bates. Built that Honey Stop all on their own. Had them a good thing goin'.

Nothin' stayed good in Gretna for long though. Wasn't their fault, they did all they could. People just got too damn broke to keep comin' 'bout.

Funny how somethin' simple as a dry county could turn the world on end. Bled everyone on dry. Ran the crops off then down. Seems like ain't nobody got a bounce in their step no more. Even them rich folks tryina find their footin'. Still finda smile on Remy Bates face though. Even if his fists are clenched at his sides. He's waitin' for trouble, that one.

And doin' his best to help out if it don't come lookin' for him or his.

Them good people.