Name:
Adrianna Ceto Kelby
Age:
21
God:
Poseidon
Sexuality:
Bisexual
Appearance:
Adrianna has piercing blue eyes like the ocean on a calm day. She has long curly hair that falls past her shoulders that she dyes often, as if she can't quite decide what color she likes best. She's tall and thin, with long, graceful limbs and she likes to walk around in a bikini as much as possible, but when she can't, she often dresses like a boy, baggy jeans and a t-shirt as often as a dress or skirt.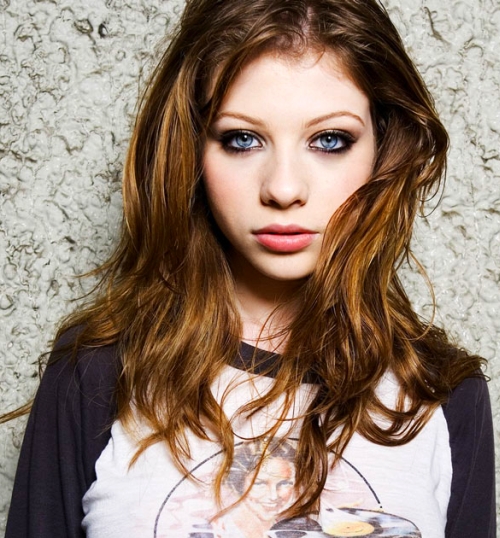 Likes:
Swimming
Outdoors
Surfing
Reading
Running
Horses
Dislikes:
Being pressured to do something
Cats
Sour foods
Arguing
Being late
Fears:
Losing herself
Spiders
Commitment, especially being Bonded
Personality:
Adrianna is a rather moody girl, prone to sudden bursts of emotion without warning. In between those outbursts she usually remains fairly calm and collected. She's polite but a lot of people would describe her as aloof, if not quite cold. Once she gets to know and like someone, however, she is fiercely loyal to them and trusts fairly easily, even when there is plenty of reasons not to.
She doesn't really care what most people think of her, attributing to everyone else thinking her snobbish. She goes through life how she sees fit, and if the people around her dislike that, she doesn't think that it's her problem to acquiesce to them. She's extremely independent and isn't afraid to be alone often, but she seeks out the company of her few true friends often.
History:
Adrianna is the only child to Ahren and Blair Kelby, both of whom are tax lawyers who make a good living. As a result, Adrianna had an easy childhood, all the comforts and luxuries that she could want. As she grew, her parents always encouraged her to find out who she is and to follow that in everything she did, and they've supported that her entire life.
When Adrianna was 6, she went swimming at the beach with her family. She swam out too far and got caught in a riptide. She struggled against it as hard as she could, but it was no use, and she soon lost consciousness. When she awoke, she was in a coral palace under water, but she found that she could breathe. Poseidon came to her then, and knelt beside her, explaining that she was special and that he would grant her gifts to make her even more special, if she would agree to an unknown task in the future. Being taken aback by her surroundings and everything, she hesitantly agreed to his offer and he sent her back to the surface riding on a wave, her first experience with surfing. No one at the beach was any the wiser about her disappearance.
Adrianna knows that the task is soon ahead of her, and her anxiety about it has grown immensely since that fateful day. She is currently going to school for graphic arts, but can barely focus on her classes. She's far too nervous about the mysterious thing ahead of her.
Family:
Mother: Blair Kelby, tax laywer
Father: Ahren Kelby, tax laywer
Siblings: None.
Powers:
Waterproof: Adrianna doesn't have to become wet if she doesn't want to. Water just doesn't contact her if she doesn't wish it. This also leads to her being able to walk on water, if she chose, the surface tension being enough to keep her afloat since she doesn't break it.
Water Manipulation: Adrianna can also willfully manipulate water as she pleases.
Equine Telepathy: Poseidon is the creator of horses, so naturally a small portion of that gift would be transferred. She can read the minds of horses, or rather, feel their emotions and influence them to a degree. As a result, she is an expert horseman.
Weaknesses:
Adrianna rarely thinks about being wet or not anymore, she simply knows which situations call for being wet and which for being dry. She doesn't manipulate water very often, it is by far the most taxing of her powers and as a result she hasn't experimented much with it. Her communication with horses is also taxing, but she uses this one much more often, and knows her limits much better with this power.