NAME:
Andrew Nakashima
NICKNAMES:
Andy, Ant, the Balancer + His Shinigami name is 'Rem' and only Kochou, Luscious, Takeshi and now Ichiro know it
BASE NAME:
Oguri Shun
AGE:
Mid-twenties or Early-thirties + 378
SPECIES:
Pureborn Shinigami
COUNTRY OF ORIGIN:
USA, he is American Japanese
HEIGHT:
178 cm
OCCUPATION:
Baker, former member of US-yakuza; In reality - one of the (hidden) High Ranking members of the Organization
DISTINGUISHING FEATURES:
He uses two different forms of himself, one that looks in mid-twenties and is rough, raw and often has bruises on his hands, neck, body and face; in this form he has hair that reach nearly to his shoulders and he often has a smug on his face. This younger form he calls as 'his younger brother', when someone questions anything.
The self that he often has in these days is older, more refined, and has more calmness and elegance to himself. Although he still looks rather rough, and intimidating, he has short hair and dresses better than his younger self. Anyone who has met him in either form will recognize him for his smirk for sure.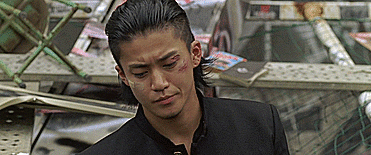 PERSONALITY:
Andrew has double-standard going on when it comes to his personality - through sitting his time in jail to serving under the man that saved his butt too many times, and witnessing the death of his old mother, the man who still looks ever so young has come through to becoming to hide his kindness and has become quite cruel, cold and hermit, away from the world. He had always talent for baking and making things involved in cooking, and finds some safe place in the midst of food, thus he became one after retiring and traveling along with Kane to Chapel Hill.
What he has promised, this is what he will do - and he loves to take care of small animals and little kids, although it is hard for him to bring himself to trust someone, he is willing to turn a whole new page to welcome fresh pages to his life. Although he is keen to keep his emotions to himself most of the time, which makes him come off quite cold, he is keen to keep his ground and privacy; thus it may make him look strange and eccentric.
ABILITIES/POWERS:
+ Fluent in Latin, English, Japanese and Chinese' Mandarin. Able to speak and understand normal Korean and Spanish.
+ Can change his human form into more creepy and skeletal one.
+ Can have gigantic, skeletal looking wings, which turn into a tattoo - shaped like a broken heart - over his heart.
+ Can transport to afterlife, and back - also see through dimensional levels.
+ Instead of a scythe, he uses a rollpin or cooking knife.
+ Able to walk through walls, if necessary - only if they are not magically restrict or blocked.
+ Can turn into a gigantic raven or many ravens at once.
+ Uses flour as weapon to generate weapons out of it or use it as sharp blade.
LIKES/DISLIKES:
x Smoking.
x Observing humans and amusing himself with teasing them.
x Flying in the clouds.
x Baking.
o When he rans out of cigarettes.
o People prying into his personal life.
o His personal space being invaded.
STRENGTHS/WEAKNESSES:
x Enhanced senses.
x Lives longer than any human or most other supernatural creatures.
x Avid user of ninjutsu - a type of martial arts.
o Doesn't know of how to show emotions and may fuck up his relationships with other people.
o Holy fire.
o Having feelings for a human or half-human.
o Ichiro Matsumoto.
BACKGROUND:
He was born long time ago in Japan, Tokyo, from where he immigrated to USA with his parents and little brother. It wasn't a shift he was keen to like and struggled not just with the language, but with the people around him - despite him trying to survive and not to follow the path his father was into - criminal lifestyle - he was still pulled into this and had joined a local gang of teenagers. Being tossed around and witnessing many things, including sitting time in jail for killing a shop-keeper (with uncontrolled and strange powers) for about fifteen years, he met a Devil himself who found him behind the bars and bound him to himself, becoming the father that Andrew never had.
After being released, he joined the gang of Kane Ra and was trained in many ways - plus of how to balance out his personality, powers and skillset that was in chaos earlier. The kindness that he used to have was gone and he went to visit his old mother during late night, but after reaching to the household, he saw of how she was murdered by drunk father and saved his little brother from having the very same end as their mother - Akira wasn't happy about it, plus he wasn't keen to stay around Andrew any more and thus left his side, their relationship ending right there and then. Andrew ended up searching out his father and killed him, devouring his soul.
As a lot went down for his boss and boss' wife, the two of them had escaped and left no traces behind. Their gang was disbanded and those who had waited for this moment moved over to other gangs. Andrew, who was loyal beyond death, felt how the bond had been broken and of how he traveled to Japan, and hoped to find a meaning of life from there. And thus, he started to work as a baker.
FAMILY - FRIENDS:
x Kane Ra [ His Former Boss | Father Figure | Extremely Close | Alive]
x Akira Nakashima [ Younger Brother | Strained Relationship | Alive ]
x Hiro Nakashima [ Father | Cold Relationship | Deceased ]
x Kimiko Nakashima [ Mother | Close Relationship | Deceased ]
x Kochou | Real Boss
x Takeshi | Co-Boss
x Reiji | That little helper, crow spirit and companion that lives in his bakery
x Ichiro Matsumoto | Student and someone he promised to guard