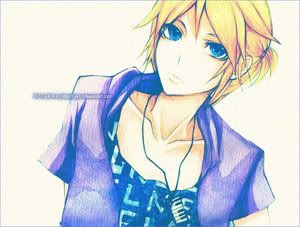 Name: Kagamine Len
Age: 15 or 16
Color: Yellow
Character item: Roadroller and banana
Gender: Male
Appearance: Len had beautiful golden hair, that is most of the time put up in the back and his bangs left hanging in his face.
Love Interest: N/A
Other: Len Loves both men and women. Len is pretty childish at times, but he can sometimes be very mature.
Eye Color: Bright Blue
Voice: He is a young boy sounding singer and the vocal range is in the Soprano scale—meaning his voice isn't very manly! He can harmonize with Rin relatively easier than most Vocaloids due to having similar vocal capablities. Len has a slight lisp-like sound which seperates his voice from Kagamine Rin.
LIKES
◄ Tea
◄ BANANAS
◄ Dancing
◄ Music
◄Night Time * he really loves when it's snowing or raining at Night
◄ Writing, Reading, and Drawing
DISLIKES
◄ Rude People
◄ Being Stuck inside
◄ Annoying People
Preferred Vehicle- Street bike and Road Roller
Preferred Clothing- It doesn't really matter to him, Although everyone seems to love him in 'geeky' glasses. He likes to stand out from others.
Favorite Instrument- Key Board
Favorite Language(s): Japanese Korean and English
Favorite Flower: he likes Iris because they are beautiful. And Middlemist Red's because they are beautiful and very rare.
Favorite Food; Ice Cream and bananas
Favorite Vocaloid:
Rin, miku & Kaito