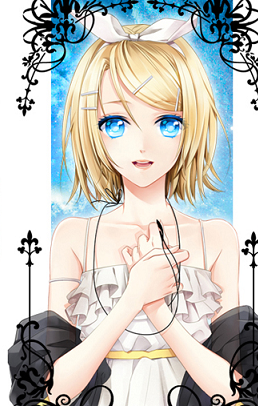 Name: Kagamine Rin
Age: 15 or 16
Color: Yellow
Character item: Roadroller and mikan
Gender: Female
Appearance: Rin has golden hair, that is most of the time put up. Though he has very girl features he tries is best to look manly.
Love Interest: N/A
Other: N/A
Eye Color: Bright Blue
Voice: Rin's pronounications are sharp compared to Kagamine Len's. Though her voice is more girly than her brothers.
LIKES
◄ Fashion
◄ People
◄ Music
◄ Reading
DISLIKES
◄ Rude People
◄ being Woken up
Preferred Vehicle- Slug Bug
Favorite Instrument- guitar
Favorite Language(s): Japanese and English
Favorite Flower: Roses and SunFlowers
Favorite Food; Likes all food but really likes Pocky
Favorite Vocaloid:
Len, & miku